Overview

Adc

Artificial Intelligence

Audio

Camera

Digital

Games

General

Gps

Graphs

Hbridge

I2c

Infrared Distance

Machine Learning

Misc

Mobile

Navigation

Pwm

Rafiki

Scripting

Servo

Third Party Robots

Touch Tablet

Ultrasonic Distance

Virtual Reality
How To Add This Control To Your Project
Load the most recent release of EZ-Builder.
Press the Project tab from the top menu bar of EZ-Builder.
Press Add Control from the button ribbon bar of EZ-Builder.
Choose the Mobile category tab.
Press the Mobile Interface Builder icon to add the control to your project.
So, you want to become a
RobotApp
Developer? Awesome! We made it really easy, check this out...
The Mobile Interface Builder allows you to create interface pages for the EZ-Builder Mobile App. Without creating a mobile interface, the default Desktop is displayed to thet user - which may be confusing. Designing a Mobile Interface is very easy, and you can create as many as you like.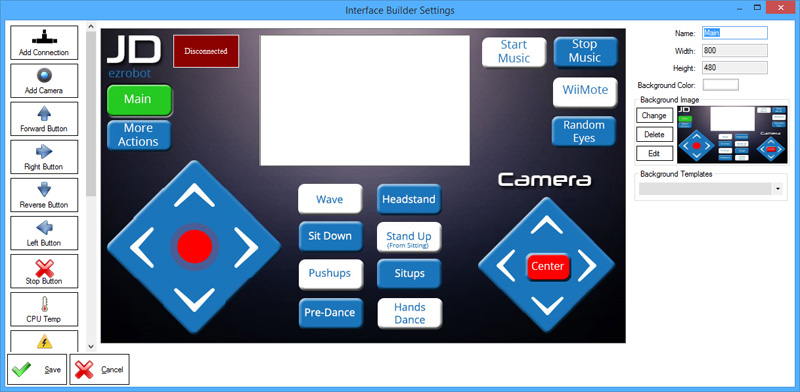 Prerequisites
Download the EZ-Builder App for your mobile/tablet here
Read the excellent The Robot Program instruction on creating a mobile app here
Supported Controls
EZ-Builder is built on controls, which act as individual processes. Many of the controls from EZ-Builder PC are compatible with EZ-Builder Mobile. Here is a list of currently supported controls and features for Mobile use...
Auto Position (Movement Panel)
Auto Position Real-time Pose
Auto Position
*Camera

servo tracking
movement tracking
start/end tracking scripts
color tracking type
multi color tracking type
face tracking type
glyph tracking type
Single image snapshot

Connection
Custom Movement Panel
Desktop View
EZ-Script
HBridge Movement Panel
HBridge PWM Movement Panel
HMC5883 Compass
HT16K33 Animator
Lidar Lite
Microphone (ezb)
Mobile Interface Builder
Modified Servo Movement Panel
Movement Script
MPU6050 Accelerometer/Gyro/Temp
MPU9151 Accelerometer/Gyro/Temp/Compass
Nest Thermostat/CO/Smoke
Notepad
RGB 8x8 Animator
RGB Animator
RoboScratch
Roomba Movement Panel
Sabertooth Movement Panel
Script Monitor
Servo Auto Release
Servo Pad
Sound Board (ezb)
Sound Board (pc)
Sound Servo (ezb)
SSC-32
Touch Pad (Servo Pad)
Variable Watcher
WiiMote
Note: Controls marked with an asterisk(*) may not have standalone user interfaces and support is limited to the mobile interface builder. For example, the Camera view may be added to a mobile interface, yet it does not have a standalone view. The camera control features are controlled by ControlCommand() via ez-script. This means enabling or disabling tracking of face, color, etc. is executed with ControlCommand().
Video