15. Programming Introduction
Synthiam has developed the ARC software to scale between beginner and advanced users. Our mission is to make robot programming accessible and increase the likelihood of success. Within the configuration dialog of nearly all skill controls is the ability to edit scripts to define specific programmatic behaviors, such as when to start tracking using the camera. The script editors are input fields with a pencil icon to the right. In this example, we are displaying the configuration dialog for the WiiMote.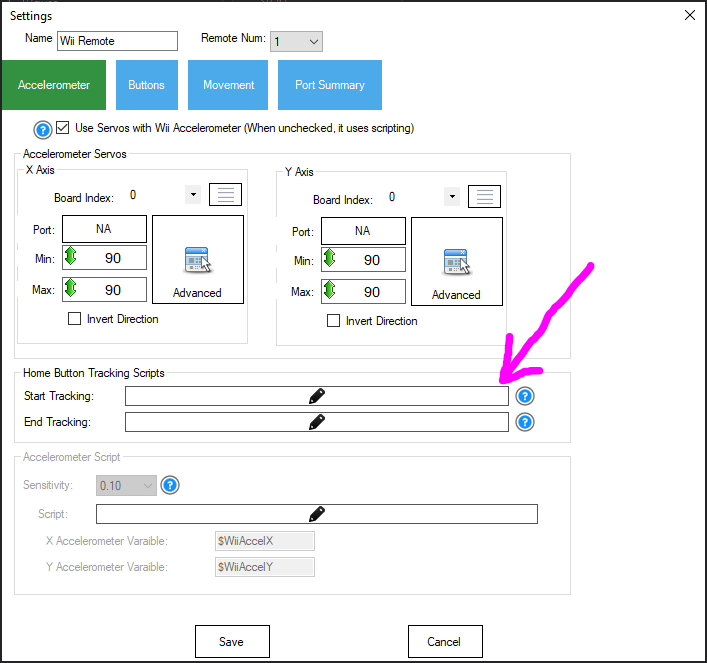 Editor Dialog
The editor dialog consists of an input section on the left and reference assistance on the right. The window can be resized or maximized; remember the last size for future use.
Program in Multiple Languages
The programming language tab will be selected if there is existing code in the editor when it loads. Alternatively, if you are editing a blank script, there will not be any code, and you can select the tab for the programming language you wish to use. If there is existing code, changing the programming language will present a confirmation that you want to erase the current code and start over.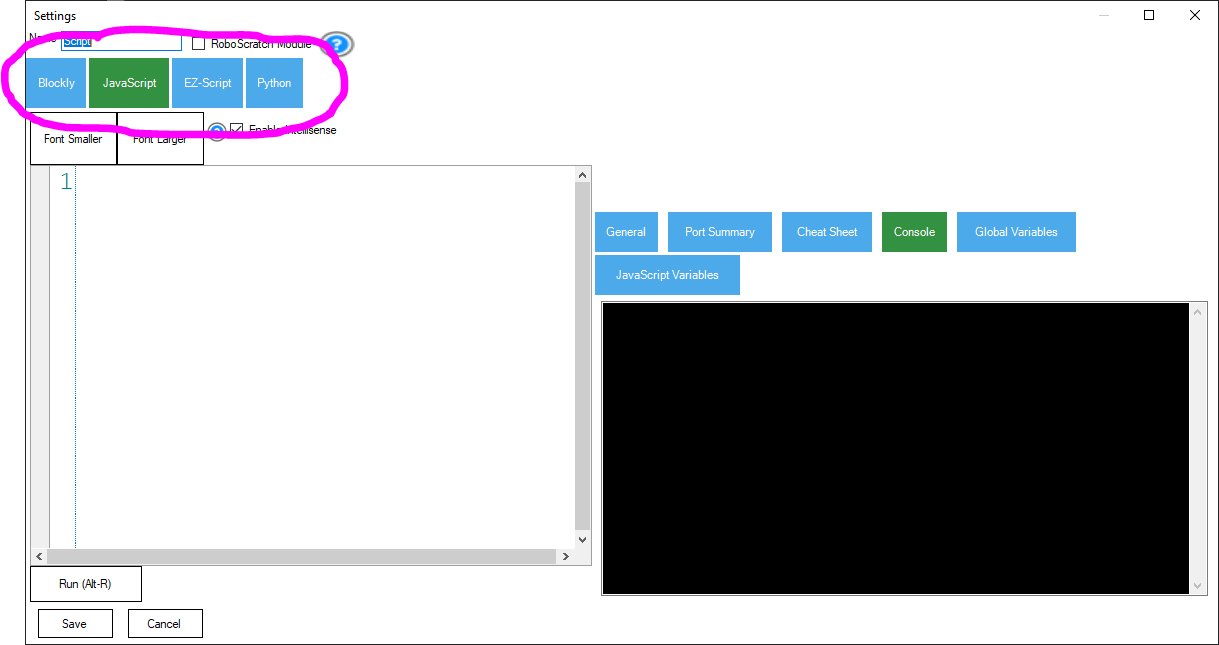 Introducing the Control Command
Programming in ARC is straightforward because you will leverage robot skills' functionality. Whichever programming language you choose below, most of your programming will link robot skills together using the ControlCommand.
You are familiar with Robot Skills by reaching this far in the Getting Started guide. There are plenty of windows within the ARC project desktop, and each window is a robot skill control. A robot skill control is a little program that runs within ARC created by one of our many partners. For example, hundreds of robot skill controls are available in the Robot Skill Store, such as gpt-3, vision detection (face, emotion, color, glyph, etc.), servo gait/animation, speech recognition, etc. Each robot skill control is a behavior that gives your robot more ability. These robot skill controls are separate programs that do something specific, such as processing video image data from the camera or moving servos in animations. Because each robot skill control is a particular program, ARC provides a mechanism for robot skills to talk to each other. This mechanism is called the ControlCommand().
Using control commands, an event of one robot skill can instruct another robot skill to do something. For example, if the Speech Recognition control detects the phrase "Follow My Face," the respective code may be instructed to inform the Camera control to enable Face Tracking.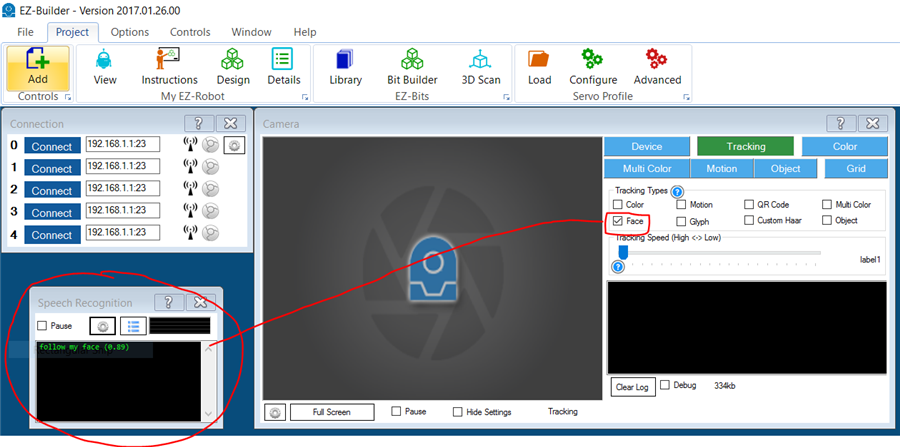 This detailed example detects speech recognition text and uses cognitive services for more extensive messages. The manuals for each robot skill will be essential to review when creating projects.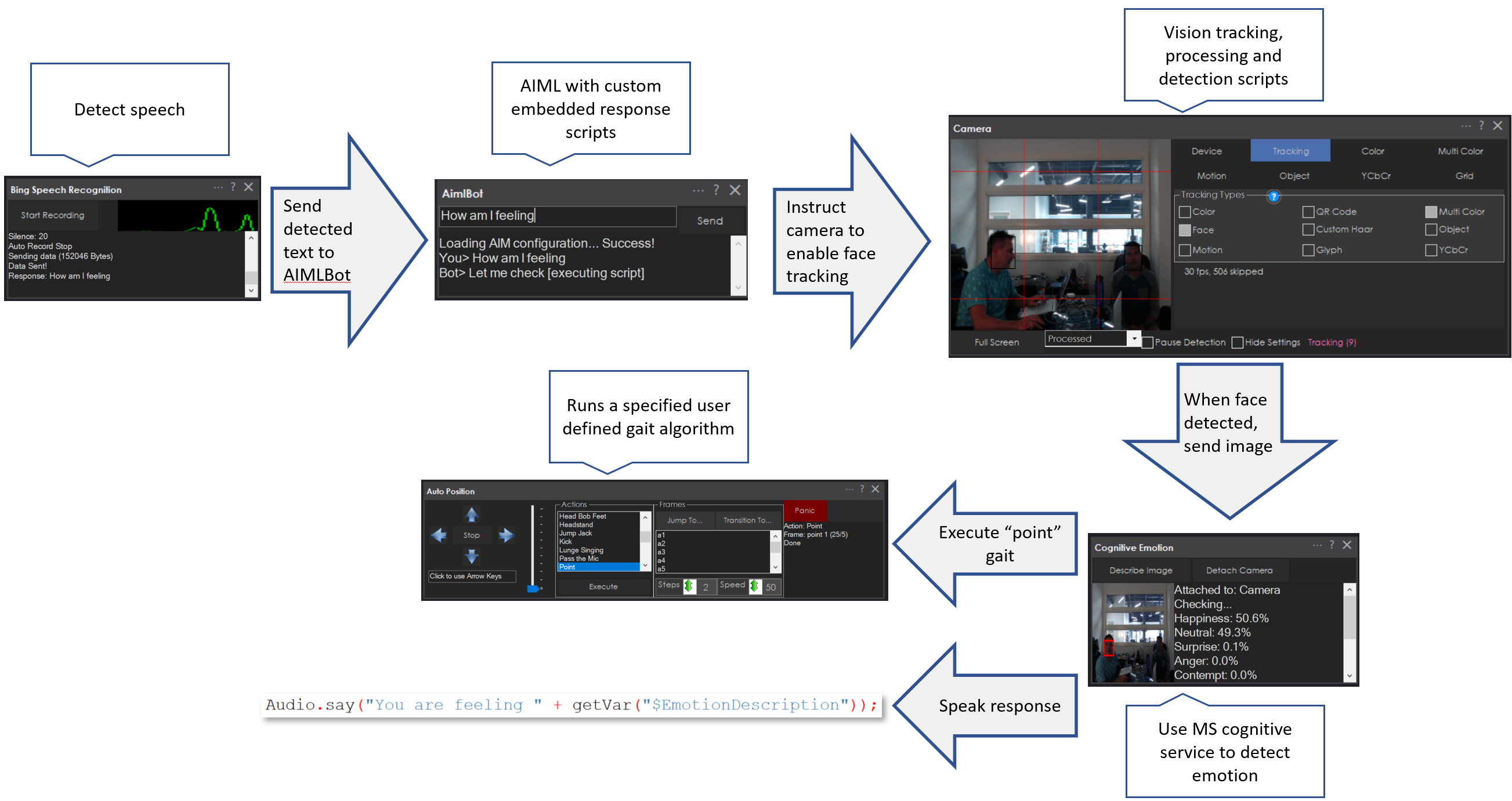 For further reading about the ControlCommand and how it works, we recommend reading its dedicated manual page here.
Choose Programming Environment
We have provided access to various programming methods to accommodate all users. Once you are ready to begin programming a robot, select a programming skill level.
Scripting Robot Skills
Nearly all robot skills have the option to execute a script. However, there are robot skills specific to scripting. These scripting robot skills allow you to run programs or customize features, such as creating a custom movement panel.
---
---
---
---
---
---
---
---
---
---
---
---
---
---
---
---
---
---