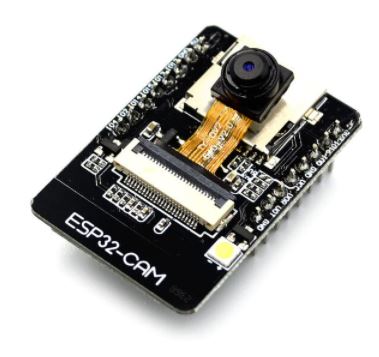 ---
The Esp32 Cam is an affordable WiFi module with few I/O and streaming webcam capability. Adding this firmware to an esp32 cam, the WiFi module will become an EZB that ARC can connect to stream the camera and control gpio. Check below for the ports that work and don't interfere with the camera.
*Note: On the AI Thinker edition, servos work on D2, D12, D13, D14, and D15. However, you will need to try your edition/model to see if those pins work. If not, try ones that do

*Note: It's important to note that while the esp32 cam has an ezb firmware, some models share the same gpio in the pinout as the camera uses. This allows the camera to work but prevents the esp32 from being used as an ezb io controller due to their short-sighted design flaws.
---
How to use an ESP32 Cam
In the Arduino IDE, add this link to File->Preferences->Libraries: https://dl.espressif.com/dl/package_esp32_index.json
In the Arduino IDE, load the Board Manager, search for "ESP32 by Espressif Systems" and select INSTALL.
Download the firmware from this page to your computer and extract it into a folder.
Edit the source code firmware in the Arduino IDE and view the WiFi mode settings. You can choose between AP or Client mode. The appropriate settings for each method may be configured as well. Follow the instructions in the firmware code for configuring the WiFi modes.
Programming the ESP32 device depends on the model version. Some have USB, and others require connecting through an Arduino UNO or USB TTL UART converter. Google "how to program an ESP32 Cam" for online tutorials.
View the status of the connection in the Arduino Serial Monitor set to 115,200 baud. Depending on your WiFi settings, you will see the WiFi connection status.
Load ARC and connect to the ESP32 directly via WiFi if it is in AP Mode; otherwise, connect to the same network as Client Mode. The default IP Address for AP Mode will be 192.168.50.1. In Client mode, you must view the Serial Debug Monitor in Arduino IDE or check your router DHCP client list.
---
WiFi Modes
Two WiFi modes can be configured in the code. They are AP Mode, which turns the ESP32 Cam into a WiFi server your computer connects directly to. The other mode is Client Mode, in which the ESP32 Cam connects to your network router. Get the IP Address and connection status information by viewing the Serial Monitor set to 115,200 in Arduino IDE.
---
Port Configuration
The pins in ARC are labeled D0 - D23. The ESP32 has GPIO labeled pins, which are not in any ordered sequence. This translation chart below shows the mapping of the ESP GPIO to ARC Dx pins. All Dx ports are mapped to GPIOx ports. So GPIO1 is D1, and GPIO2 is D2, etc.