How to add the HTTP Server (Custom) robot skill
Load the most recent release of ARC (Get ARC).
Press the Project tab from the top menu bar in ARC.
Press Add Robot Skill from the button ribbon bar in ARC.
Choose the Remote Control category tab.
Press the HTTP Server (Custom) icon to add the robot skill to your project.
Don't have a robot yet?
Follow the Getting Started Guide to build a robot and use the HTTP Server (Custom) robot skill.
How to use the HTTP Server (Custom) robot skill
This HTTP Server is different than the regular HTTP Server because it allows custom HTML Files. The HTML Files may contain special commands for controlling your robot

Supported file extension types:

*Note: Any other file extension is returned as a mime type of application/octet-stream
The HTTP server will get the files from the My Documents\ARC\HTTP Server Root folder by default. This is found in your My Documents folder. In that folder, you can place HTML files, jpg files, png files, etc.. An example HTML file in the HTTP Server Root folder demonstrates the various syntaxes that can be used.
If your Windows installation already has a web server running on port 80, this server will not be able to start. Only one application can use a port at a time. If that is the case, disable the other web server or change the port for this server.
Embedded Control Syntax
Special HTML style tags are used to create buttons for interaction with ARC. These buttons are AJAX, which means they do not reload the page when pressed.


<ez-move text="button title (i.e. Forward)" data-direction="forward" />
<ez-move text="button title (i.e. Right)" data-direction="right" />
<ez-move text="button title (i.e. Reverse)" data-direction="reverse" />
<ez-move text="button title (i.e. Left)" data-direction="left" />
<ez-move text="button title (i.e. Stop)" data-direction="stop" />
<ez-script text="button title">ezscript command</ez-script>
<ez-camera data-controlname="Camera" data-interval="100" />
<ez-getdigital data-port="d0" data-interval="1000" data-truetext="True" data-truebgcolor="#00ff00" data-truefgcolor="#ffffff" data-falsetext="False" data-falsebgcolor="#ff0000" data-falsefgcolor="#ffffff" />
<ez-variable data-variablename="$Direction" data-interval="1000" />
*Note: the ez-* HTML commands also accept class="" or style="" tags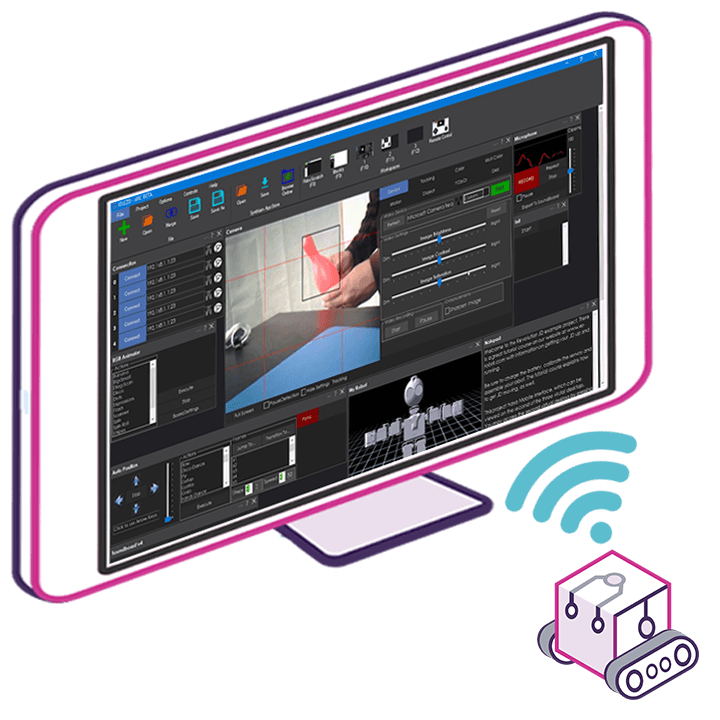 Upgrade to ARC Pro
Unleash your creativity with the power of easy robot programming using Synthiam ARC Pro