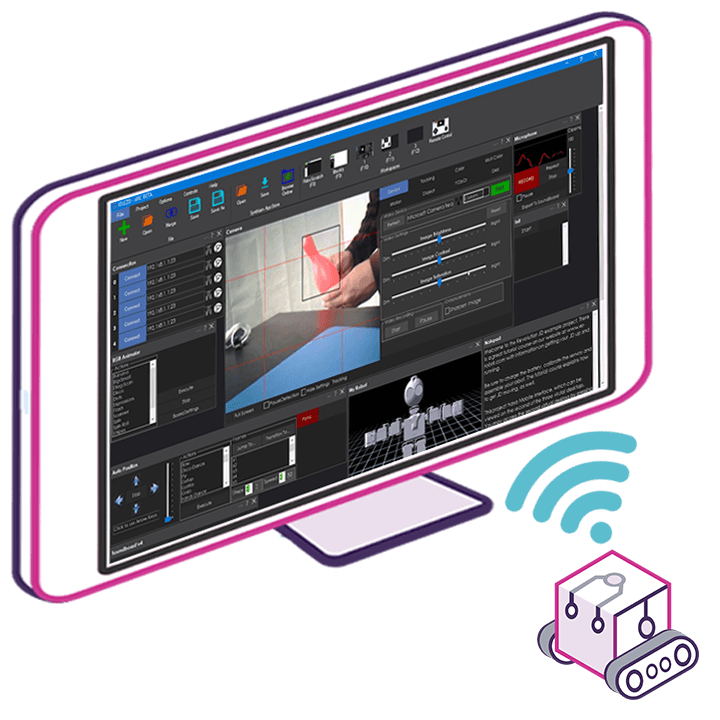 Upgrade to ARC Pro
Your robot can be more than a simple automated machine with the power of ARC Pro!
EZ-B Camera

Link: https://youtu.be/FZY4v0a6e4Q

This Roll-out Video includes:


Feature set
Hook-up guide
Using Synthiam ARC software skills
Schematic overview
Bill of Materials (BOM) overview
Custom firmware location
The EZ-B Camera reference design is capable of color tracking, objection recognition, facial recognition, and more. It also communicates at a very high speed - 3.33MBaud. This product requires a licensing agreement. Please Contact Us for more information.

Features
3.33MBaud UART communication
2 Megapixel Camera
Replaceable Camera module
Replaceable Infinity focus lens
Mini SWD programming header
On-board 2.8V and 1.5V regulation for camera module
5V tolerant I/O pins
RGB LED status indicator
ARC behavior control available
Small form factor
Voltage requirement: 3.2-3.4VDC (3.3V Typical)
Current draw: 70mA
Dimensions: 22.3(W) x 24.4(L) x 13.8(H) (mm)
Weight: 4g


Major Components
STM32F407VET6 32-bit Cortex-M4 ARM microcontroller (custom firmware provided)
HDF3M-811 OV2640 2 Megapixel Camera


Manufacturing Notes


Supplier: provides pre-built HDF3M-811 OV2640 Camera with custom ribbon length
Supplier: programs custom firmware into the STM32F407VET6 at their facility before sending to the manufacturer
Manufacturer: Dual side placement and soldering of SMT components
Manufacturer: Single Side soldering of THT components
Manufacturer: Installs Camera onto PCB


Note: This camera natively connects to the EZ-Bv4 WiFi Board and EZ-B IoTiny




Photos
ARC Skill

The ARC skill is fully featured. Camera detection and recognition can be activated with the simple click of a mouse button or with code. Link: https://synthiam.com/Products/Controls/Camera/Camera-Device-16120