Control Kondo KRS servos with ICS 2 & 3.5 Protocol
+

How To Add This Control To Your Project

(Click to Expand)
Make sure you have the latest version of ARC installed.
Select the Get button in this page to download the archive file.
Double click the downloaded archive file to execute installer.
The installer will add this control to ARC.
Load ARC and press the Project -> Add Control button from the menu.
Choose the Servo category tab.
Press the Kondo KRS ICS Servos icon to add the control to your project.
Manual
*Note: This is experimental

I cannot verify this works because I do not have hardware to test with. This plugin is in response to a community thread regarding Kondo servos.

This plugin uses a DLL found in the configuration utility installation folder. The servos can be chained together and connected to the EZ-B's UART #1 on port D5. The baud rate must also be configured in the settings of the plugin. Each virtual port can be selected for the communication version based on the servo model. The Max Positions are unknown values to me when creating the plugin. Much experimenting from the user is required.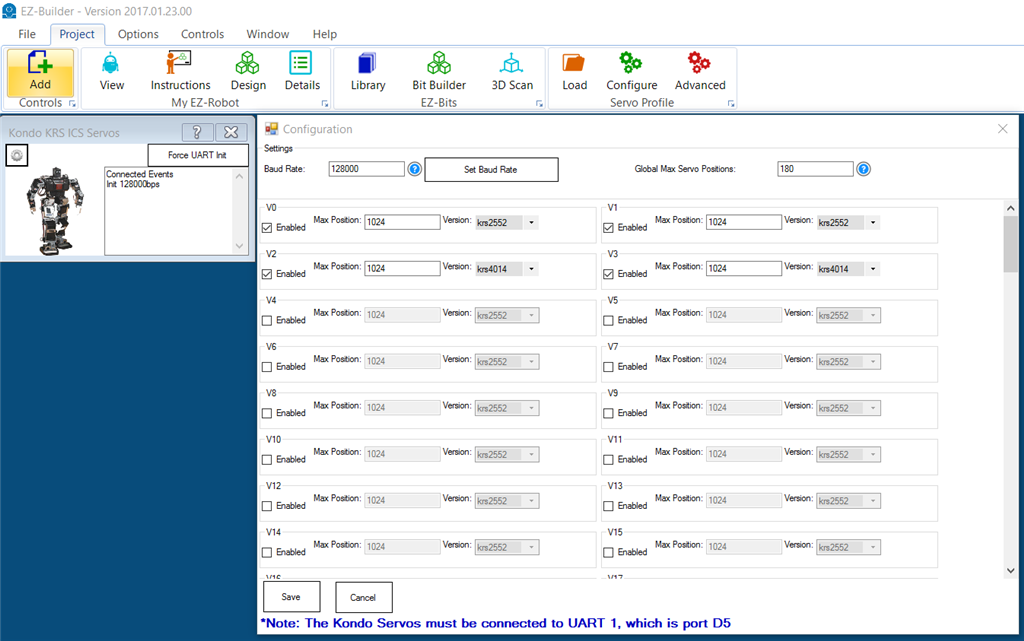 Supports:
- Release()
- Servo() and all controls using servos via Virtual servo Ports

Not Supported (yet):
- ServoSpeed()