4. Movement Style
Let's determine how your robot will move!
ARC uses movement panels to control how a robot moves. Each project is limited to one movement panel. This is because the movement panel registered itself into the movement manager service. This allows any robot skill to share the control movements of the robot. The list below contains links to recommended movement panels for each robot's movement style.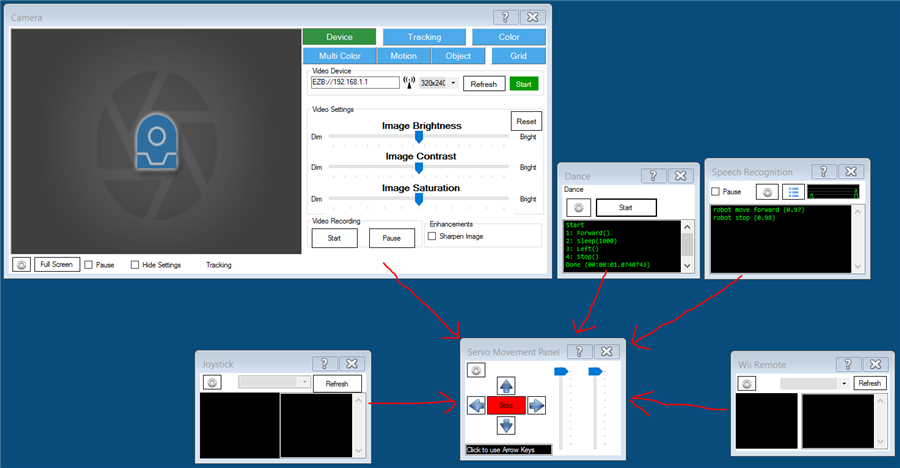 Advantages of Movement Panels
The convenience of the movement manager service is that any ARC robot project can control any other robot product, irrelevant of the locomotion type (flying, walking, two-wheel driving, etc.). If your ARC project was created for a wheeled robot, you could replace the wheeled movement panel with a drone movement panel. Directions (forward, left, right, etc.) are sent to the movement manager service by any robot skill and handled by the movement panel to have the robot move.
Choose an ARC Movement Panel by Locomotion
Below are movement panels categorized by locomotion type to control a robot with ARC. Select a movement panel to learn how to use it and add it to the project. Or, you may scroll further down this page to view a list of all movement panels.
All ARC Movement Panels
Here is a list of all ARC movement panels from the robot skill store. These can also be found in the Movement Panels category of the robot skill store or within the ARC software.
---
---
---
---
---
---
---
---
---
---
---
---
---
---
---
---
---
---
---
---