7. Movement Style
Let's determine how your robot will move!
ARC uses movement panels to control a robot's movement. Each project is limited to one movement panel. This is because the movement panel registered itself into the movement manager service. This allows any robot skill to share the control movements of the robot. For example, by adding a Joystick or WiiMote robot skill, the robot can automatically begin moving because the current movement panel handles the movements.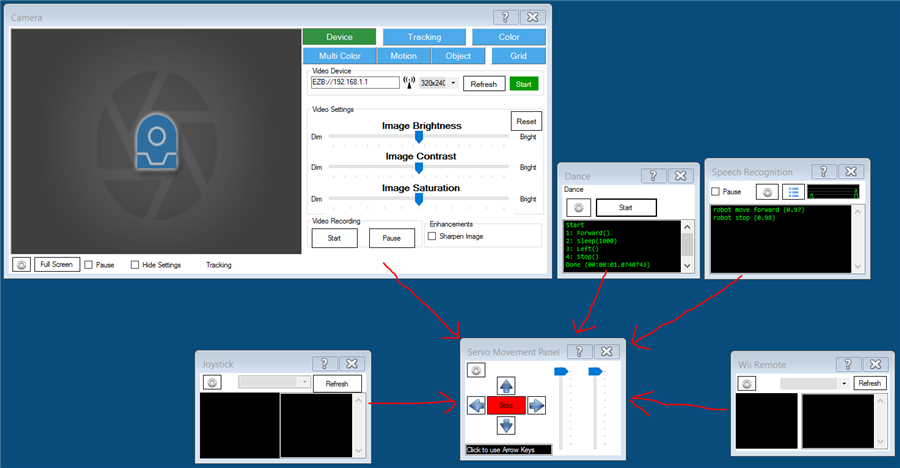 Advantages of Movement Panels
The convenience of the movement manager service is that any ARC robot project can control any other robot product, irrelevant of the locomotion type (flying, walking, two-wheel driving, etc.). If your ARC project was created for a wheeled robot, you could replace the wheeled movement panel with a drone movement panel. Directions (forward, left, right, etc.) are sent to the movement manager service by any robot skill and handled by the movement panel to have the robot move.
Directions
The ARC framework provides several pre-programmed directions: forward, left, right, reverse, stop, roll right, roll left, up, down, and custom. Movement panels will support the directions that are appropriate to their movement type. For example, an HBridge movement panel will not support UP or DOWN because the robot must have wheels and, therefore cannot fly. You can see what directions are supported on a movement panel by the buttons visible on the interface. This diagram demonstrates how the various directions are expected to behave by movement panels. For example, turning left or right is expected to rotate on the spot. However, to turn slightly right while moving forward will require the robot to move forward with the right wheel speed somewhat slower than the left.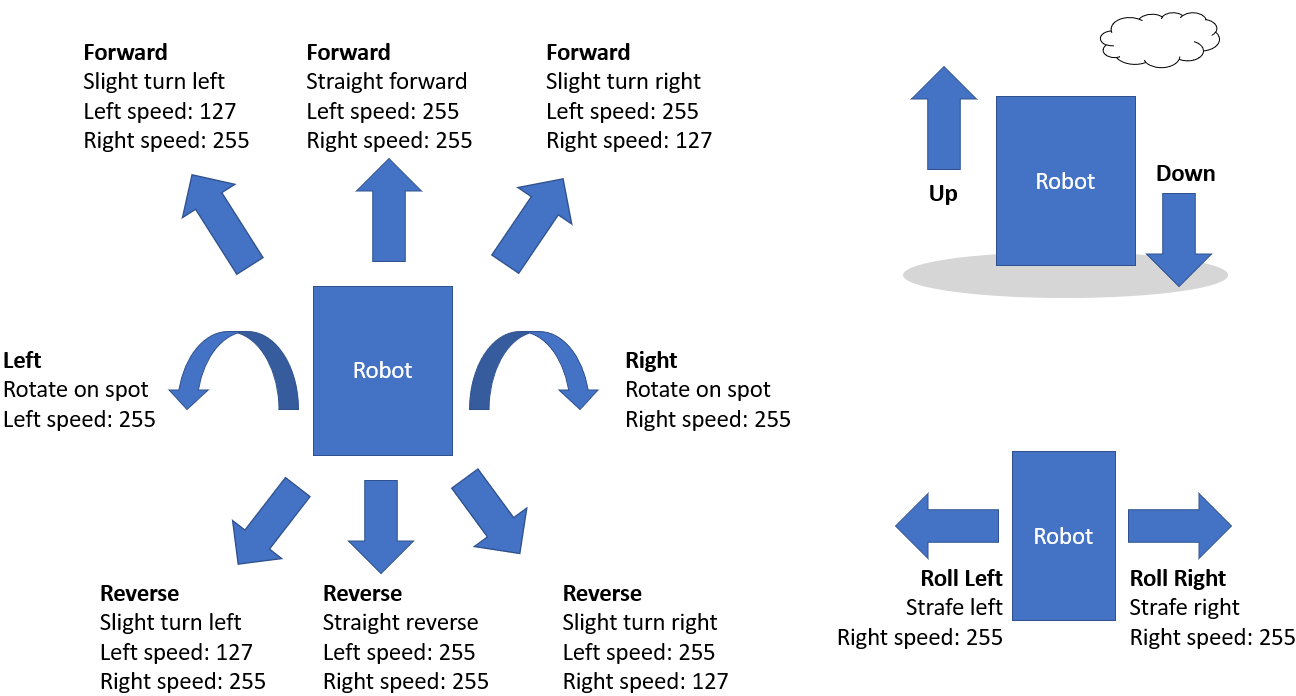 Choose a Movement Panel Type
Here is a list of movement panels for various robot configurations, including robots that walk with gait humanoids/hexapods and more. Select a movement panel to learn how to use it and add it to the project. This list can also be found in the Movement Panels category of the robot skill store or within the ARC software.
---
---
---
---
---
---
---
---
---
---
---
---
---
---
---
---
---
---
---
---