NMS Driver for the Hitachi-LG LDS 360 degree lidar.
+

How To Add This Control To Your Project

(Click to Expand)
Make sure you have the latest version of ARC installed.
Select the Get button in this page to download the archive file.
Double click the downloaded archive file to execute installer.
The installer will add this control to ARC.
Load ARC and press the Project -> Add Control button from the menu.
Choose the Navigation category tab.
Press the Hitachi-LG LDS Lidar icon to add the control to your project.
Manual
NMS Driver for the Hitachi-LG LDS 360 degree lidar. This robot skill connects to the Lidar and pushes the data into ARC's NMS (navigation messaging system) to be used with level 1 navigation viewers. Read the NMS manual page to understand how this skill can be used.

*Note: This skill requires ARC 2020.12.12.00 or greater

Screenshot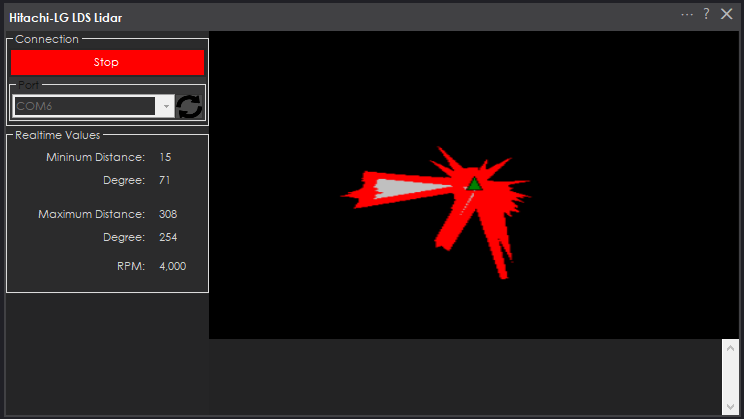 NMS (Navigation Messaging System)
This skill operates in Level #3 Group #1. It publishes obstacle detection to the NMS. While some SLAM systems will attempt to determine the cartesian position of the robot without telemetry, it is best to combine this skill with a Group #2 sensor.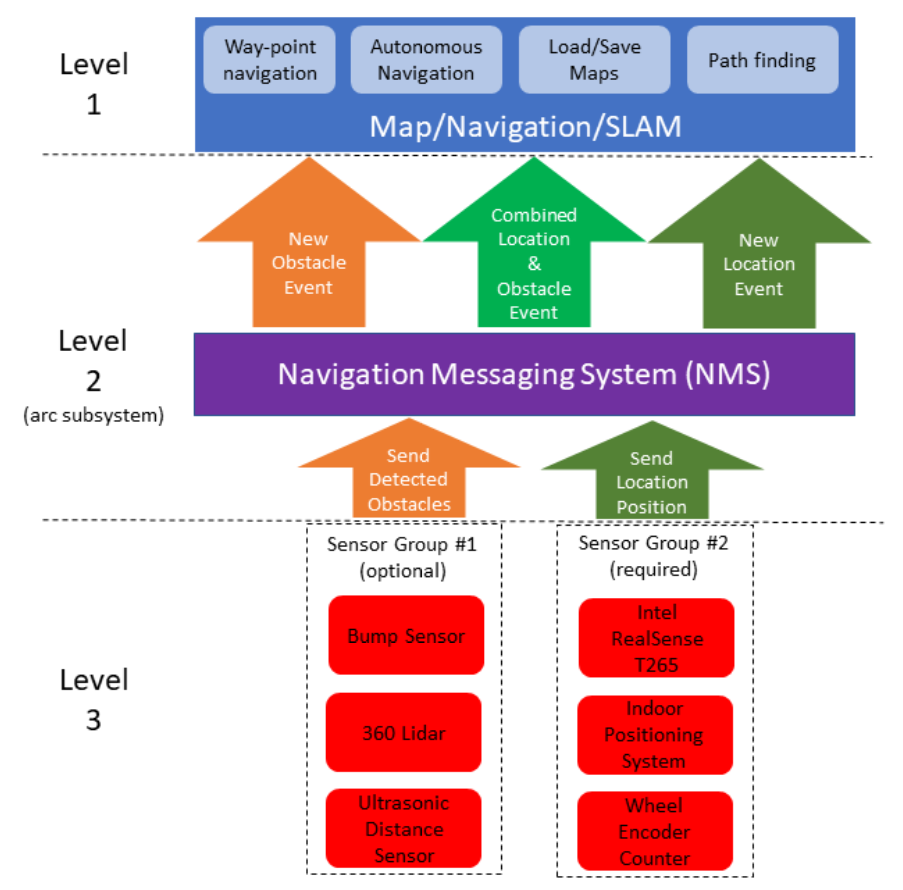 How to Use EZ-LIDAR SLAM
Program the LIDAR in Blockly

Like all Synthiam controls, the
Blockly
programming language can be used. In this example below, the robot will speak when an object has come close to it. It will also speak the degrees of where the object was. To see this program in action, click
HERE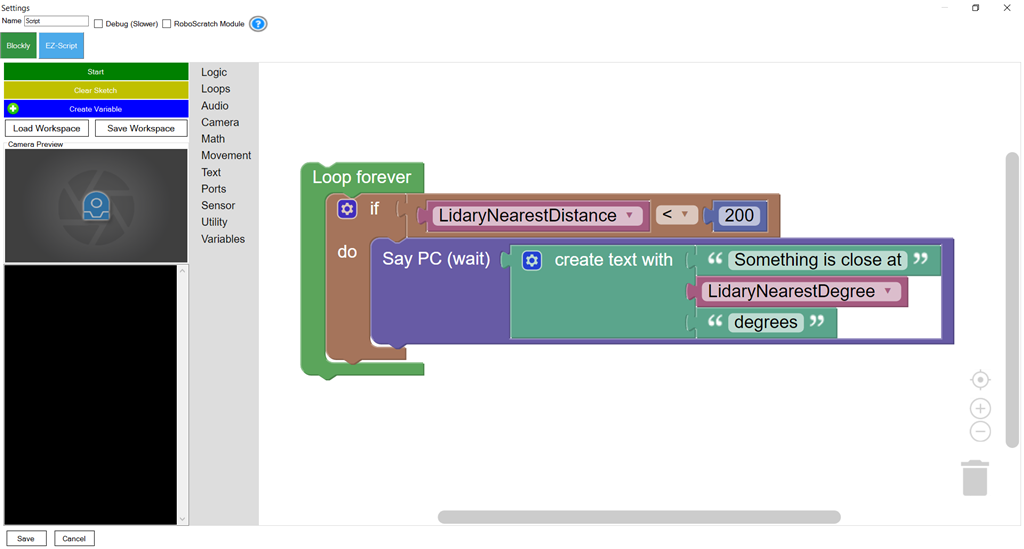 Cheat Sheet Shortcuts

There are
ControlCommand()
shortcuts are supported by this skill. For a complete list, view the
Cheat Sheet
of this control. The commands will start, stop, change the speed and swap image display.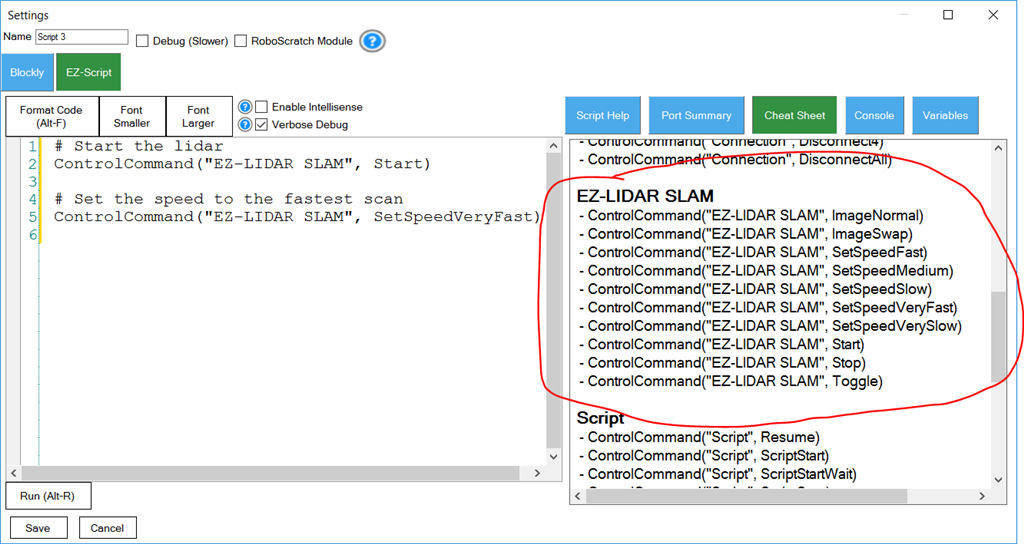 Variables

In the configuration menu of this control, you can view the variables that this skill creates. The variables hold the most recent values of minimum/maximum distance, degrees and running status of the lidar.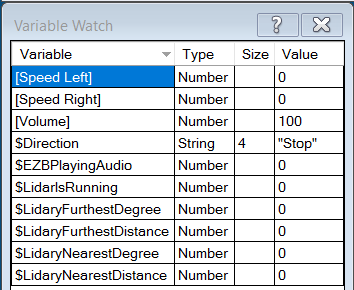 Arduino Sketch
There are two ways to connect to this lidar. You can either use a standard USB<->UART convertor, such as those found on amazon or eBay. Or you can use a 32u4 based Arduino board (i.e. Micro) to make your own USB<->UART converter. The 32u4 based boards are necessary Arduino versions to use because they support emulating USB HID devices, such as a Serial device. 
Here is a simple sketch that can be used on a 32u4 based board...
Code:

void setup() {
  
   Serial1.begin(230400); // Init Hardware Serial port on pins 0 and 1
   Serial.begin(230400);  // Init Serial Port
}

void loop() {
  
  if (Serial.available()) 
    Serial1.write(Serial.read());
  
  if (Serial1.available())
    Serial.write(Serial1.read());  
}

Wiring
GREY - Ground
RED - +5
GREEN - RX (connects to TX on Arduino or USB Converter)
BROWN - TX (connects to RX on Arduino or USB converter)
Robotis USB <-> UART Converter
The Robotis version of this sensor may include their USB UART converter, which uses a CP210x chipset. The driver for windows can be found by clicking here:
CP210x_Windows_Drivers.zip
Videos
Real-time SLAM mapping
Room Mapping
Near Object Detection

Resources
The source files for the hardware can be found here:
github.com/synthiam/E-41_LIDAR