COPPA Compliance
You have joined the most incredible robot software platform & community. The Synthiam community is supportive and friendly to grow and share. You may use the Synthiam Community and Cloud Services in compliance with terms and applicable laws. Synthiam is committed to protecting the privacy and safety of all users. This makes Synthiam's platform a trustworthy resource for home, business, or educational use.
Education Use
Synthiam is the most popular robot software for education. Being used by schools in over 80 countries, Synthiam takes user privacy seriously. We allow users to decide what features enable community and cloud service access based on privacy and age. The option to enable Synthiam Services is determined by age and privacy for COPPA compliance. This limits what information a user can create on the platform for public viewing. In addition, the only data collected by Synthiam's platform are software crash and debug reports, which do not contain any personal information. Any other information stored on Synthiam's platform would have to be user-submitted, which takes action from a user to enable Community access, agreeing to be 13 or older, and manually posting content on the community forum.
Sample Email
When a new user account is created through the website, ARC, or mobile app, there are two options for enabling interaction with the Synthiam platform. These options are emailed to the registered email account to decide how you will use the Synthiam platform.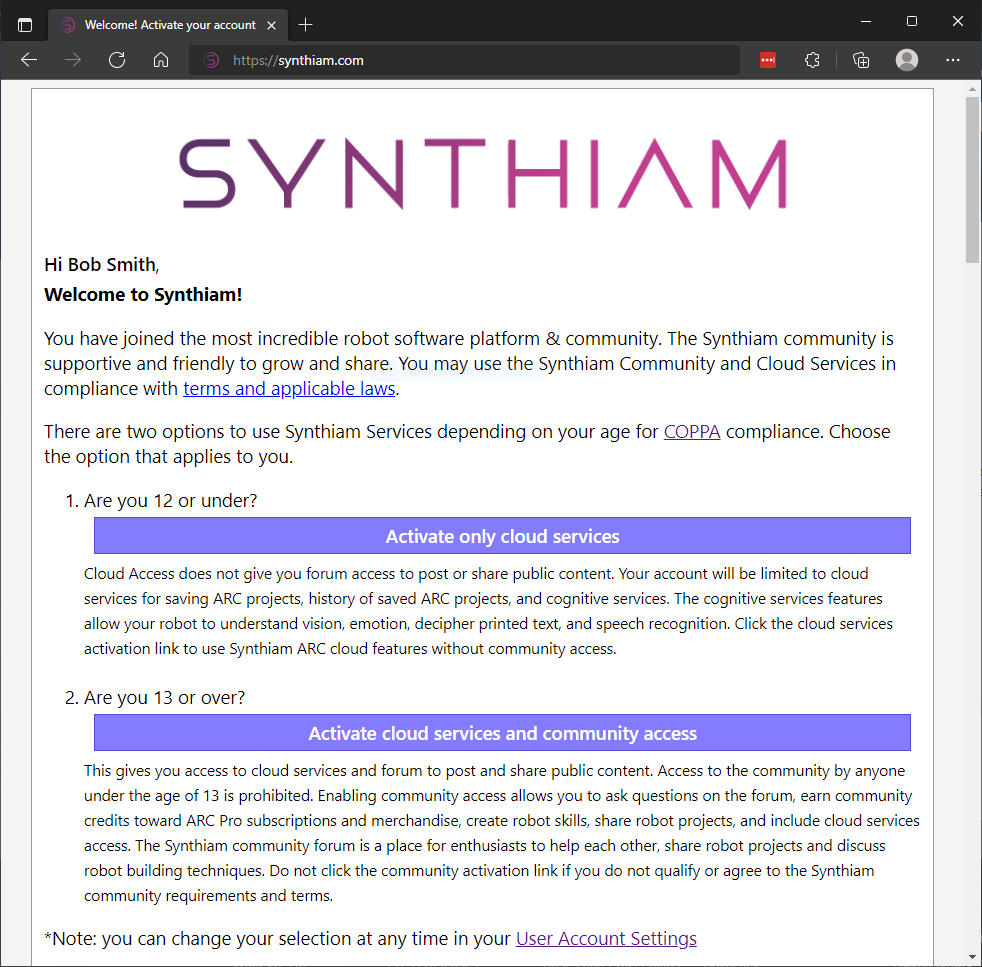 Choose Option
The two options to use Synthiam Services depend on your age or privacy for COPPA compliance.
For those who are 12 years old or under
Activate only cloud services.
Cloud Access does not give you forum access to post or share public content. Your account will be limited to cloud services for saving ARC projects, history of saved ARC projects, and cognitive services. The cognitive services features allow your robot to understand vision, emotion, decipher printed text, and speech recognition. Click the cloud services activation link to use Synthiam ARC cloud features without community access.


For those who are 13 years old or over
Activate cloud services and community access.
This gives you access to cloud services and forum to post and share public content. Access to the community by anyone under the age of 13 is prohibited. Enabling community access allows you to ask questions on the forum, earn community credits toward ARC Pro subscriptions and merchandise, create robot skills, share robot projects, and access cloud services. The Synthiam community forum is a place for enthusiasts to help each other, share robot projects and discuss robot building techniques. Do not click the community activation link if you do not qualify or agree to the Synthiam community requirements and terms.