Updating ARC
Periodically, ARC will be updated with new features, bug fixes, or security fixes. The three distribution channels of ARC are updated within their respective schedule.
How To Update
A message will be displayed upon loading when a new ARC Windows update is available. The message will contain information about the latest version and a few options. There is an option to automatically perform the update immediately or skip the update for a set time. Also, there is an option to view the release notes to see what new features, bug fixes, or security fixes have been included in the recent update. If the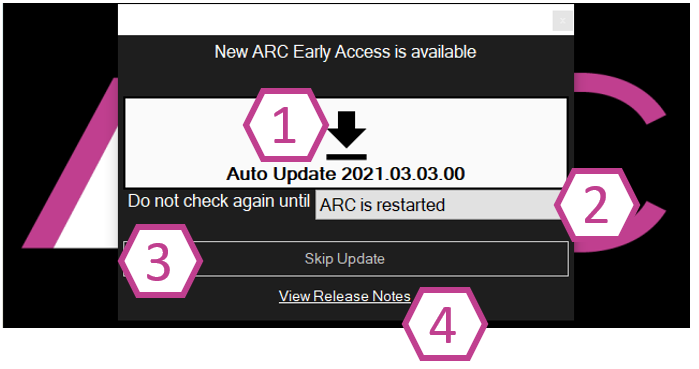 Press to automatically download and update the ARC software to the latest version.
Select a timeframe to skip an update.
Once the timeframe has been selected to skip, press this button to acknowledge skipping the update for the specified period.
Press to view release notes about the latest update.
Delaying Update Notice
The software update message can be delayed for up to 6 months. However, if you wait for six months, there's a chance the software might break entirely if the update is dependent on a third-party resource that is out of our control. Please note that there might be other factors when selecting the delay option. Otherwise, the software may no longer work due to dependencies beyond our control. The Teams edition is only updated for a mandatorily required update.