Bing Speech Recognition
+

How To Add This Control To Your Project

(Click to Expand)
Load the most recent release of ARC.
Press the Project tab from the top menu bar in ARC.
Press Add Control from the button ribbon bar in ARC.
Choose the Audio category tab.
Press the Bing Speech Recognition icon to add the control to your project.
This is a speech recognition skill for ARC that uses the Bing Speech Recognition cloud service. It is by far the most accurate speech recognition service. This skill does
not
require an API key as
Advanced Speech Recognition
does.
Most robots make a lot of noise, so locating the audio input device on a robot is not a practical solution. It is best to locate the microphone on the controlling PC/Laptop, on yourself, or somewhere in the room (away from the robot). Turning the gain higher on the input device will allow voices to be recognized from across large rooms but will also increase false positives. Test with different gains for the best resolution. Experiment with different microphone locations and volumes for the best setup of your environment. Ideally, use a headset or Bluetooth mic rather than your laptop microphone.
Main Window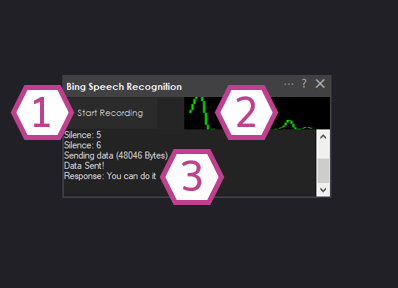 1. Start Recording Button
This button starts the Bing Speech Recognition, it will detect silence until you speak, then it will detect the words you are saying and display them in the Response Display.
2. Audio Waveform
This gives visual feedback that your audio input device (microphone) is configured correctly and is picking up voice/sounds.
3. Response Display
Here you will get speech recognition feedback. It will show the text version of your detected words or silence.
Configuration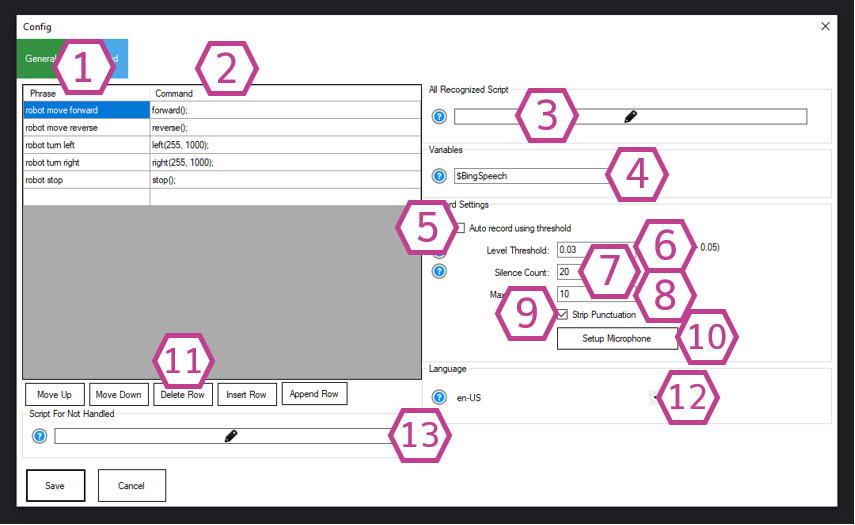 1. Phrase List
 This is a list of default phrases with the ability to customize and add more phrases.
2. Command List
 This is a list of default commands, corresponding to the phrases in the same row, with the ability to customize and add more commands.
3. All Recognized Script
 This script will execute for every detected phrase. If there is no match for recognition, this script will not be called.
4. Variable Field
 This variable holds the text from the speech recognizer. This may be used in your script for determining what was spoken.
5. Auto Record Checkbox
 If this checkbox is enabled, the skill will begin recording audio when it has been detected. The threshold is adjusted in the Level Threshold setting.
6. Level Threshold Field
 This adjustable threshold level is used for both Auto Recording (if enabled) and stopping recording. If you find that even in manual mode the recording manually stops too quickly before your sentence is complete, lower this value.
7. Silence Count Field
 This count is used to set how many times the energy volume is below the level threshold before recording is stopped.
8. Max Recording Field
 This represents the maximum duration of the recording.
*Note:
Currently locked to 10 seconds.
9. Strip Punctuation Checkbox
 If this checkbox is enabled punctuation will be stripped from the detected recording when displaying it on the Response Display. This is helpful when you're looking to detect certain words or phrases.
10. Setup Microphone Button
 This button is a shortcut to the properties of your installed audio input devices. Verify that your device is working by watching the soundbar for movement when you speak into that device.
11. List Management Buttons
 These buttons manage the rows of phrases. They move the rows up and down, insert them, add more to the bottom, and delete them.
12. Language Drop-down
 ARC uses the Microsoft Speech Recognition included with Windows. All languages supported by Windows Speech Recognition are also supported in ARC. You can configure Windows to listen to any language. ARC will default to EN-US (English) language if installed. Otherwise, ARC will default to the first installed language. If more than one language is installed, a language may be selected with this drop-down.
*Note 1:
This feature is only available from Windows 7 and newer (7, 8, 8.1, 10, etc.). For a detailed description of what errors your computer is receiving during Speech Recognition Init, open the DEBUG window under Utilities. Microsoft has provided assistance to configure speech recognition
here
.
*Note 2:
Languages support by speech recognition depend on the Microsoft Windows operating system configuration. View the Microsoft speech recognition guide
here
to view supported languages.
13. Not Handled Script
 This script will execute for every detected phrase that is not in the phrase list. If there is a match from the phrase list, this script will not be called.
How to Use Bing Speech Recongition
1) Install, configure and test your audio input device (see instructions below).
2) Add the Bing Speech Recognition Skill to your ARC project (Project -> Add Skill -> Audio -> Bing Speech Recognition).
3) In the Configuration menu, setup the scripts, phrases, and commands you'd like to use.
4) Save your Settings, click the Start Recording button in the main window and then speak your phrases into the audio input device to activate Bing speech recognition.
*Note:
You are required to be connected to the internet for this skill to work.
Code Sample
Add this code to the configuration of this skill to send detected speech to the PandoraBot skill.
ControlCommand("PandoraBot", SetPhrase, $BingSpeech)
When this skill detects a phrase, it will be assigned to the variable and the specified script will execute. With this model, you can have this skill send the detected speech to a PandoraBot skill using ControlCommand().
If your ARC project is configured with a
PandoraBots
skill and the Bing Speech Recognition Skill. It will look like this: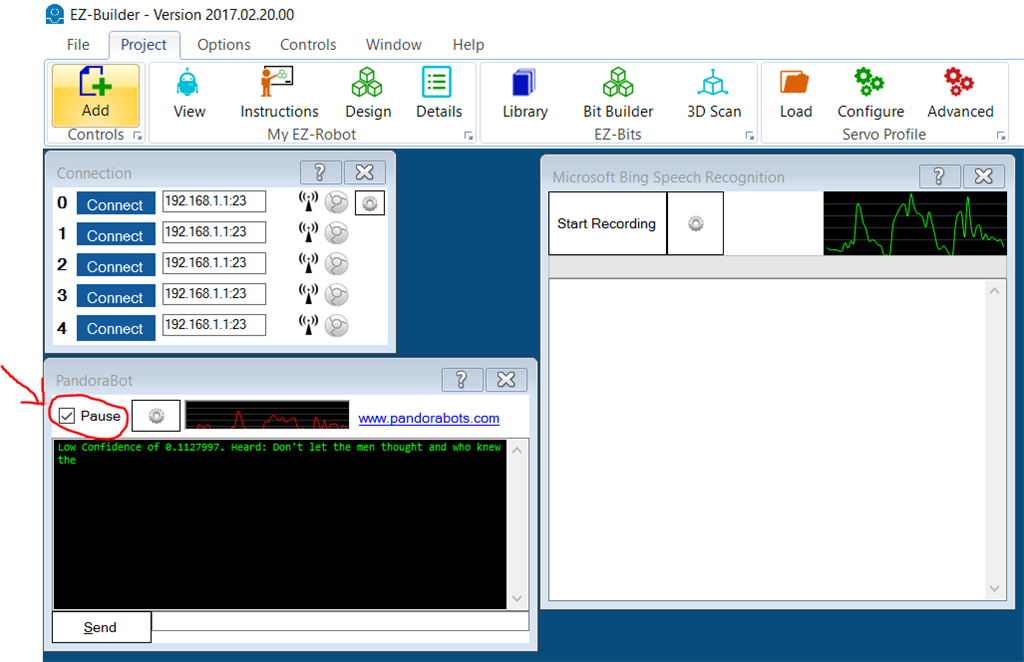 *Note:
Ensure the PandoraBot control is PAUSED so that it does not attempt to listen to speech. This is because we will be using this Bing Speech skill for detecting speech and passing the detected speech to the PandoraBot using ControlCommand().
Video
Here's an example of the skill in action combined with the
Cognitive Vision
and
Cognitive Emotion
services.
Requirements
This service requires an internet connection which means that a second USB WiFi adapter or an ethernet connection may be needed. Read about having 2 network connections
here
.
Headset or External Mic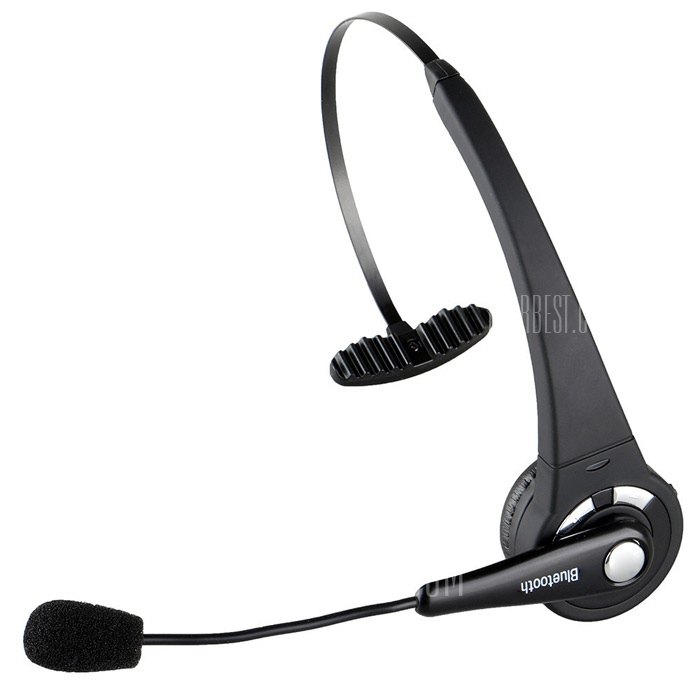 Using a headset or external mic will produce dramatically better results compared to the internal PC/Laptop mic. Using a headset or mic will enable the recognition engine to "hear" your voice much clearer with less background noise. The background noise of the laptop, motors, radio, and room echo will cause the recognition software to return False Positives. This means the software recognizes an incorrect phrase. An external mic will also prevent the recognition software from hearing the robot speak. In short, it is important to use a Mic Headset or external Mic for a positive Speech Recognition experience.
Resources
Configure Audio Input Device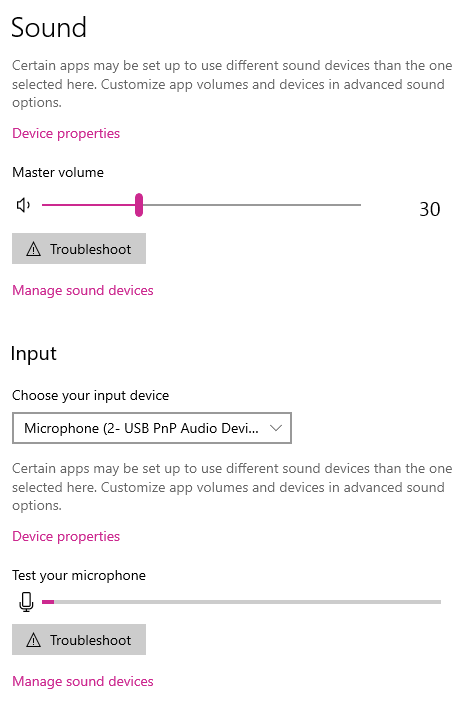 You might have to adjust the microphone input volume/gain. To adjust the mic volume use the Microsoft Windows volume mixer, and first, make sure you have selected the correct input device. Your laptop or computer may have a few different mic devices. Maybe one is on a remote camera. Find the mic you'd like to use and adjust the volume. To find the volume settings that are ideal on your computer, follow these steps:
1) Right-click on the little speaker on your system tray
2) Select "Open Sound Settings"
3) In the "Input" section of the Sound Settings, you'll notice a little VU meter beside the active device. Make sure your active device is indeed the microphone you want to use. By making sounds, the VU meter should move.
4) Click on the "Device Properties" and locate the volume slider for the microphone. We usually have our volume set for 78. Play around with different volumes until you see your voice is being picked up by the VU meter. Adjust the volume input level/gain to display your voice's regular volume near the middle of the VU Display graph. If the level/gain is too high, the recognition software will not work because the input audio will be distorted.
Voice Training
You may train your computer for speech recognition by using the training wizard. Find the training wizard under Speech Recognition within the Windows Control Panel.