Pandorabots
How to add the Pandorabots robot skill
Load the most recent release of ARC (Get ARC).
Press the Project tab from the top menu bar in ARC.
Press Add Robot Skill from the button ribbon bar in ARC.
Choose the Artificial Intelligence category tab.
Press the Pandorabots icon to add the robot skill to your project.
Don't have a robot yet?
Follow the Getting Started Guide to build a robot and use the Pandorabots robot skill.
How to use the Pandorabots robot skill
This skill will send the text you enter to the Pandorabots online server via ControlCommand(). The Pandorabots online server will respond to you with a message from the artificial intelligence engine. By default, we have a Synthiam Pandorabot set up on the Pandorabots online server that you can use or create your Pandorabot.
Main Window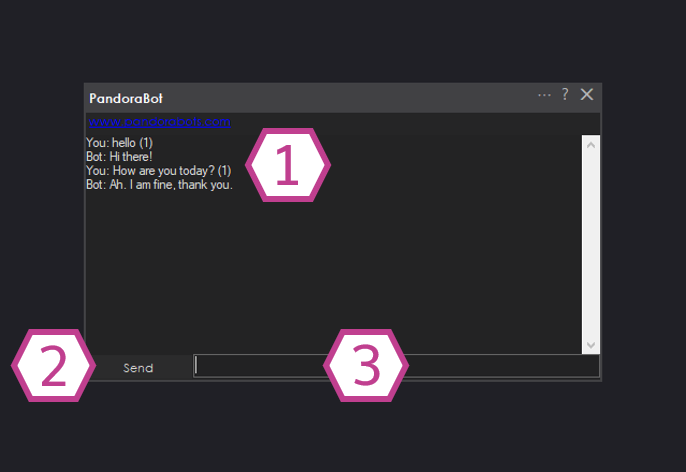 1. Text Display
This displays your text from the text entry field and the responses from the Pandorabot.
2. Send Button
This button sends the text from the text entry field to the Pandorabot.
3. Text Entry Field
This field is where you enter your questions for and responses to the Pandorabot.
Settings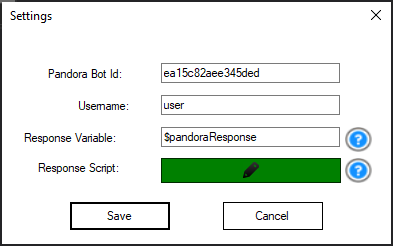 1. Pandorabot ID field
This is the Synthiam's unique ID for our Pandorabot. It's not recommended that you change this ID unless you create your own Pandorabot.
2. Username field
This field contains your Synthiam user name.
3. Response Variable Field
This variable holds the response from the Pandorbot.
4. Response Script
When the response is received from the Pandorabot this script is activated.
Code Samples
If you configure your own bot, you may also include a script within the bot response. ARC will execute scripts that are located within the [ and ] characters. For example, this response below includes EZ-Script that will be executed:
"Hello, I am a bot. [Servo(d2, 20)]"
Another speech recognition skill, or your own script can send phrases to this Pandorabot skill via ControlCommand(). For example, if you are using the Bing Speech Recognition skill, you would have that skill send the detected phrase to the Pandorabot skill using this command:
ControlCommand("PandoraBot", SetPhrase, $BingSpeech)
Requirements
This ARC skill requires an internet connection, which means you may need your EZB to be in Client Mode and connected to a router. View the EZ-B v4
WiFi Modes Activity
to change the mode. The skill will connect to the Pandorabot A.I. Server, which allows you to have a verbal conversation with your robot. This skill uses the local language dictionary, so a headset or nice microphone is necessary. Also, you will benefit from training the computer for your voice if you have not already done so.
Resources
If you would like to host the AIML configuration locally and not require the Pandorabot service, there is a fantastic skill. Check out the
AIMLbot Skill
.
Visit
Pandorabots
, and you can set up your own unique A.I. bot. By default, the skill is configured with the Synthiam Pandorabot.
Speech Recognition
This skill does not include a speech recognition system. You must combine this skill with another speech recognition skill, such as Bing or Microsoft Speech. Here are some speech recognition skills to use with this system:
Video