Control UBTech Alpha robot via bluetooth
How to add the Ubtech Alpha 1 Bluetooth robot skill
Load the most recent release of ARC (Get ARC).
Press the Project tab from the top menu bar in ARC.
Press Add Robot Skill from the button ribbon bar in ARC.
Choose the Movement Panels category tab.
Press the Ubtech Alpha 1 Bluetooth icon to add the robot skill to your project.
Don't have a robot yet?
Follow the Getting Started Guide to build a robot and use the Ubtech Alpha 1 Bluetooth robot skill.
How to use the Ubtech Alpha 1 Bluetooth robot skill
Control UBTech Alpha robot via bluetooth and control servos. The Virtual Servos in
ARC
will control the UBTech Alpha robot servos. Use the configuration button on this skill to configure what servos are to be used. The Vx servos in
ARC
correspond to the
servo
IDs of the UBTech Alpha robot.
For example:
- V1 controls
servo
ID #1
- V2 controls
servo
ID #2
- V3 controls
servo
ID #3
- and so on...
Main Window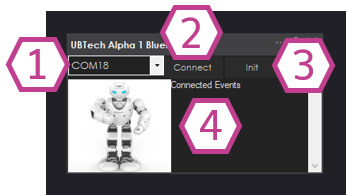 1. COM Port Drop-down
Select the Bluetooth COM port that corresponds with the Alpha1 robot connected to your PC.
2. Connect Button
Once the proper COM ports is selected, press the Connect button to connect
ARC
to the Alpha1

3. Init Button
Initiates communication with the Alpha1 robot.
4. Status Display
Displays text corresponding to what actions are happening with the skill.
Configuration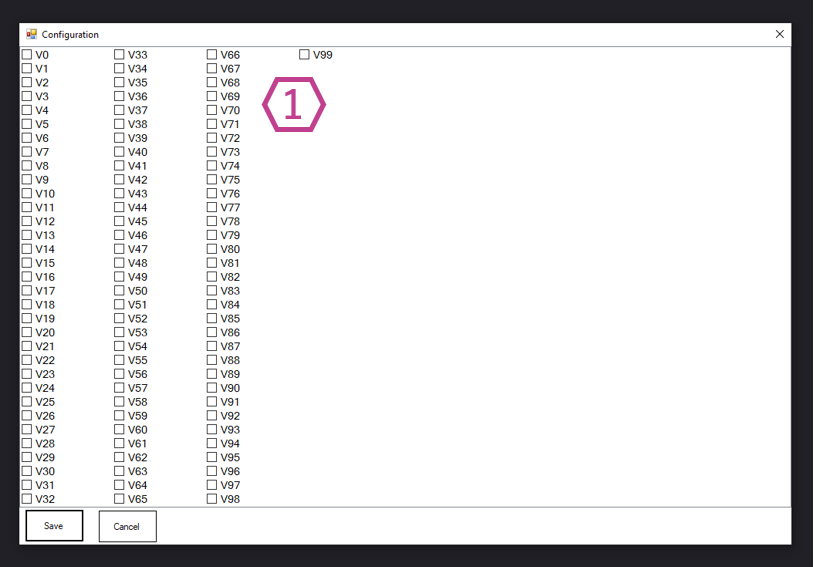 1. Virtual servo Checkboxes
Check (enable) each virtual
servo
that corresponds to the
servo
ID's you have on your Alpha1. If you would like to control the servo, it will have to be enabled.
How to Use UBtech Alpha1 Bluetooth Skill
1) Connect your PC to the Alpha1 robot via Bluetooth.
2) Add the UBtech Alpha1 Bluetooth skill to your
ARC
project (Project -> Add Skill -> Movement panels -> UBtech Alpha1 Bluetooth).
3) Select the Bluetooth COM port for the Alpha1 robot and select CONNECT.
4) Use the configuration menu of this skill to select the servos you wish to control. Place a check in the box beside each
servo
to control.
5) Now that you have the skill configured, you may use any skills in
ARC
that support servos to move the Alpha1 robot. This includes Auto Position, Camera, Joystick, and more.
*Note:
When editing scripts in other skills, use the
Cheat Sheet
or right-click in the editor to see available
ControlCommand
of this skill. You may connect, disconnect, and control LEDs.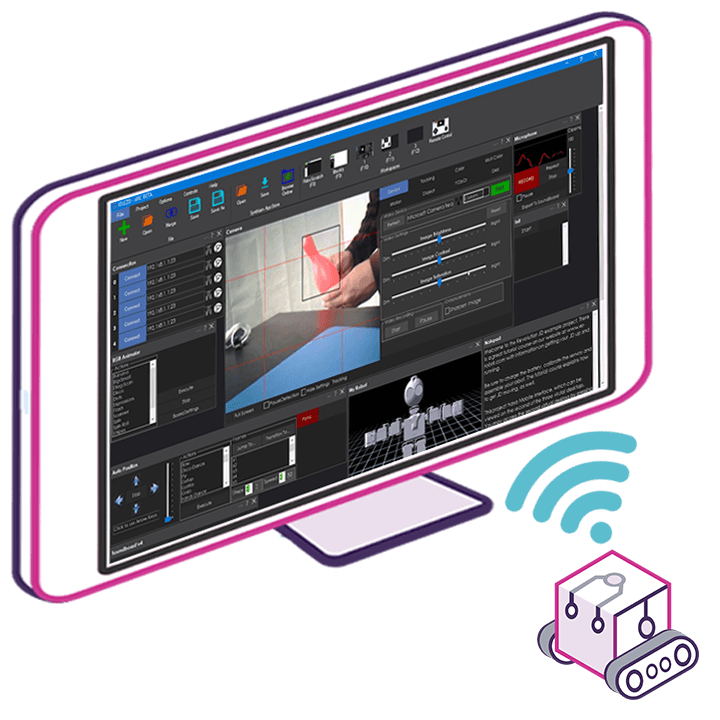 Upgrade to ARC Pro
Your robot can be more than a simple automated machine with the power of ARC Pro!