Control Feetech serial bus servos from UART or PC COM port.
+

How To Add This Control To Your Project

(Click to Expand)
Make sure you have the latest version of ARC installed.
Select the Get button in this page to download the archive file.
Double click the downloaded archive file to execute installer.
The installer will add this control to ARC.
Load ARC and press the Project -> Add Control button from the menu.
Choose the Servo category tab.
Press the Feetech Serial Bus Servo icon to add the control to your project.
Manual
Control Feetech serial bus servos over EZB UART or PC COM port. Additional details on how to use this skill are coming soon to this page. However, if you are familiar with the Robotis Dynamixel or LewanSoul servos, it is a similar approach. The Vx virtual port must match the servo ID - and voila, you're off to the robot races!

Main Window
The main window on the project workspace will display information about active connection and errors. To configure the servos, press the ... configuration in the title bar.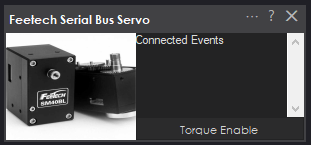 Configuration Screen
The configuration allows selecting the virtual servo ports that represent the ID's of the Freetech servos. For example, if the servo ID is #1, then V1 will be used. Also, the communication type must be specified (EZB UART or PC COM Port).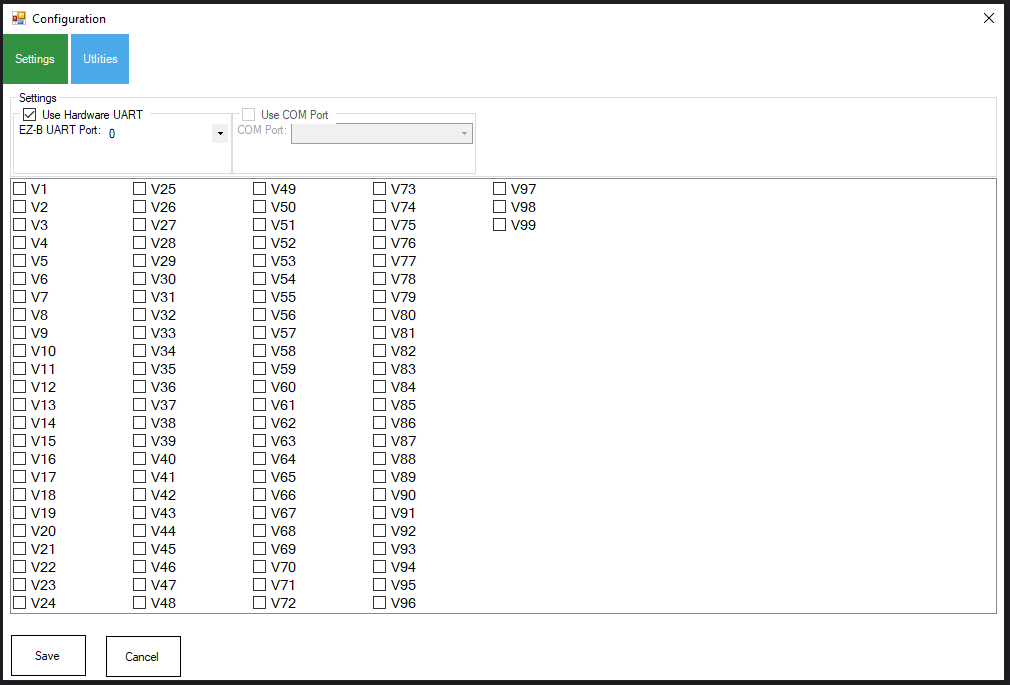 Baudrate
The baud rate of this skill is 1,000,000 bps, which is also the default baud rate for Feetech servos.

ID
All new Feetech servos will have a factory default ID of #1, which is V1 in ARC. If you want to reprogram the servo ID, you need use the SCS15 software V1.6. from here. The software requires connecting the servo to either their USB device or using an Arduino. The Freetech website contains more information. 

Synthiam has plans to add an ID rename utility in the skill - however, we whipped this up in a few minutes for a quick test. Stay tuned for more features supporting Feetech servos.