+

How To Add This Control To Your Project

(Click to Expand)
Load the most recent release of ARC.
Press the Project tab from the top menu bar in ARC.
Press Add Control from the button ribbon bar in ARC.
Choose the Social Media category tab.
Press the Twitter Recognition icon to add the control to your project.
This skill will query a Twitter feed to pick up custom phrases that you have pre-configured. You can configure script Commands to be executed according to the recognized phrases. It operates similar to the Speech Recognition skill, in that the detected phrases can execute scripts.

*Note: This skill requires an internet connection and Twitter account.


Main Window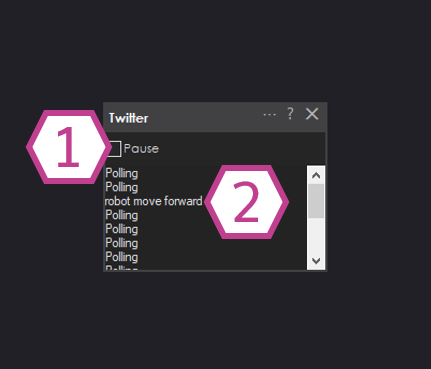 1. Pause Button
This button pauses the polling process of the Twitter Recognition skill.
2. Status Display
Displays the status of the skill and shows the detected phrases from the phrase list.
Settings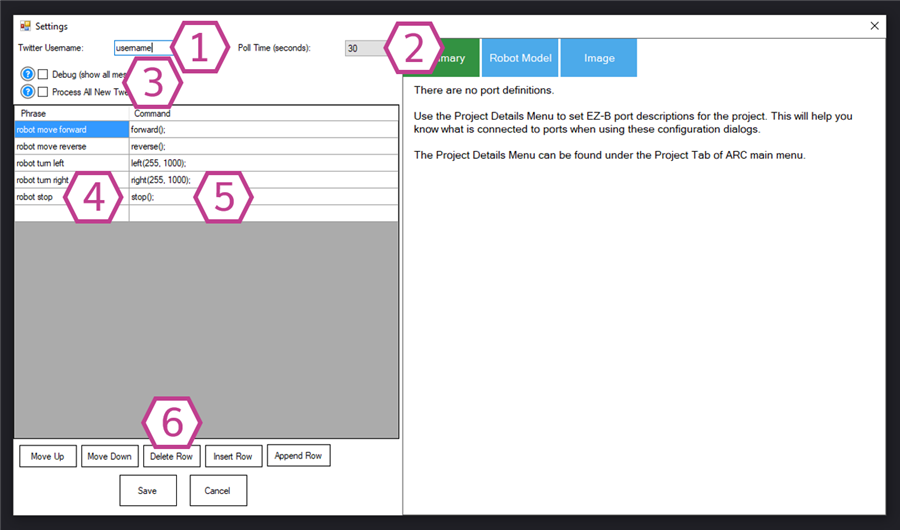 1. Username Field
This field is where you will enter your Twitter username.
2. Polling Time Drop-down
This drop-down adjusts the polling time in seconds between looking for phrases from your tweets. The range is from 5 to 360 seconds. The default time is 30s.
3. Checkboxes
These checkboxes enable displaying showing every tweet in the status display and displaying all tweets (instead of just the newest).
4. Phrase List
This is a list of default phrases with the ability to customize and add more phrases.
5. Command List
This is a list of default commands, corresponding to the phrases in the same row, with the ability to customize and add more commands (scripts).
6. List Management Buttons
These buttons manage the rows of phrases. They move the rows up and down, insert them, add more to the bottom, and delete them.
How to use Twitter Recognition
1) Add the Twitter Recognition skill to your ARC project (Project -> Add Skill -> Social Media -> Twitter Recognition).
2) In the skill settings make note of the phrases that are there, modify them, or add your own.
3) Tweet one of the phrases from your Twitter account.
4) Watch as the Tweet is picked up by the Twitter Recognition skill and the script is executed corresponding to the detected phrase.
Video
Requirements
A Twitter account and an internet connection.