Control the older iRobot Discovery and 4xxx for legacy support
+

How To Add This Control To Your Project

(Click to Expand)
Make sure you have the latest version of ARC installed.
Select the Get button in this page to download the archive file.
Double click the downloaded archive file to execute installer.
The installer will add this control to ARC.
Load ARC and press the Project -> Add Control button from the menu.
Choose the Movement Panels category tab.
Press the Irobot Roomba Legacy Movement Panel icon to add the control to your project.
Manual
Control the older iRobot Discovery and 4xxx for legacy support. This robot skill is available for those who have robots built on the older roombas. 

*Note: For 500 series users, please use the iRobot Movement Panel, which also has NMS compatibility and features available to newer roombas.

Screenshot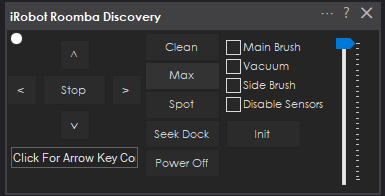 EZB Communication
The ezb port is hardcoded for software serial D0, which means it operates on any EZB that supports software serial. This includes Arduino, EZ-Robot controllers, and more. This skill does not support hardware UART or USB.


Configuration Settings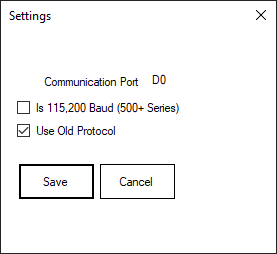 1) EZB Port is hardcoded for Digital Port D0

2) If using a 500 series robot, please use the new iRobot Roomba Movement panel. However, there is an option to adjust the baud rate in this skill

3) Some older iRobot Roombas require an older protocol than the 500 series.