+

How To Add This Control To Your Project

(Click to Expand)
Load the most recent release of ARC.
Press the Project tab from the top menu bar in ARC.
Press Add Control from the button ribbon bar in ARC.
Choose the User Interface category tab.
Press the Interface Builder icon to add the control to your project.
The User Interface Builder allows you to create interface pages for the Arc that are displayed in the fullscreen interface.
User Interfaces may also be used on the Arc mobile app (with limited functionality). Without creating an interface for mobile use , the default Desktop is displayed to users - which may be confusing by viewing all the skill controls.
Designing an user interface is very easy, and you can create as many as you like. The user can be presented with navigation buttons to switch between user interfaces in both the fullscreen interface view and mobile app.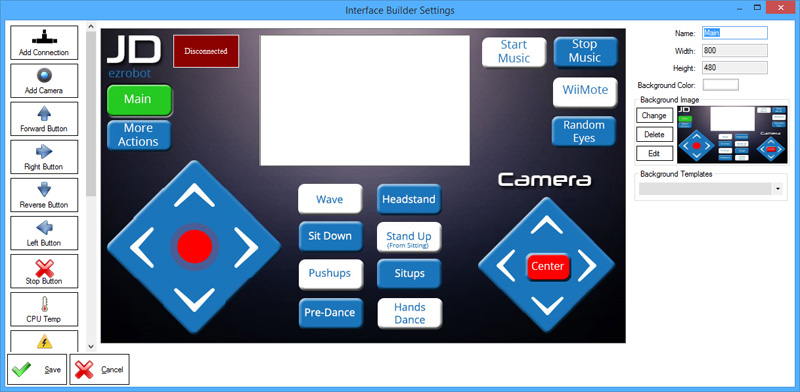 Mobile Device Supported Controls
The most common use of the interface builder is designing full-screen user interfaces (aka remote control view) in ARC for users to control a robot. However, if you plan to use the user interface on mobile devices, it is important to know that not all of the ARC robot skill controls are supported on mobile.
To learn more about skill controls, click HERE to view the manual page. ARC features are "robot skill controls", which act as individual processes. Very few of the skill controls from ARC PC are compatible with ARC Mobile. Here is a list of currently supported skill controls and features for Mobile use...
Auto Position (Movement Panel)
Auto Position Real-time Pose
Auto Position
Camera

servo tracking
movement tracking
start/end tracking scripts
color tracking type
multi color tracking type
face tracking type
glyph tracking type
Single image snapshot

Connection
Continuous Rotation Servo Movement Panel
Custom Movement Panel
Desktop View
Script (EZ-Script & Javascript)
HBridge Movement Panel
HBridge PWM Movement Panel
Microphone (ezb)
User Interface Builder
Notepad
RGB Animator
RoboScratch
Script Monitor
Sound Board (ezb)
WiiMote
Fullscreen Interface
ARC's last virtual desktop is the full screen user interface viewer. When editing a user interface, select the Make this the default fullscreen interface option and the interface will load in the full screen tab.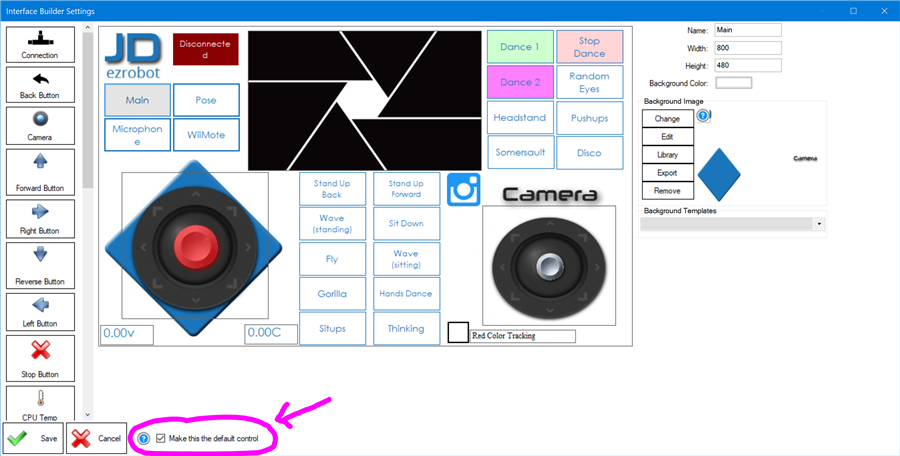 To view the fullscreen user interface, select the last virtual desktop in ARC.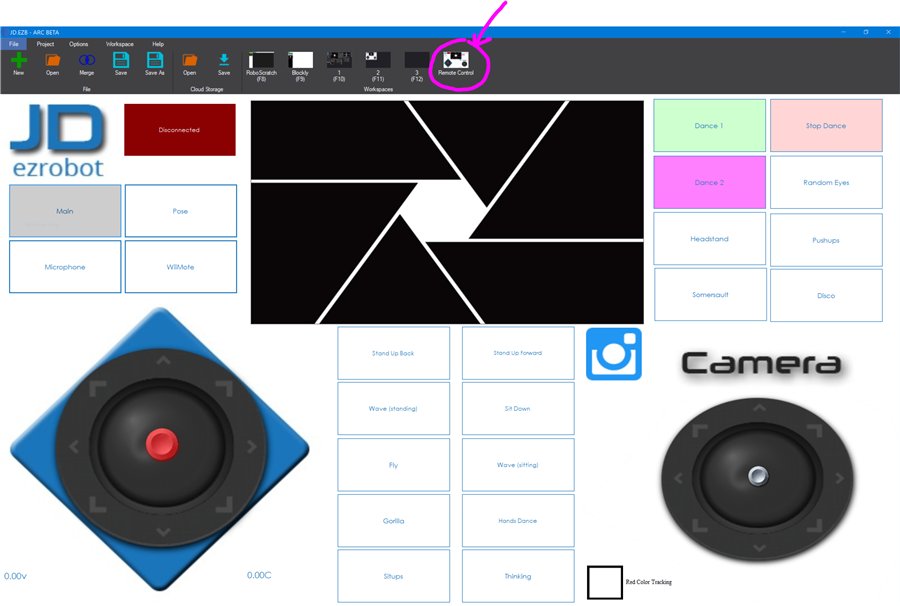 Display Fullscreen User Interface With Project Load
When a project loads, the fullscreen interface can be displayed rather than the default robot skills view. View the Project Details menu option and select Auto Focus the Default Control When Loading option.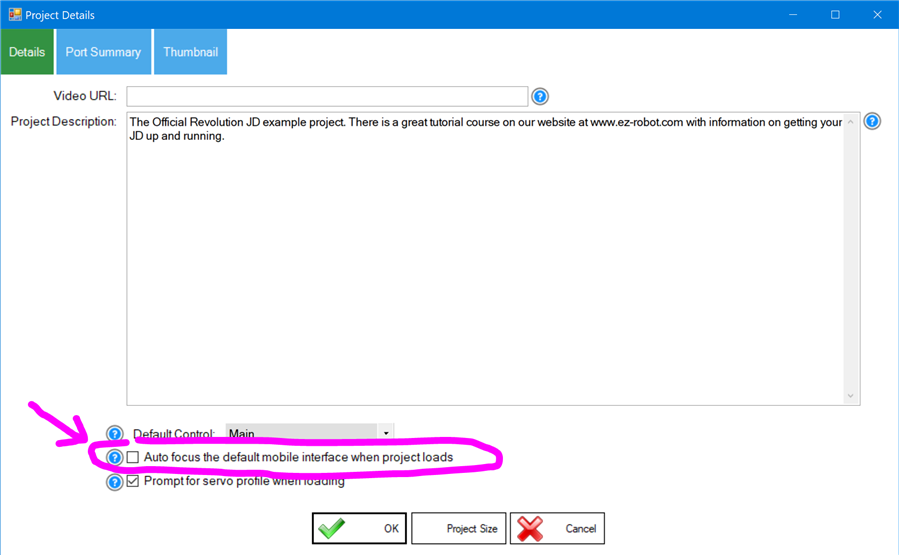 Multiple User Interfaces
More than one user interface can be created, although only one interface can be viewed full screen at a time. To have the user interface change programmatically, or by button presses, use the ShowControl() script command. This command is available in EZ-Script, Javascript and Python.
The ShowControl() script command will push the new specified user interface on top of the stack. That means you can navigate to the previous user interface with CloseControl().
Locate available ShowControl() commands by viewing the Cheat Sheet when editing the script for an event, such as a button press.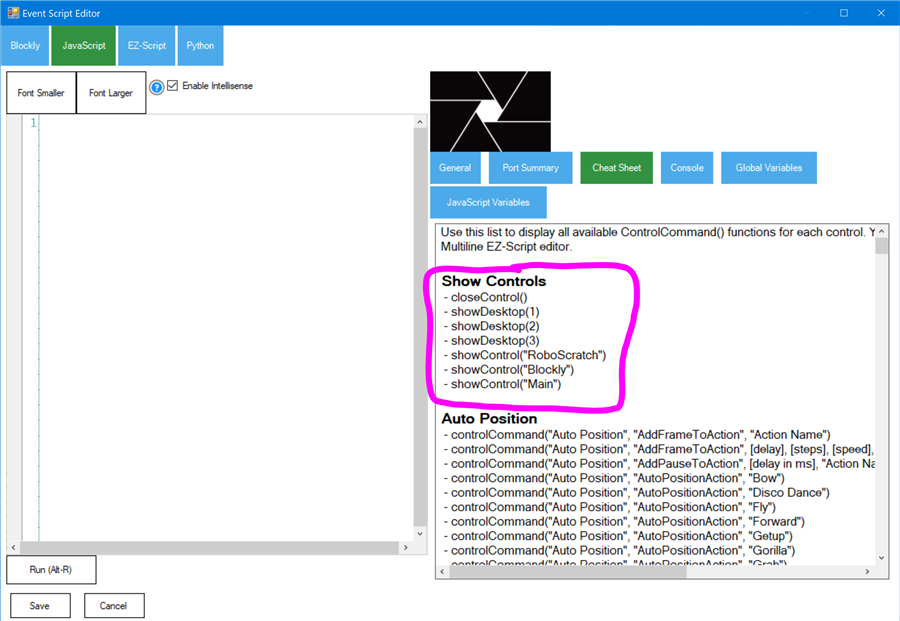 Video