+

How To Add This Control To Your Project

(Click to Expand)
Load the most recent release of ARC.
Press the Project tab from the top menu bar in ARC.
Press Add Control from the button ribbon bar in ARC.
Choose the General category tab.
Press the EZ-B Connection icon to add the control to your project.
Use the connection skill to establish a connection from a EZ-B I/O controller to ARC. Connections to an EZ-B are specified as COM ports or IP addresses. There are 5 connections in this skill but if you'd like to have (up to 255) more see the
connections skill
. ARC supports connecting to many I/O controllers and robot products. Find a detailed list on the
ARC product page
.
Main Window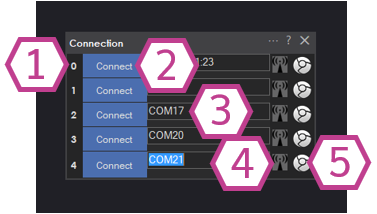 1. Connection Number
This column displays the number for each connection. Note that most skills are configurated to work with connection 0 by default.
2. Connect Button
Once the COM port or IP address is entered for the desired EZ-B device, press these buttons to connect it (them) to ARC.
3. Device Address or Port Drop-down
These drop-downs are for selecting the address or COM pot of the desired EZ-B device that you would like to connect to.
4. I/O Scan Button
These tower icon buttons are used by some EZ-B I/O controllers that have the ability to scan for their IP address if connected over WiFi. This is useful when using a
client connection
.
5. Webserver Button
These chrome icon buttons are used by some EZ-B I/O controllers that have a built-in
webserver
. They are a shortcut that will launch a new webpage with that device address or port in the address bar.
Settings - Scripts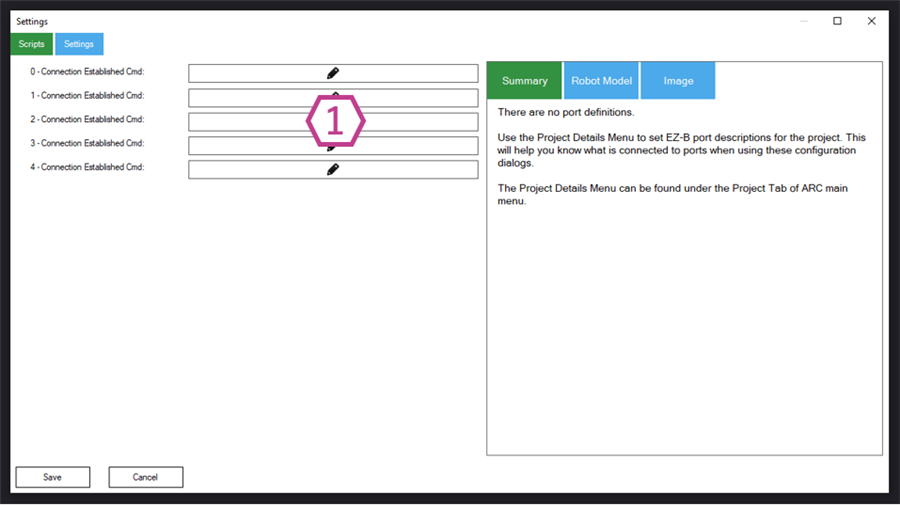 1. Connection Established Scripts
These scripts are executed when a connection is established on the corresponding numbered connections.
Settings - Settings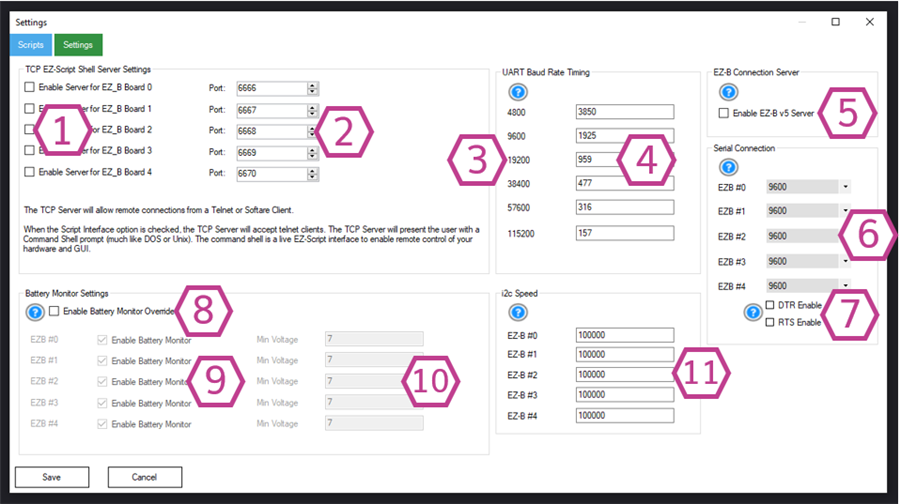 1. Enable TCP Shell Server Checkbox
These checkboxes are used to enable an EZ-Script TCP Shell Server instance in ARC. This will enable a TCP Server which provides clients with a real-time EZ-Script interface. When checked, the server accepts remote TCP Telnet connections into the EZ-Shell. You can add the
TCP Clients
Skill in ARC to monitor who has connected to the ARC terminal interface. Many developers and third party software use this TCP Server feature to integrate with ARC, such as
RoboRealm
,
EZ-Face
and
EZ-AI
. If you're a third party developer, connecting to the ARC TCP Server is a powerful method to set variables, start/stop scripts and even obtain the video frames by combining it with the
HTTP Server
.
2. TCP Port Adjustment
Use this adjusment to select a unique TCP port between 1025 and 65535.
3. UART SendSerial() Baud Rates
This column displays the available UART Baud Rate speeds for the software-defined serial SendSerial() command in ARC.
4. UART Timing Delay
These fields are used to adjust the baud rate timing delay values. Note that these values should only be changed by advanced users.
5. EZ-B v5 Connection Server Checkbox
This checkbox is for enabling is an expiramental server connection from the EZ-B index to the fabelled EZ-B v5 prototype.
6. COM Port Connection Baud Rate Drop-downs
These drop-downs are used to select the communication speed of the selected COM port on each of the 5 EZ-B connections. Note that when connected to an EZ-B via a COM port will disable the ability to connect to an EZ-B camera, a USB camera will need to be used instead.
7. DTR & RTS Checkboxes
These checkboxes are for enabling serial flow control. EZ-B devices may need one or both of these checkboxes enabled. Note that the Arduino Leonardo has a CDC driver bug that requires DTR to be enabled.
8. Battery Monitor Override Checkbox
ARC includes a battery monitor that is enabled by default. This is to protect batteries from draining rapidly below a specified voltage. Supporting I/O controllers will receive a command from ARC that disables their I/O output to reduce power consumption when the specific min voltage level is reached. If you have a power solution that requires a different voltage level or doesn't need monitoring, enable the override checkbox.
9. Battery Monitor Enable Checkbox
These checkboxes are used to enable/disable the battery monitor for each of the 5 EZ-B connections. Enabled by default, the monitor uses the min voltage level specified on it's right. When disabled the there is no battery level monitoring,
USE AT YOUR OWN RISK
. Rechargeable lithium batteries will be damaged if consumed below their minimum voltage threshold.
10. Minimum Voltage Field
These fields can be customized to include the voltage specified, based on the power solution that is being used. (7V is used for 7.4V LiPo Batteries).
11. I2C Speed Field
These fields are used to set the I2C communnication speed for each EZ-B. The default speed is 100000 (100kbps) and the mamximum speed is 400000 (400kbps).
How to Use Connection Skill
The connection skill is automatically added to every new ARC project but in the case that you have removed it, here's how to add it back and use it:
1) Add the Connection Skill to your ARC project (Project -> Add Skill -> General -> Connection).
2) Select your device address or port in the drop-down.
3) If required, go into the Settings menu to adjust the needed settings.
4) Click the Connect button.
Videos
Requirements
One or more EZ-B I/O controllers.