+

How To Add This Control To Your Project

(Click to Expand)
Load the most recent release of ARC.
Press the Project tab from the top menu bar in ARC.
Press Add Control from the button ribbon bar in ARC.
Choose the General category tab.
Press the Connection icon to add the control to your project.
Use the connection control to establish connections to EZB I/O controllers. Connections to an EZB are specified as COM ports or IP addresses.
I/O Scan
ARC supports many I/O controllers and robot products. Find a detailed list here on the ARC product page. The hardware products will support different features, such as servos, cameras and audio. One feature that is supported by some controllers is the ability to scan for their IP address if connected over WiFi.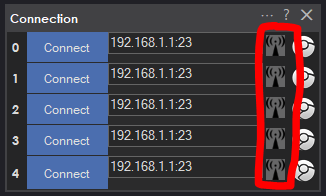 I/O Hardware Options
Some I/O controllers may support optional hardware preferences provided by the manufacturer.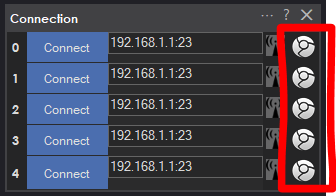 Battery Monitor
ARC includes a battery monitor that is enabled by default. This is to protect batteries from draining rapidly below a specified voltage. Supporting I/O controllers will receive a command from ARC that disables their I/O output to reduce power consumption. Access the configuration dialog of the connection control to disable the battery monitor.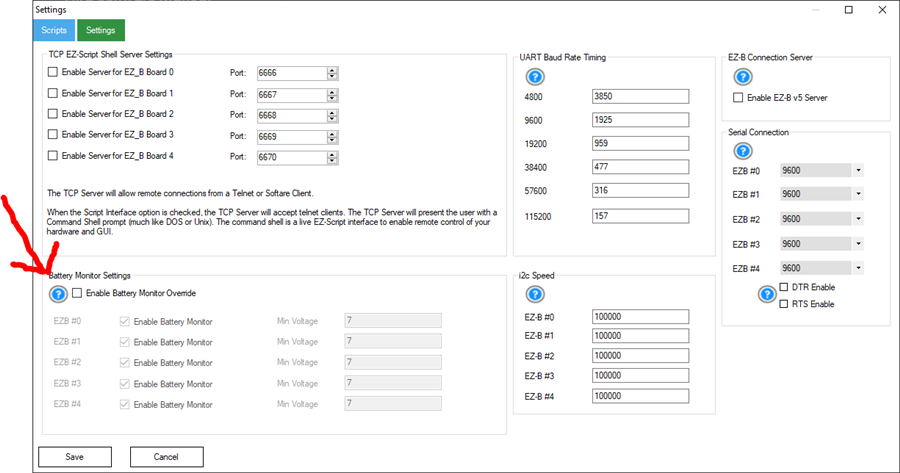 TCP Server
To enable an EZ-Script TCP Server instance in ARC. use the Config button within the connection control. This will open a configure window with more options. The Script Interface checkbox will enable a TCP Server which provides clients a real-time EZ-Script interface. When checked, the server accepts remote TCP Telnet connections into the EZ-Shell. You can add the
TCP Clients
Control in ARC to monitor who has connected to the ARC terminal interface.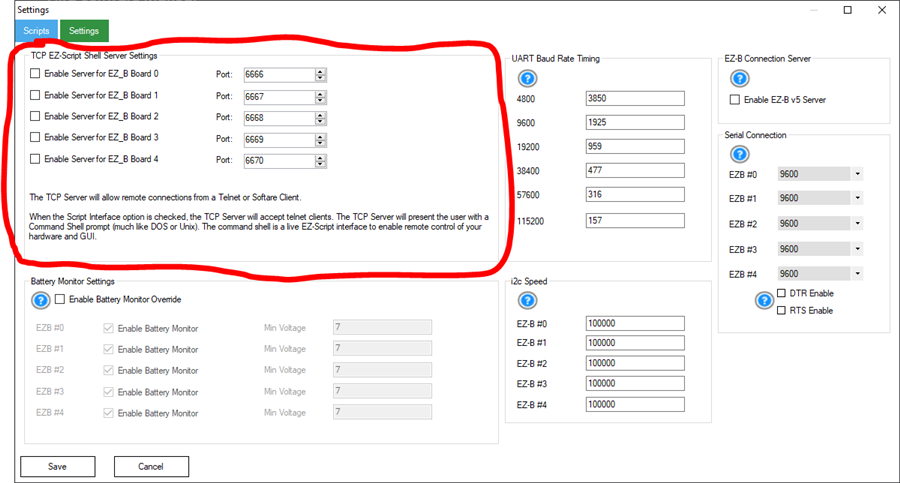 Many developers and third party software use this TCP Server feature to integrate with ARC. such as
RoboRealm
,
EZ-Face
and
EZ-AI
. If you are a third party developer, connecting to the ARC TCP Server is a powerful method to set variables, start/stop scripts and even obtain the video frames by combining it with the
HTTP Server
. There is an example in the
EZ-SDK
archive titled
Tutorial 52 - ARC Script Interface Client
which demonstrates how to connect to the TCP Server of ARC from your custom program.
Video