Play videos in a fullscreen window that sits on top of everything else. Great for facial animations or user messages.
+

How To Add This Control To Your Project

(Click to Expand)
Make sure you have the latest version of ARC installed.
Select the Get button in this page to download the archive file.
Double click the downloaded archive file to execute installer.
The installer will add this control to ARC.
Load ARC and press the Project -> Add Control button from the menu.
Choose the User Interface category tab.
Press the Full Screen Video Player icon to add the control to your project.
Manual
Play videos in a fullscreen window that sits on top of everything else. Great for facial animations or user messages.

Use ControlCommands to specify videos to play fullscreen. The ESC key can be pressed while a video is playing to cancel the video. Once the ESC key is pressed, this robot skill will not play another video until the Pause New Playback checkbox has been unchecked.

Robot Skill Main Window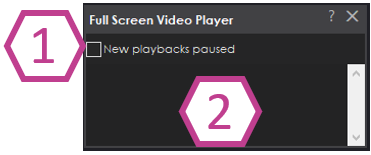 1) This checkbox will be checked when the ESC key is pressed during video playback. This feature is to prevent emergency loops that continually play videos. When ESC is pressed, this checkbox is checked. No further video playback can be done until this is unchecked by either ControlCommand or manually.

2) The logging information for errors and activity

Javascript Example
This example will play a video and demonstrate the ControlCommand syntax.


Code:


// Begin playing a video full screen
ControlCommand("Full Screen Video Player", "Play Video", "C:\\Users\\dj\\Videos\\Screen Recorder\\637427907140785293.wmv");

// wait for 3 seconds while the video is playing
sleep(3000);

// Start playing another video
ControlCommand("Full Screen Video Player", "Play Video", "C:\\Users\\dj\\Videos\\Screen Recorder\\637430717372916488.wmv");

// wait for 2 seconds while the video is playing
sleep(2000);

// Pause the video
ControlCommand("Full Screen Video Player", "Pause Video");

// Wait for 2 seconds while the video is paused
sleep(2000);

// Resume playing the video
ControlCommand("Full Screen Video Player", "Resume Video");

// wait for 3 seconds while the video has been resumed
sleep(3000);

// Stop the video and close the video player window
ControlCommand("Full Screen Video Player", "Stop Video And Close");