Overview

Adc

Artificial Intelligence

Audio

Camera

Digital

Games

General

Gps

Graphs

Hbridge

I2c

Infrared Distance

Machine Learning

Misc

Mobile

Navigation

Pwm

Rafiki

Scripting

Servo

Third Party Robots

Touch Tablet

Ultrasonic Distance

Virtual Reality
How To Add This Control To Your Project
Make sure you have the latest version of EZ-Builder installed.
Select the Install button below to download the archive file.
Double click the downloaded archive file to execute installer.
The installer will add this control to EZ-Builder.
Load EZ-Builder and press the Project -> Add Control button from the menu.
Choose the Scripting category tab.
Press the TCP Script Server Raw icon to add the control to your project.
This TCP server will bind to a port and listen for incoming EZ-Script commands. This is a useful plugin for connecting third part controllers and products to EZ-Builder. You may send any EZ-Script command, terminated by a new line (\r\n). The response is received which is also terminated by a new line (\r\n).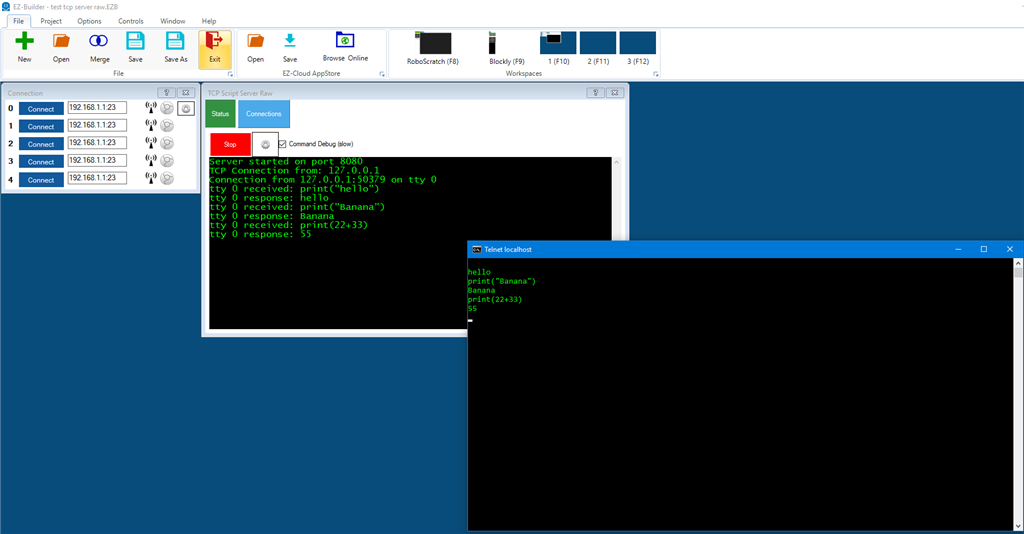 Control Command
There are also ControlCommand() for starting, stopping and controlling debug settings. This is useful if you wish to control this plugin from another script in the project, or when a connection is established to the EZ-B.

Be Socket Friendly
Although you can establish a new connection for each request, it is recommended that you maintain one connection and reuse it throughout your program. This will use the nature of the TCP (transmission controlled protocol). Every time a TCP connection is established, a bunch of back and forth occurs, which takes time and resources. If you reuse the connection, your program will run much faster. If your program is using multi-threads and therefore executes commands asynchronously, we recommend using a TCP connection per thread.

New Line Terminated Response
Every command that you send will return a new line terminated response, even if it is an empty response. Empty new line terminated responses would be for commands that do not return anything, such as SetServo(). This means it is important for your program to read the response of every command to ensure it is always caught up with the input stream.

Python
To send and receive from python...

Code:

import socket

# create an ipv4 (AF_INET) socket object using the tcp protocol (SOCK_STREAM)
client = socket.socket(socket.AF_INET, socket.SOCK_STREAM)

# connect the client, in this case localhost
client.connect(('127.0.0.1', 8080))

# -------------------------------------------------------------------------------------------

# send some  EZ-Script (in this case do some simple math)
client.send('print(23+65)\r\n')

# receive the response data 
response = client.recv(2048)

print response

# -------------------------------------------------------------------------------------------

# send some more  EZ-Script (in this case print a string)
client.send('print("Hello World!")\r\n')

# receive the response data 
response = client.recv(2048)

print response

# -------------------------------------------------------------------------------------------

# send some more  EZ-Script (in this case move a servo)
client.send('Servo(d0, 90)\r\n')

# receive the response data 
response = client.recv(2048)

print response

# -------------------------------------------------------------------------------------------

# send some more  EZ-Script (in this case get servo position)
client.send('GetServo(d0)\r\n')

# receive the response data 
response = client.recv(2048)

print response

# -------------------------------------------------------------------------------------------

# close the tcp connection
client.close()