Overview

Adc

Artificial Intelligence

Audio

Camera

Digital

Games

General

Gps

Graphs

Hbridge

I2c

Infrared Distance

Machine Learning

Misc

Mobile

Navigation

Pwm

Rafiki

Scripting

Servo

Third Party Robots

Touch Tablet

Ultrasonic Distance

Virtual Reality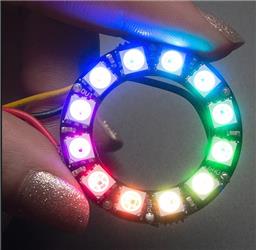 Neopixel Ring

CochranRobotics
How To Add This Control To Your Project
Make sure you have the latest version of EZ-Builder installed.
Select the Install button below to download the archive file.
Double click the downloaded archive file to execute installer.
The installer will add this control to EZ-Builder.
Load EZ-Builder and press the Project -> Add Control button from the menu.
Choose the Misc category tab.
Press the Neopixel Ring icon to add the control to your project.
I will work on adding the ability to have this run from a script. All of this is doable through a script anyway, but I wanted to give a user interface to the work that has been done.

This update displays the command that needs to be passed via serial. you can copy and paste this command. Also, it allows you to either run the light or not based on a check box. It allows you to quickly test, and then copy the commands for the arduino sketch that runs the NeoPixel listed below.

At some point, I will put out an update that will allow this to run from an EZ-B port.

I have included the code for this project if anyone wants to modify it. The only requirement is that you share your code. This is common for development based on someone else's shared code.

There are a couple of bugs in this. I wanted to put this out for a friend who is trying to do something similar to what I am doing. This would be a good tool to use to allow you to quickly change settings so that you know what scripting commands to use and bypass this tool.

Your Arduino controller will run the code found at this
forum post.

The code below works with Arduino IDE 1.6.3 with the 1.0.3 version of the Adafruit NeoPixel library,

To download this version of the Arduino IDE ==> (previous versions link)

To get the correct version of the NeoPixel library, in the Arduino IDE, choose Sketch, then Include Library, then Manage Libraries. Find Adafruit NeoPixel in the list and then set the version to 1.0.3 and choose the Install button.

Shared code = Neopixel.zip