Exosphere combines artificial intelligence, machine learning and human assistance to give autonomous behaviors to cloud robotics.
+

How To Add This Control To Your Project

(Click to Expand)
Make sure you have the latest version of ARC installed.
Select the Get button in this page to download the archive file.
Double click the downloaded archive file to execute installer.
The installer will add this control to ARC.
Load ARC and press the Project -> Add Control button from the menu.
Choose the Machine Learning category tab.
Press the Exosphere icon to add the control to your project.
Manual
Synthiam's Exosphere gives any robot the ability to execute autonomous tasks in the workplace or home with the aid of human intelligence. Exosphere bridges the gap between robotics, machine learning and artificial intelligence.

Who Is Exosphere For?
The way we think is being replicated in AI algorithms to include moral hesitation, judgment and responsibility. This is why AI greatly benefits from human interaction. With close to 1 million robot connections on Synthiam's platform, when exosphere is publicly released, robots from around the world are added daily with new tasks. These tasks are created for real robots with real problems to solve. This gets AI out of the lab and into the real world.

Exosphere can control as much or little as necessary to help robots achieve their goals. Even if that means using human intelligence to fill in the 10% edge cases that robots can't do.

How Does It Work?
1. A robot is instructed to execute a task.
2. The task is submitted to Exosphere as a contract request.
3. AI/ML and humans provide a confidence bid to win the contract.
4. If AI/ML can't control the robot to successfully perform a task, another contract is issued to a human operator to take over or assist the robot. In turn, training the global AI knowledge base for future task requests.

Control Overview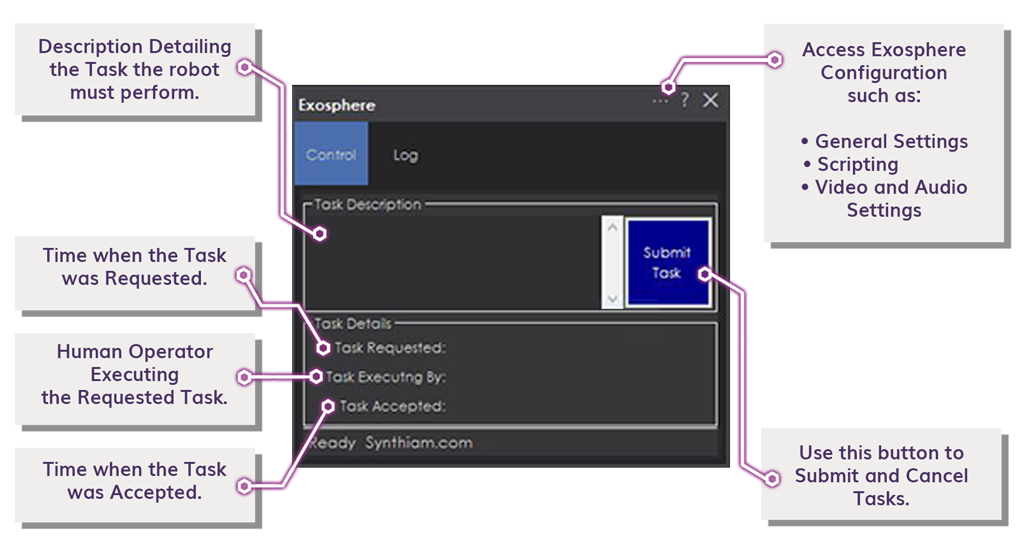 Emergency Stop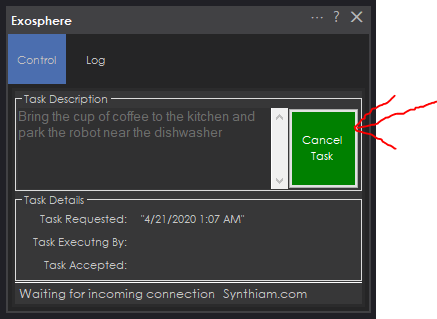 Once the task is submitted, a remote operator will take control of the robot. It is highly recommended to monitor the robot when remotely operated to avoid hazard to the robot or damage to environment. If required, pressing the CANCEL TASK button will emergency stop the robot.


Compatibility
With the recent onset of Covid-19, it is important for Exosphere to have compatibility with existing robots to leverage their ability with human operators - while continuing to train the knowledge base for future autonomous behaviors. Exosphere was designed as a webservice & behavior control to allow connections from existing robots or control software, such as ROS or ARC. However, it only takes minutes to add any robot to Exosphere with Synthiam's ARC software. As per the Synthiam way, we'll be adding many tutorials that demonstrate how to add a variety of robots to Exosphere using ARC.