Overview

Adc

Artificial Intelligence

Audio

Camera

Digital

Games

General

Gps

Graphs

Hbridge

I2c

Infrared Distance

Misc

Mobile

Navigation

Pwm

Rafiki

Scripting

Servo

Third Party Robots

Touch Tablet

Ultrasonic Distance

Virtual Reality

How To Add This Control To Your Project
Load the most recent release of EZ-Builder
Press the Project tab from the top menu bar of EZ-Builder
Press Add Control from the button ribbon bar of EZ-Builder
Choose the Camera category tab
Press the Cognitive Emotion icon to add the control to your project
Use the Microsoft Cognitive Emotion cloud service to describe images. The images come from the Camera Device added to the project. This plugin requires an internet connect. Please consult the appropriate lessons in the learn section to configure your EZ-B to WiFi client mode or add a second USB WiFi adapter from this tutorial.
A tutorial for using this plugin is found here
What Can You Do?
An easy example on how to use this control is to add this simple line of code to the control config. The code will speak out of the PC speaker what the camera sees for emotion. You will need a Camera Device and this plugin added to the project.
Here's an example project: testemotion.EZB
It would look like this...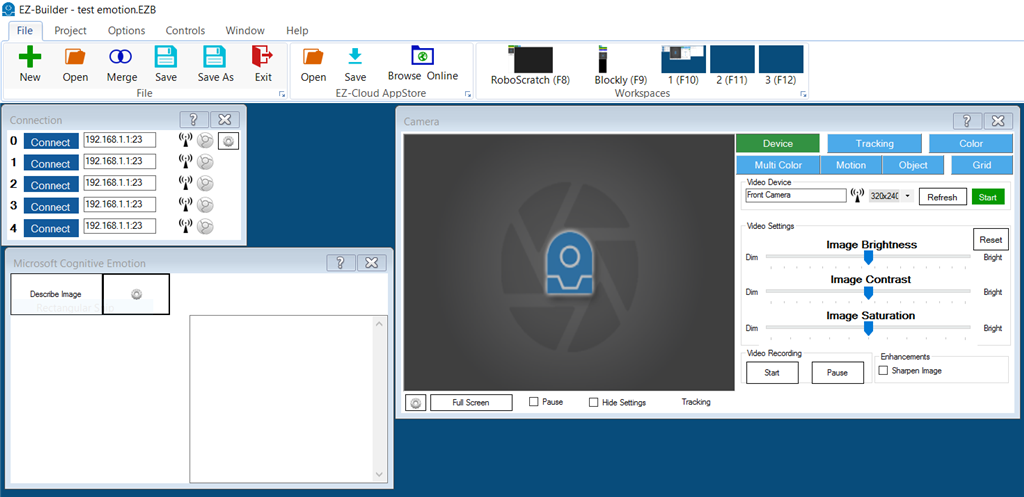 And add this simple line of code...

say("You are " + $EmotionConfidence + " percent " +  $EmotionDescription)