Overview

Adc

Artificial Intelligence

Audio

Camera

Digital

Games

General

Gps

Graphs

Hbridge

I2c

Infrared Distance

Machine Learning

Misc

Mobile

Navigation

Pwm

Rafiki

Scripting

Servo

Third Party Robots

Touch Tablet

Ultrasonic Distance

Virtual Reality
How To Add This Control To Your Project
Make sure you have the latest version of EZ-Builder installed.
Select the Install button below to download the archive file.
Double click the downloaded archive file to execute installer.
The installer will add this control to EZ-Builder.
Load EZ-Builder and press the Project -> Add Control button from the menu.
Choose the Camera category tab.
Press the Sighthound Cloud API icon to add the control to your project.
The Sighthound Cloud Detection API returns the location of any people and faces found in robot camera video. Faces can be analyzed for gender, age, pose, or emotion; and a landmark detector can find the various facial features in the detected faces, including eyes, nose and mouth, by fitting 68 landmark points to those features.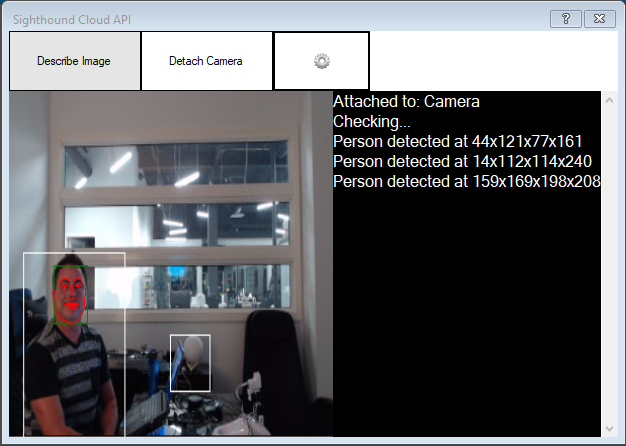 *Requirement: This plugin requires EZ-Builder 2019.12.11.00 or higher

Variables are set with information that has been detected.

This plugin requires a Camera control to be added to your project. The image that will be detected will come from the camera control. 

Lastly, you will require an account with www.sighthound.com. There is a free demo account that you can configure which limits the number of calls.