+

How To Add This Control To Your Project

(Click to Expand)
Load the most recent release of ARC.
Press the Project tab from the top menu bar in ARC.
Press Add Control from the button ribbon bar in ARC.
Choose the Misc category tab.
Press the Joystick (Direct Input) icon to add the control to your project.
One joystick can be connected and used with ARC to control movement, servo positions and assign scripts to buttons. For XInput joysticks (such as xBox), use the
X Input Joystick control
.
By default, the Analog/Digital joystick #1 is configured to control a movement panel. This can be changed by using the Config button and assigning servos to the joystick instead.
Each button can execute a script by either Press Down and Release Up.
If your joystick is connected after the project has been loaded, press the Refresh button to detect and load the joystick driver.
We recommend the
Logitech F710 Wireless Joystick
. If you use the F710 Logitech Wireless Driver, ensure the switch is selected to the D position and not X. The D position means DirectInput, and X means xInput. This particular ARC joystick control operates in DirectInput mode.
Different joysticks support a variety of drivers. The ARC software uses the DirectInput Native Windows Driver.
xBox Controller Mapping
When u sing an xBox controller, there is a button/stick mapping posted on Microsoft's website. The d-pad is not functional using xBox and DirectInput. Another difference is the trigger buttons are both connected together.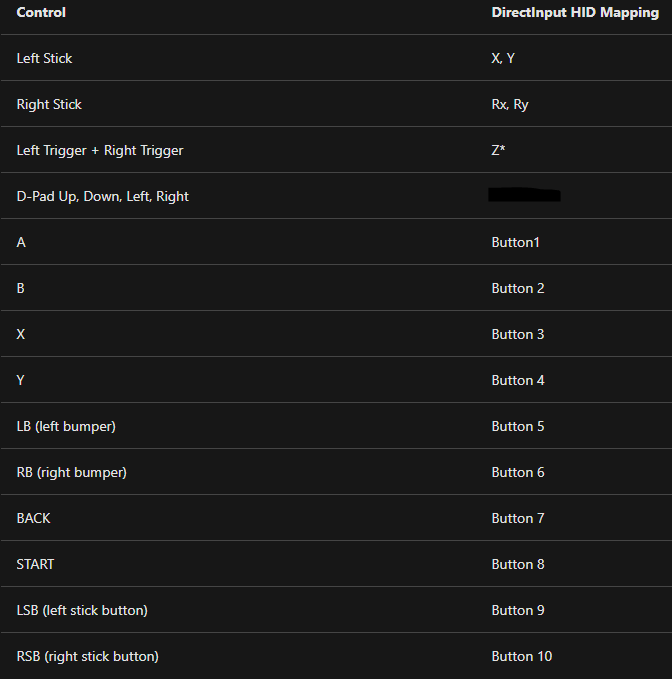 Video