Overview

Adc

Artificial Intelligence

Audio

Camera

Digital

Games

General

Gps

Graphs

Hbridge

I2c

Infrared Distance

Misc

Mobile

Navigation

Pwm

Rafiki

Scripting

Servo

Third Party Robots

Touch Tablet

Ultrasonic Distance

Virtual Reality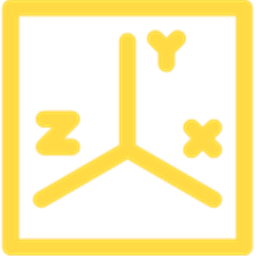 How To Download and Use This Control
Make sure you have the latest version of EZ-Builder installed.
Select the Install button below to download the file.
Double click the downloaded file to open installer.
The installer will add this control to EZ-Builder.
This plugin will register new EZ-Script commands that can be used to dampen and filter values. For instance, if you are receiving data from a sensor to move servos, these filters will smooth the output to prevent the servo from being jerky.

There are currently two filters that can be used. In order to allow multiple instances of each filter, the commands have an ID. This means you can have multiple instances of the same filter and each instance can have an unique ID.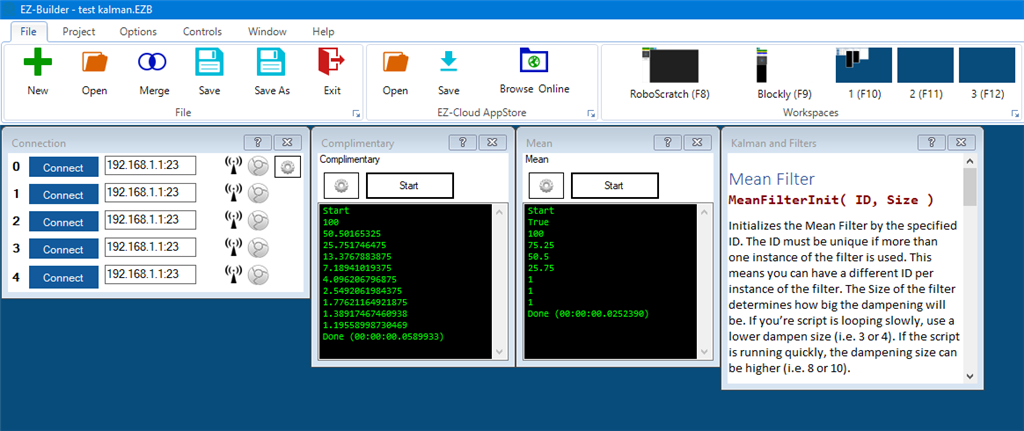 Mean Filter Examples
Here is a short code that demonstrates the output of the mean filter if the values went from 100 to 1.

Code:


# Initialize the filter with ID "test" and a dampen size of 4
MeanFilterInit("test", 4)

# Add the first value, which will be 100
print(MeanFilterAdd("test", 100))

# Add a bunch of 1's and print the output so you can see what the dampening looks like
print(MeanFilterAdd("test", 1))
print(MeanFilterAdd("test", 1))
print(MeanFilterAdd("test", 1))
print(MeanFilterAdd("test", 1))
print(MeanFilterAdd("test", 1))
print(MeanFilterAdd("test", 1))



Output: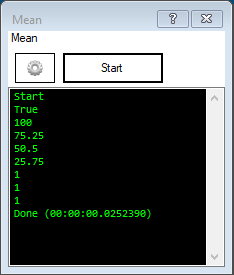 Complimentary Filter
This code demonstrates the complimentary filter with an ID of "banana" and a dampen of 50%

Code:

# Init the filter with a dampening percentage of 50%
ComplimentaryFilterInit("banana", 50)

# The first value we will add is 100
print(  ComplimentaryFilterAdd("banana", 100))

# Add and print a bunch of 1's so you can see how the dampening works
print(  ComplimentaryFilterAdd("banana", 1))
print(  ComplimentaryFilterAdd("banana", 1))
print(  ComplimentaryFilterAdd("banana", 1))
print(  ComplimentaryFilterAdd("banana", 1))
print(  ComplimentaryFilterAdd("banana", 1))
print(  ComplimentaryFilterAdd("banana", 1))
print(  ComplimentaryFilterAdd("banana", 1))
print(  ComplimentaryFilterAdd("banana", 1))
print(  ComplimentaryFilterAdd("banana", 1))



Output: