Overview

Adc

Artificial Intelligence

Audio

Camera

Digital

Games

General

Gps

Graphs

Hbridge

I2c

Infrared Distance

Machine Learning

Misc

Mobile

Navigation

Pwm

Rafiki

Scripting

Servo

Third Party Robots

Touch Tablet

Ultrasonic Distance

Virtual Reality
How To Add This Control To Your Project
Make sure you have the latest version of EZ-Builder installed.
Select the Install button below to download the archive file.
Double click the downloaded archive file to execute installer.
The installer will add this control to EZ-Builder.
Load EZ-Builder and press the Project -> Add Control button from the menu.
Choose the Misc category tab.
Press the Advanced Twitter Recognition icon to add the control to your project.
Retrieve twitter tweets and process them to have your robot do cool stuff via twitter posts. This plugin accepts two controlcommand() for retrieving either the latest mention or latest tweet.

*Note: Requires EZ-Builder 2019.06.25.00 or later.

Give EZ-Builder Twitter Access
This control requires the EZ-Builder application to be given access to communicate with Twitter's API. This is done by using the top menu and selecting OPTIONS -> TWITTER to configure access.






Mention
A latest mention is when another twitter account sends a message via @UserName to your account. This allows anyone who sends a tweet tagging your @username will be retrieved.

Tweet
A tweet is only tweets from your account. This means only tweets from your account will be retrieved.

Variables
The plugin will specify three variables containing the Screen Name, Message and Status. You may use the Status variable to check if there is a new message to process. The Screen Name is the author of the message, which may be yours if querying Tweets otherwise it will be another author if it is a Mention.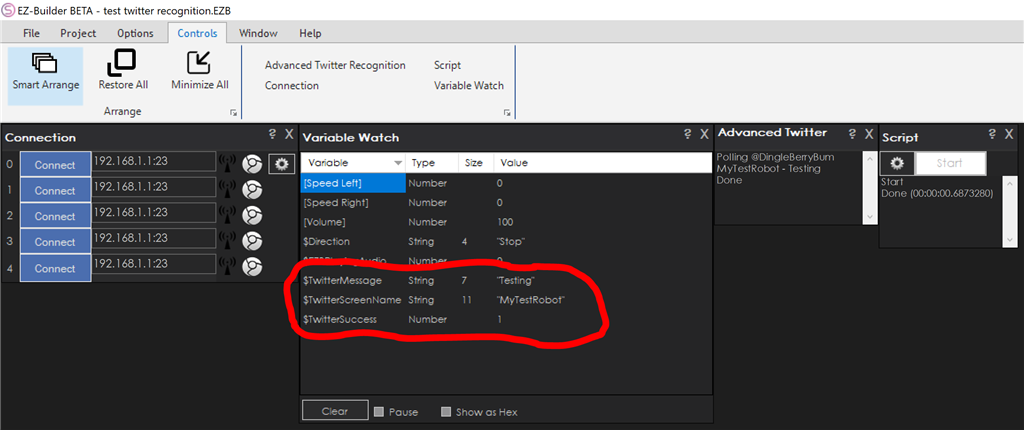 Example
This Blockly example queries the latest tweet that you have created from your account and speaks out of the PC speaker.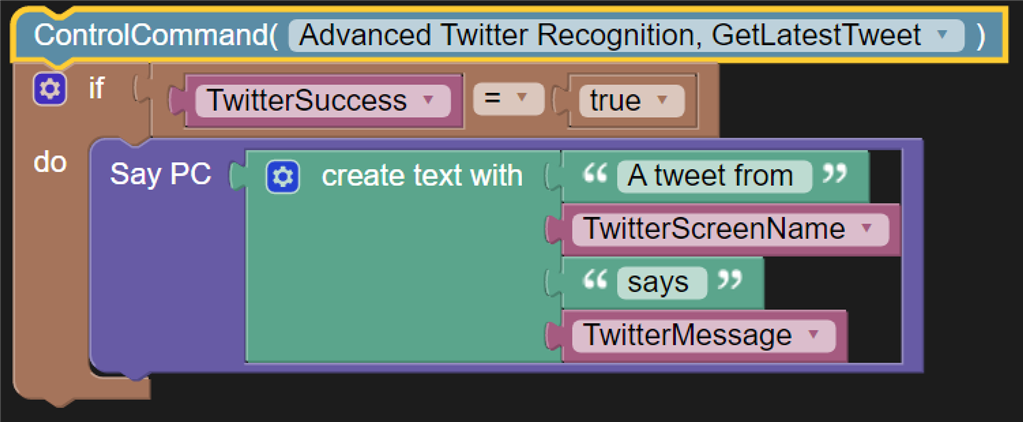 This Blockly example queries the latest mention that someone tagged your username. This also includes if you tagged yourself.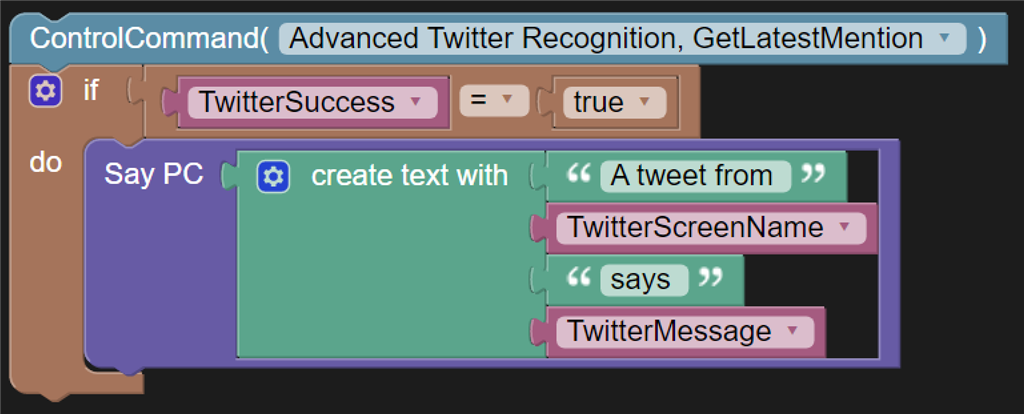 A more advanced Blockly code snippet will continually check the account every 5 seconds for movement commands. The commands supported in this code are forward, left, or right.