This control is developed by:
Overview

Adc

Artificial Intelligence

Audio

Camera

Digital

Games

General

Gps

Graphs

Hbridge

I2c

Infrared Distance

Misc

Mobile

Navigation

Pwm

Rafiki

Scripting

Servo

Third Party Robots

Touch Tablet

Ultrasonic Distance

Virtual Reality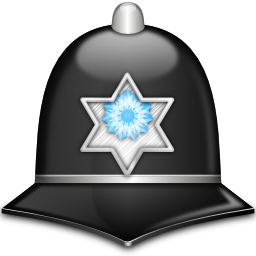 How To Download and Use This Control
Make sure you have the latest version of EZ-Builder installed.
Select the Install button below to download the file.
Double click the downloaded file to open installer.
The installer will add this control to EZ-Builder.
Start by adding the Admin Toolbox plugin to your project: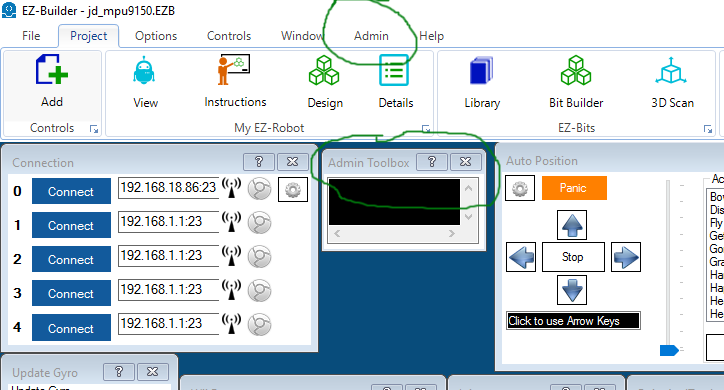 The plugin control window is empty nothing is done here, all the fun is in the new Admin tab.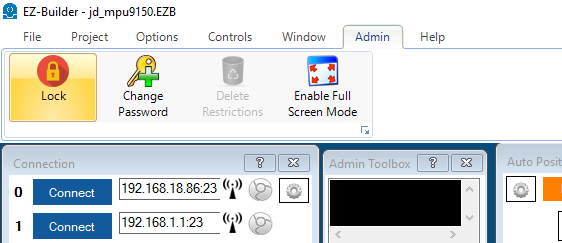 Default status: Project is Unlocked, and EZ-Builder application mode is no full screen






The default lock/unlock's password is admin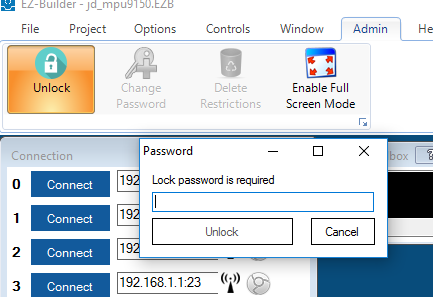 A password is required to lock or unlock the project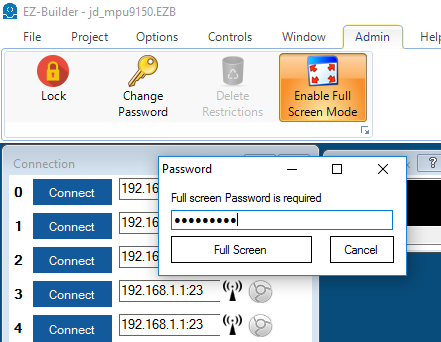 The default Full screen mode's password is password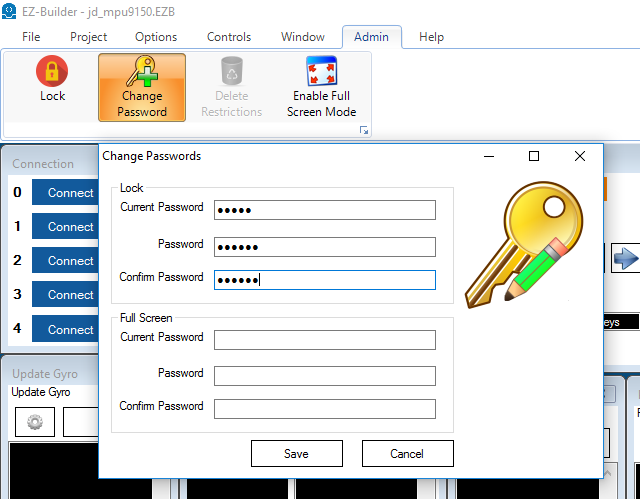 Changing lock password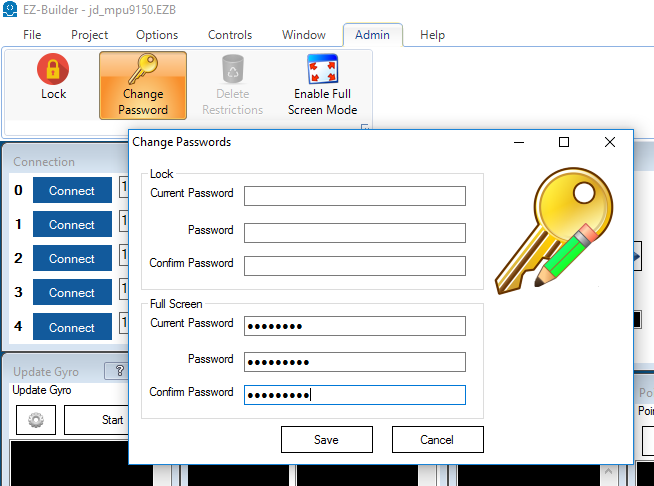 Changing full screen password.
*) Both passwords can be changed in a single step.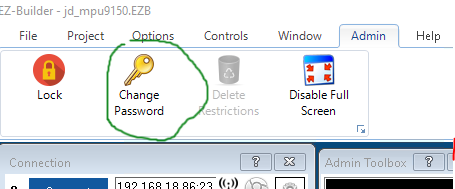 Once you change the lock password the icon changes. It's a simple visual sign.

Full Screen/Demo Mode
==========================
1) The idea is to force the user to stay inside the EZ-Builder.
2) You can't Exit, Save Project, Load Project, New Project
3) You can't switch to other windows applications
4) No relation with lock mode, although is a good idea to activate the lock mode.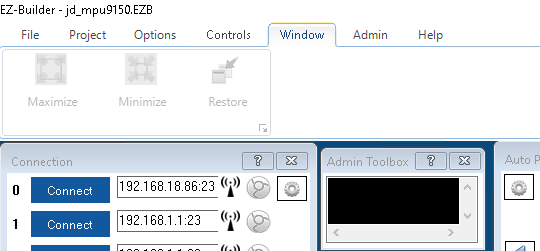 The window tab is disabled.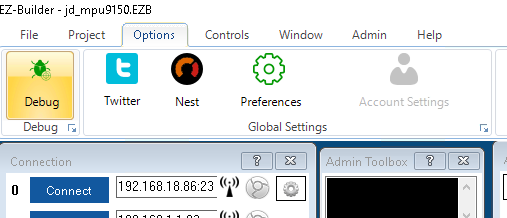 Accounts Settings is disabled.






File operations are ... disabled too.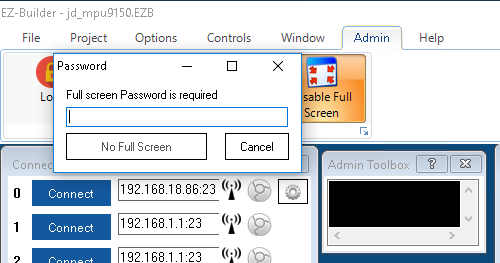 If you are tired of full screen and you know the password.

Unlock Mode
==========================

1) Adding or removing restrictions are allowed
2) To add/remove a restriction: press: CTRL + mouse right button
2) Some visual controls do not support restrictions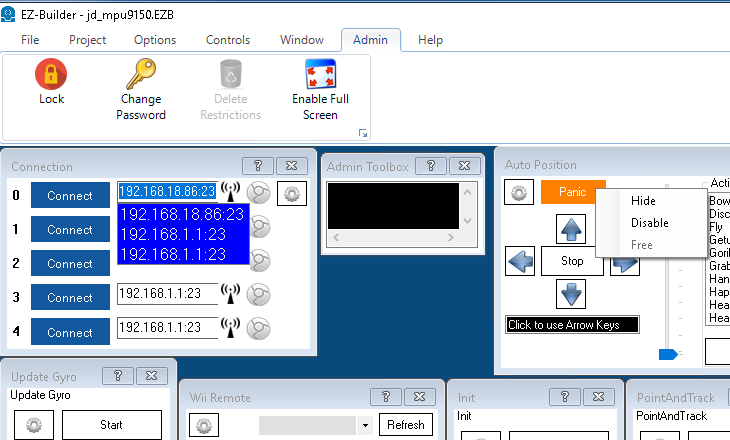 The default view shows the control is free (no restriction).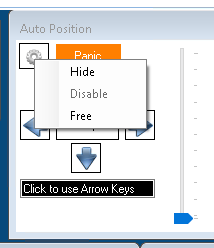 The control has been marked as disabled.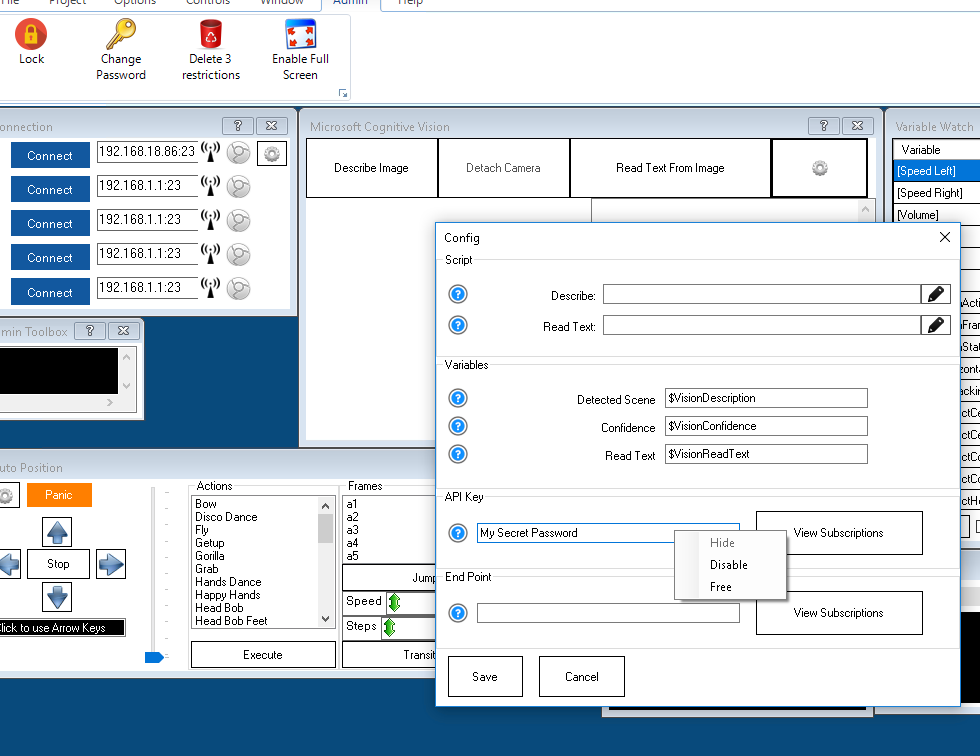 The control has been marked as hidden.

Lock Mode
==========================
1) No restriction changes.
2) Restrictions are applied.
3) Existent controls before the lock cannot be removed.
4) Add/remove new controls are allowed.
5) Lock status is saved with the project.
6) If you save a locked project, when you load the project will be in locked mode.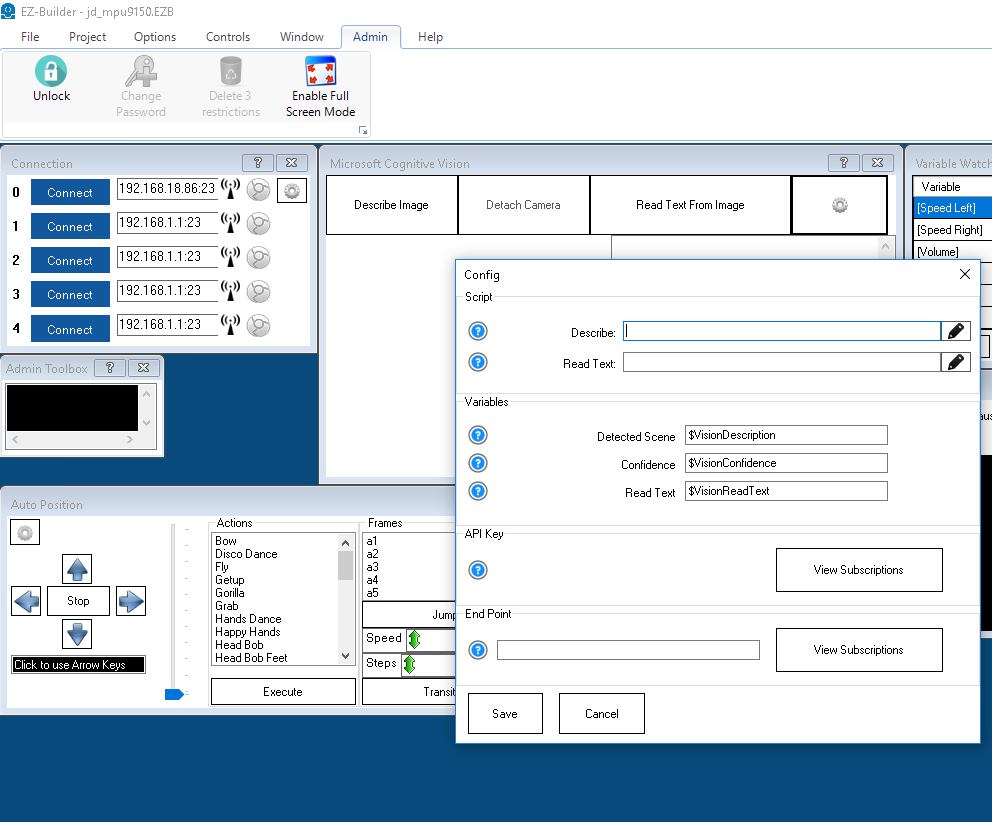 When in lock mode the control is not visible.

Observations:
==========================
The plugin subscribes events in all controls available in your project to receive the notifications regarding close, focus, mouse etc.
As a result there are some overhead during load and close the project.
No impact on execution performance.

Feedback, ideas or nice postcards are welcome !

Related thread:
https://www.ez-robot.com/Community/Forum/Thread?threadId=10438

It was a fun weekend journey "hacking" EZ-Builder to support these features.
I hope you can enjoy the plugin.

--ptp

**** Version 2 (6/15/2017) ****

Added a new option "Restrictions"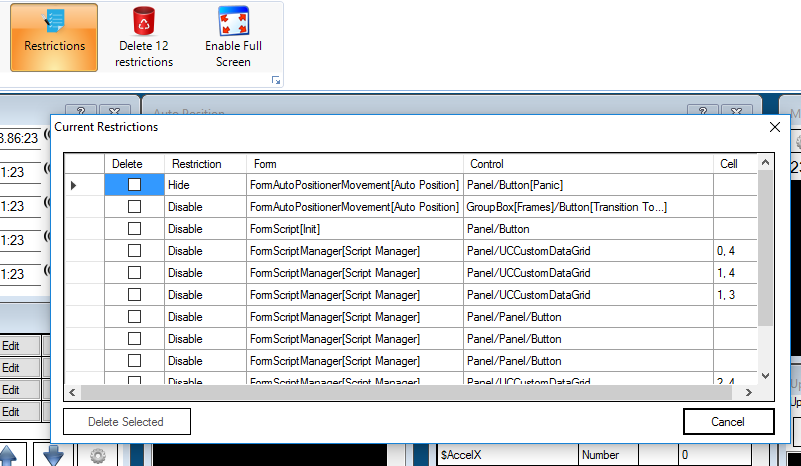 Lists all the configured restrictions, allows deleted of selected restrictions.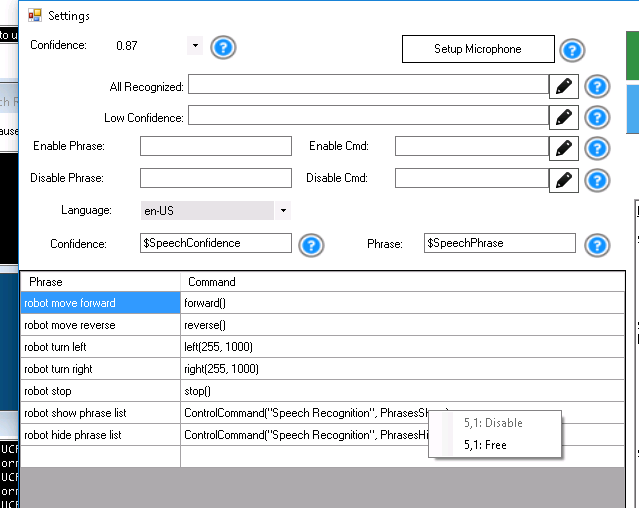 disable restriction support for GridView's rows.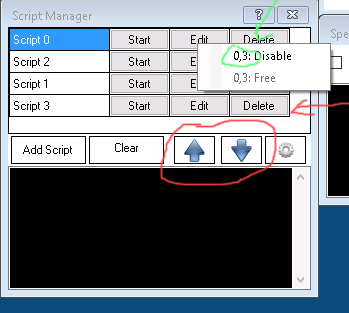 The context menu uses the GridView's Row Index and Column Index to configure/apply the restriction.
Is also important to disable any buttons that could be used to change Gridview's rows order (Row Index).