ARC Subscription Plans & Licensing
Sections
Unlock all features of ARC, including access to an unlimited number of skills, premium support, and much more!
Free
$0 per month
Includes 1 free plugin skill
Community support
Free for personal & education use
Pro
Starting at $8.99/mo
2 or more PCs simultaneously
Includes unlimited skills
Premium support
And more
Enterprise
Volume Pricing
All features of Pro
Unlimited seats
Custom features
And more
Compare Editions
Feature
ARC Free
ARC Pro
ARC Enterprise
Usage Limitations
Personal
DIY
Education
Personal
DIY
Education
Business
Business
White Label
Redistribution
Licensed Runtime
Contact Us
Premium Support
$14.99/ticket

✓

1 request/month
($9.99 for additional requests)
Contact Us
Feature Requests

✓

Yes

✓

Priority
Early access to new features & fixes

✓

Yes
Contact Us
Simultaneous microcontroller connections*
1

✓

255
Contact Us
Robot skills*
20

✓

Unlimited

✓

Unlimited
Skill Store plugins*
1

✓

Unlimited

✓

Unlimited
Auto-positions gait actions*
40

✓

Unlimited

✓

Unlimited
Speech recongition phrases*
10

✓

Unlimited

✓

Unlimited
Camera Devices*
1

✓

Unlimited

✓

Unlimited
Vision Resolution
max 320x240

✓

Unlimited

✓

Unlimited
Project revision history

✓

Yes

✓

Yes
Interface Builder*
2

✓

Unlimited

✓

Unlimited
Cloud project size
10 MB

✓

128 MB
Contact Us
Create Exosphere Requests

✓

50/month
Contact Us
Exosphere API Access
Contact Us
Volume License Discounts
Contact Us
Contact Us
Terminology




Definition of terms that are mentioned in the ARC licensing system:

Subscription - A per-seat license model with a monthly/annual payment to unlock all features of the ARC Software.

Seat (license) - The number of available seats within a subscription. Each seat is specific to a PC and can be managed on the subscription account page.

Associated Account - Additional Synthiam accounts can share your subscription and assign your seats to their computers. You can view what account the seats have been assigned to in the subscription account page.

Premium Support - Direct access to ARC robot support experts to solve your programming challenge. Your tickets are given priority attention.









ARC Pro Payment Methods

The payment screen has 2 options for payment. Using #1 & #2 highlighted above, you can enter the credit card or visa debit card details. Option #3 allows additional payment options directly through our financial provider.
Please note: to use Apple Pay or Google Pay, you must log in and use one of those devices during checkout. The device is connected to the payment system and therefore you checkout in a web browser on that device.
The Check-out Process
1) Visit ARC product page.
2) Click the View Plans button to view ARC Pro subscription plans.
3) Select the duration of the subscription plan. Note that there's a 10% discount for an annual subscription.
4) Select how many seats (licenses) you would like to have for your ARC subscription. The default pricing is for 2. That means ARC will be able to run on 2 different machines at the same time.
5) Click the "continue to purchase" button.
6) Login or Register a new account.
6) Select your method of payment (PayPal, Apple Pay, Microsoft Pay, Google Pay, or Credit Card).
7) Checkout.
8) Enjoy the benefits of your ARC Pro subscription!
*Note: Once payment has been processed, the subscription may take up to 5 minutes before ARC can authenticate. Additionally, the "Pro Member" community status label may take up to 1 hour to update.
Manage your ARC Pro Subscription:
Manage your ARC subscription by using the Help tab in ARC and clicking the "Manage Subscription" button.

Or you can click on your account icon in the top right of the Synthiam website, log in if you're not already, and then click "Subscription".
From the subscription page, you can manage a number of things: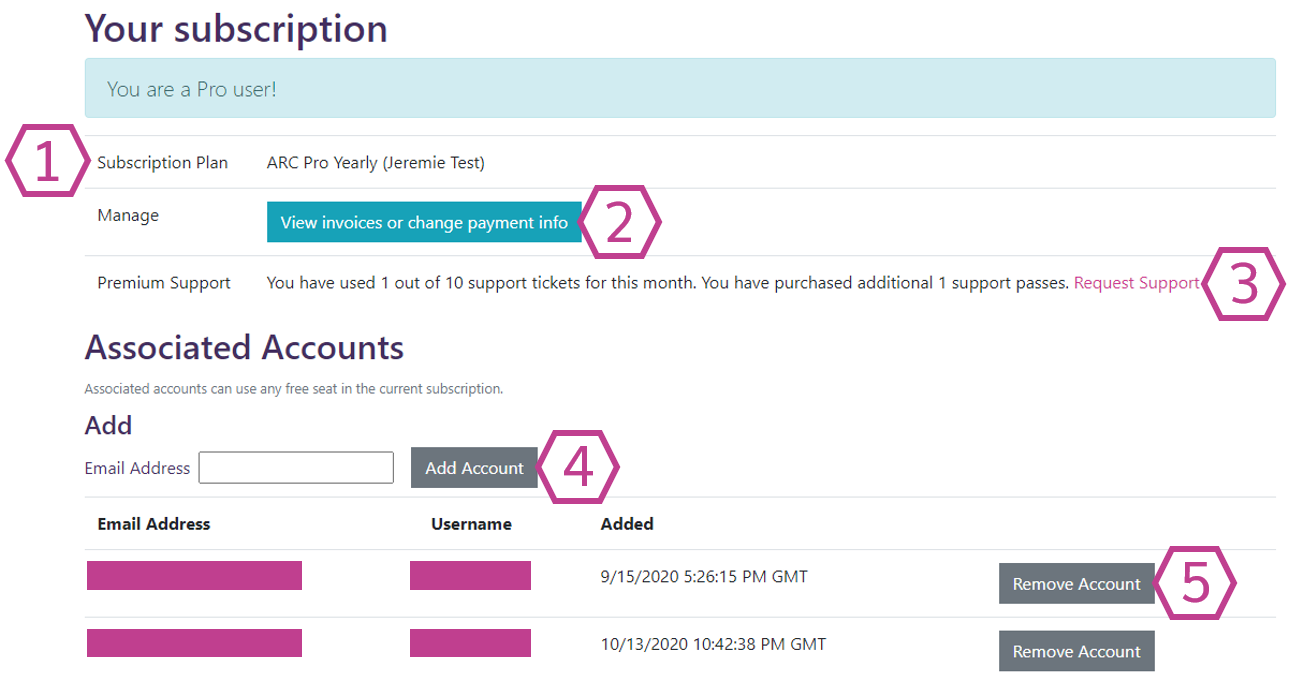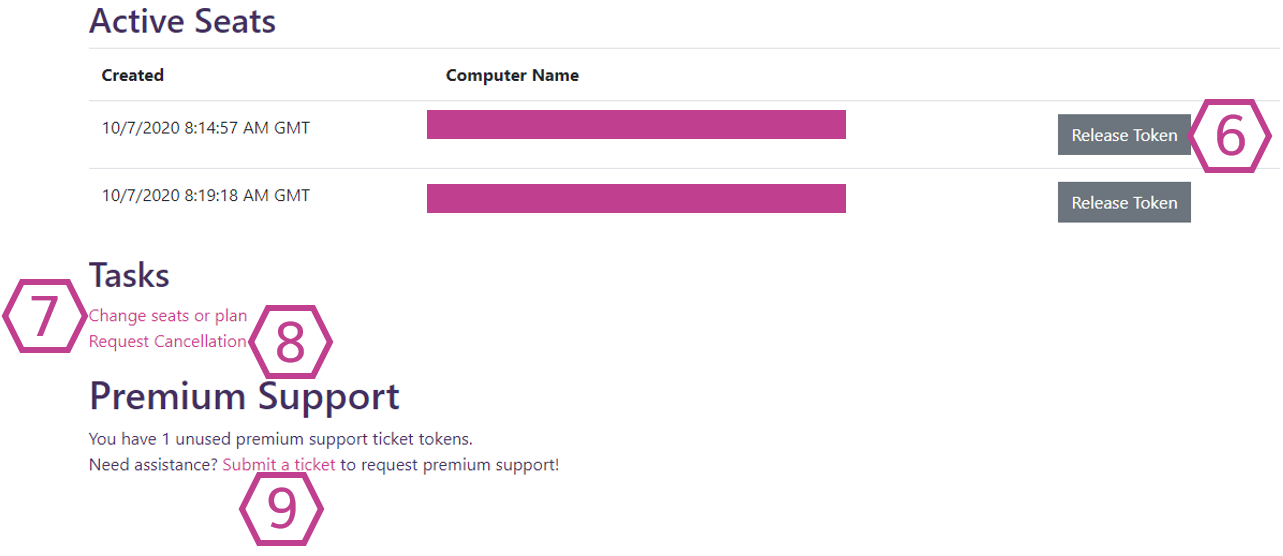 1. Your Subscription Plan
Your Subscription plan will show you how many seats you have subscribed to under your account. Your plan is always adjustable (via the Product page) if you would like to add or remove the maximum number of seats from your Subscription.
2. View invoices or change payment info Button
This button will take you to your billing page.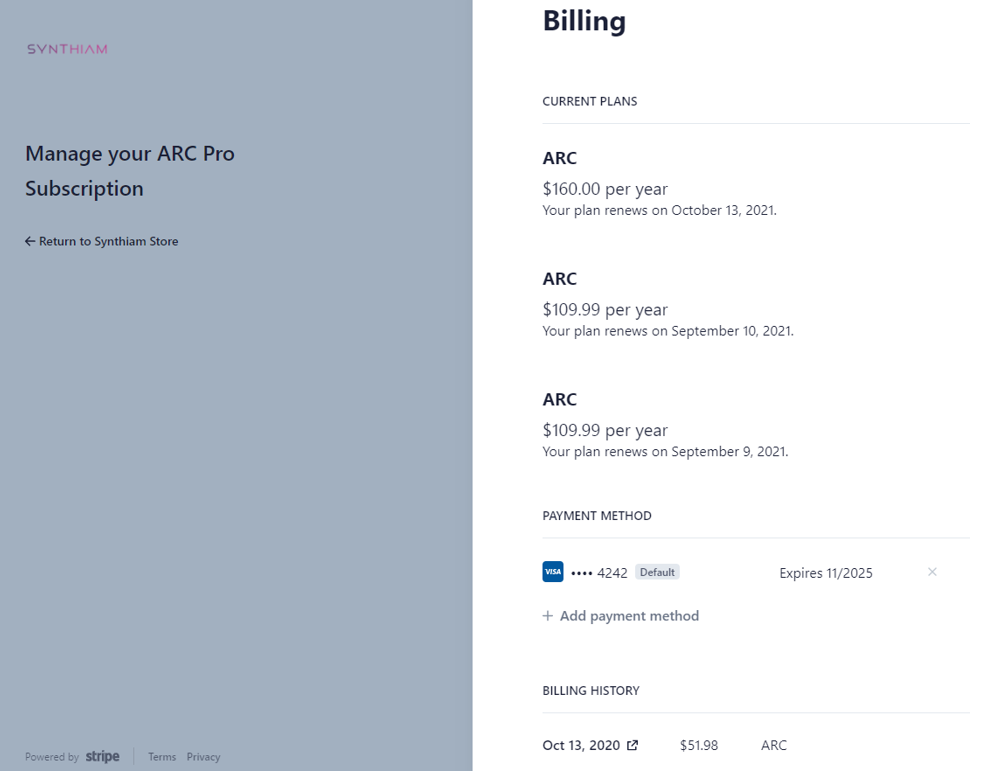 Here you can see the plans that you have subscribed to, view your payment methods (+ add a new payment method), and view your billing history.
3. Request Support Link
This link takes you to the Submit a support ticket page.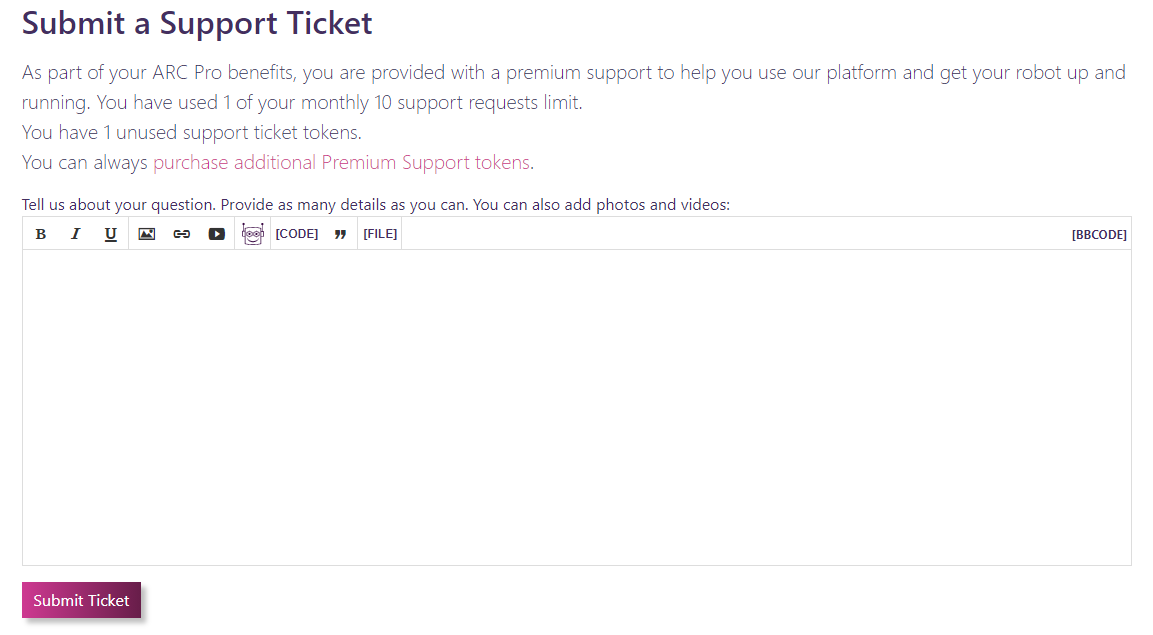 With an ARC subscription, you will qualify for monthly support tickets. Submitting a ticket will give you direct access to ARC support which will address your ticket in a timely fashion. Additional support tickets can be purchased (via the link on the page) at a discount of $9.99 USD each for subscribers or $14.99 USD for non-subscribers.

4. Add Associated Account Button
This button will allow you to add other people or other email addresses as associated accounts to be able to use the seats from your subscription.
5. Remove Associated Account Button(s)
These buttons will allow you to remove associated accounts from your subscription. This will remove the access of these accounts to your subscription.

6. Release Seat Token Button(s)
These buttons will allow you to remove a seat token that has been activated by your account or an associated account. Each claimed token will take an available subscription seat.
7. Change Seats or Plan Link
This link will take you to the Plan page to allow you to make changes to your subscription. You can upgrade or downgrade your plan and add/remove seats as well. *Note: All changes will affect your billing on a prorated basis.
8. Request Cancellation Link
This link will take you to the Cancellation page to allow you to cancel your subscription. If you are considering cancellation please contact us before you go.
9. Submit a Ticket Link
This link will take you to the Submit a support ticket page. It is the same link as item #3 on this list.
License Cache & Update
ARC stores a local subscription license cache on the file system, so the software may be loaded without an internet connection. The cache license file is valid for 14 days before requiring renewal. The ARC option preference "Enable Auto Subscription Refresh" is enabled by default, which refreshes the local cache every hour when an internet connection is available. Use the "Refresh Subscription Cache" button to force refreshing to ensure your ARC local subscription cache is updated. Forcing the subscription cache to update is useful in preparation before a robot will be used without an internet connection for an extended period of time. However, if a computer will never have internet connectivity, consider using the ARC Runtime edition.
Learn More About ARC Editions
For some users, there are occasions when an internet connection is not available. This is depending on the type of EZB used with ARC. Some EZB's, such as EZ-Robot EZB controllers, support WiFi connectivity. A computer with a single WiFi adapter may not have an internet connection when connected to the EZ-Robot controller. If using a WiFi EZB, consider adding a second USB WiFi adapter or ethernet internet connectivity. Many Robot Skills also require internet connectivity. Controllers that support USB, such as Arduino do not require a WiFi adapter and therefore maintain the PC's internet connectivity.
View ARC Compatible EZB Controllers
When ARC is not connected to the internet for long periods of time, manually force a license cache update by pressing the "Refresh Subscription Cache" button. Following a successful cache update, ARC will now have 14 days of operation without requiring an internet connection.

By default, the ARC "Enable Auto Subscription Refresh" option is enabled. To change this setting, visit the Options -> Preferences menu.