Upgrade to ARC Pro
Your robot can be more than a simple automated machine with the power of ARC Pro!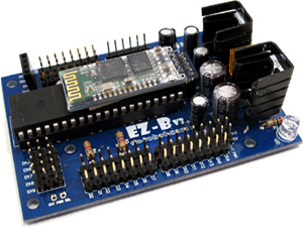 EZ-Robot EZ-B v3
Connection Type
Bluetooth
The EZ-B v3 Bluetooth Robot Controller was introduced in 2011 and discontinued in 2013 with the EZ-B v4. ARC still supports this device, however, documentation to get it connected is difficult to come by.
EZ-Robot Advantages
EZ-B v3 has been designed as an all-in-one hardware and software solution for robotics. The circuit board contains a powerful voltage regulator, a Bluetooth antenna module, digital I/O, ADC, servo skills, serial ports, TellyMate interface, and more. You can quickly recognize how the EZ-Robot Project was designed for reusable scalability. Build many DIY Robots with a single EZB Controller by simply moving the board between projects.
EZ-Robot Features
Compact in size
Does not require a hardware programmer
EZ-B is shipped pre-assembled
Optional XBee/Synapse/WiFi Long Distance Communication
Wireless Class 2 (2.5 mW, 4dBm) Bluetooth (10 Meters/30 feet Range)
iRobot Roomba Support
Arduino Shield Support for Sensors & Peripherals
8 Analog to Digital Converters
20 Standard Serial TTL Ports (9600, 19200, 38400, 57600)
1 High-Speed Serial TTL Port (115200)
20 Digital Input/Output Ports
20 Servo Ports
Connection Tutorial
The EZ-B v3 has been discontinued in 2013, but is still supported by the ARC software. This out-dated connection tutorial is the closet we have to demonstrating how to connect to ARC.
Upgrade to ARC Pro
Become a Synthiam ARC Pro subscriber to unleash the power of easy and powerful robot programming