(Autonomous Robot Control Software)
Make robots with the easiest robot programming software. Experience user-friendly features that make any robot easy to program.
Change Release Notes
This is a beta release of the new
ARC
with plug-in framework. Throughout the next few releases, we will be adding more details on plug-in development and demonstrating plug-in capabilities. This release of
ARC
has the back-end nearly completely rewritten to support
plugin
controls. This makes
ARC
the first and only true robot platform by providing hardware, 3d printable components, software, appstore, mobile apps, and now user submitted custom controls. I'm very excited about this new feature and know it will bring many amazing
plugin
developers.
Plug-ins will be available here:
http://www.ez-robot.com/ARC/plugins/
The plug-in framework enables users, companies and organizations the ability to create controls in ARC. If you're looking to support a new sensor, robot, controller, or add additional features, you can now create controls of your own.
*Note: this is a beta release, expect a few bugs
More details will be added soon - specifically a video on how to install plug-ins and how to begin developing your own in Visual Studio.
ARC Downloads
Teams FREE
Free
Includes a free 3rd party plugin robot skill per project
Community support
Free with trial limitations
For schools, personal use & organizations. This edition is updated every 6-12 months.
Early Access
Only $8.99/mo
2 or more PCs simultaneously
Includes unlimited skills
Premium support
And much more
Experience the latest features and bug fixes weekly. A Pro subscription is required to use this edition.
Runtime FREE
Free
Load and run any ARC project
Operates in read-only mode
Unlimited robot skills
Early access fixes & features
Have you finished programming your robot? Use this to run existing ARC projects for free*.
Minimum requirements are Windows 10 or higher with 2+gb ram and 500+MB free space.
Teams known-issues can be viewed by clicking here.
Get more information about each ARC edition by clicking here.
See what's new in the latest versions with Release notes.
Compare Editions
Feature
ARC Teams

FREE

ARC

PRO

Get ARC for Free
View Plans
Usage
Personal
DIY
Education
Personal
DIY
Education
Business
Premium support
$14.99/ticket


(optional)

✓

1 request/month


($9.99 for additional requests)

Feature requests

✓

Yes
Early access to new features & fixes

✓

Yes
Simultaneous microcontroller connections*
1

✓

255
Robot skills*
20

✓

Unlimited
Skill Store plugins*
1

✓

Unlimited
Cognitive services usage**
10/day

✓

6,000/day
Auto-positions gait actions*
40

✓

Unlimited
Speech recongition phrases*
10

✓

Unlimited
Camera devices*
1

✓

Unlimited
Vision resolution
max 320x240

✓

Unlimited
Interface builder*
2

✓

Unlimited
Cloud project size

✓

128 MB
Cloud project revision history

✓

Yes
Create Exosphere requests

✓

50/month
Exosphere API access
Contact Us
Volume license discounts
Contact Us
Get ARC for Free
View Plans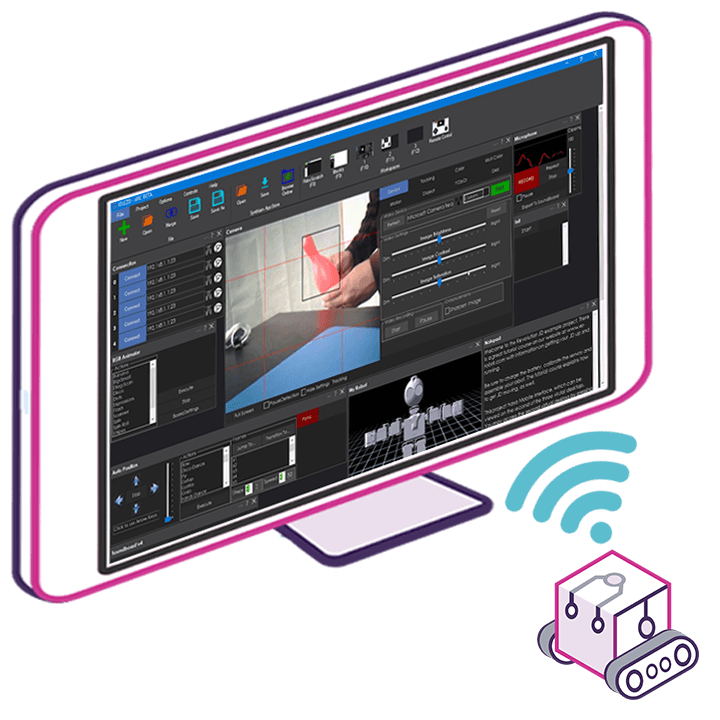 Upgrade to ARC Pro
Become a Synthiam ARC Pro subscriber to unleash the power of easy and powerful robot programming