Skip to comments
Hey everyone. I'm real excited about the Mobile Interface designer in the ARC software and now the android app so, I put together a quick little bot to test it with. I also picked up the adapter for my PC to read a wireless xbox 360 controller and used Mobi2 to test that as well.
It's in the cloud but if you want: Mobi2
Its put together with Laser Pegs, rubber bands and a Denny's receipt. The back end has a ball bearing type caster as a thrid wheel to keep the back end from dragging, ie.. scratching the wood floor.
It's very low profile and moves pretty smooth. I found them at a wood crafts store after looking everywhere from Walmart to Home Depot. I started using these after not liking the way traditional wheel type casters perform. Like always it's just stuff I had available so I made the best I could with what I had.
Birds Eye View: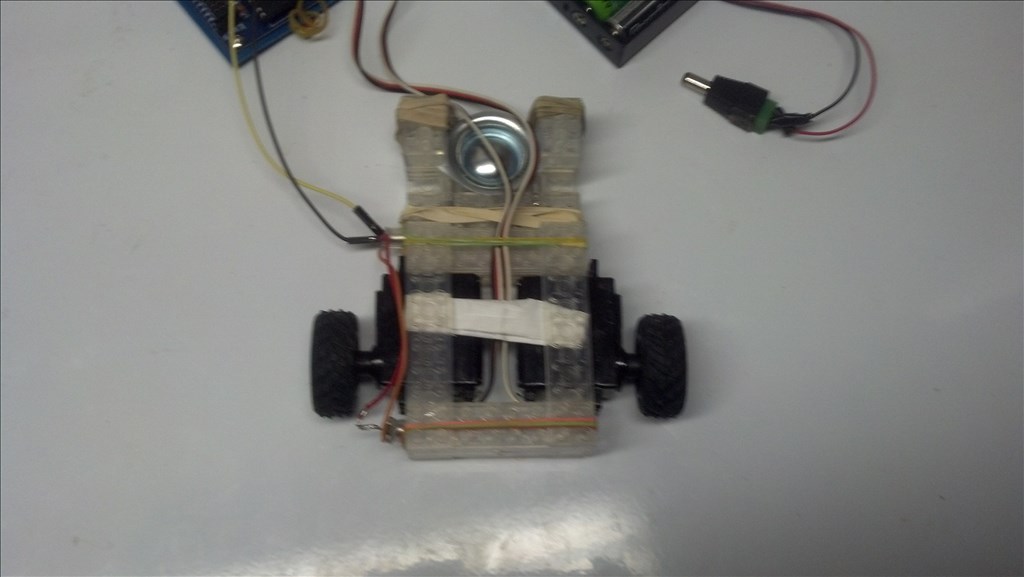 Where I soldered the wires to the Laser Pegs. I soldered a wire from the pegs hot to hot and ground to ground. Then I soldered jumper cables or servo extensions or what ever they're called to one of the pegs to connect it to the EZB: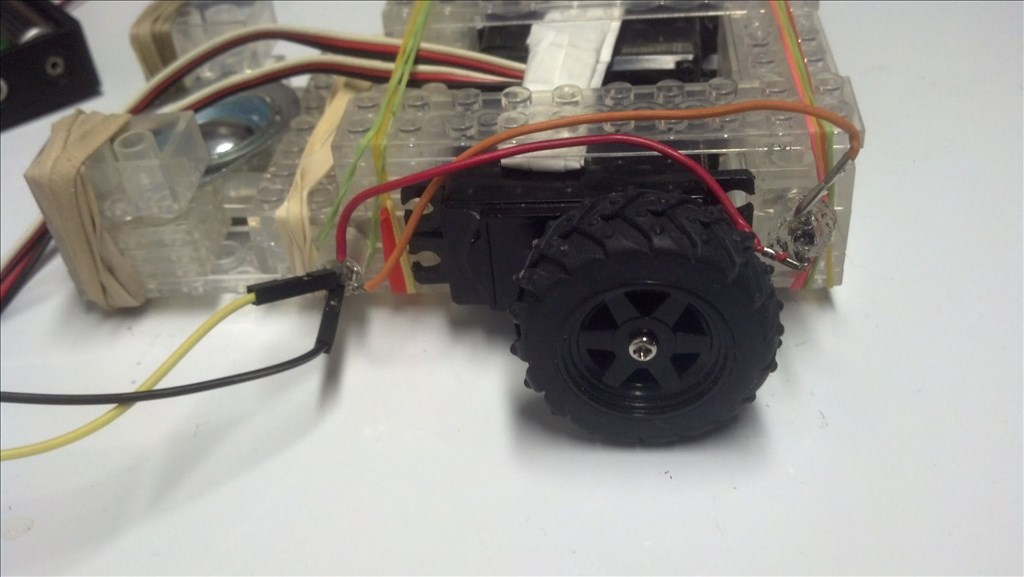 Here it is all plugged in: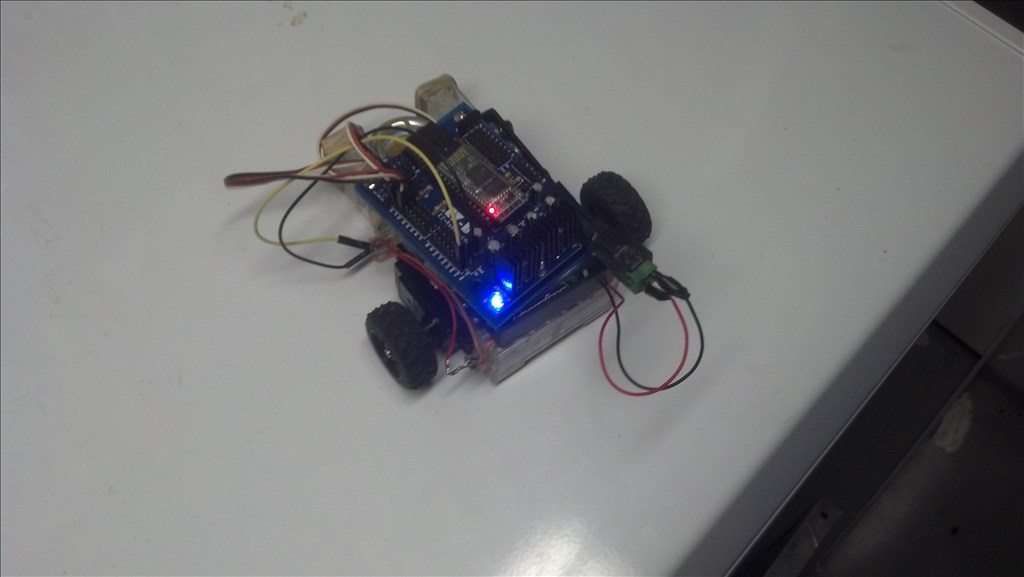 With the lights on, under light: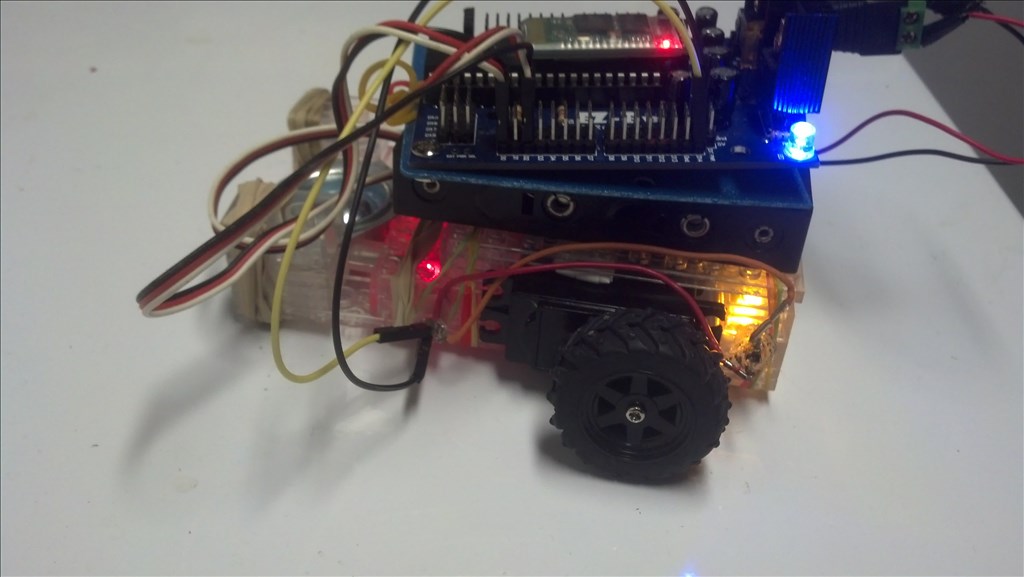 With the lights on, kind of dark: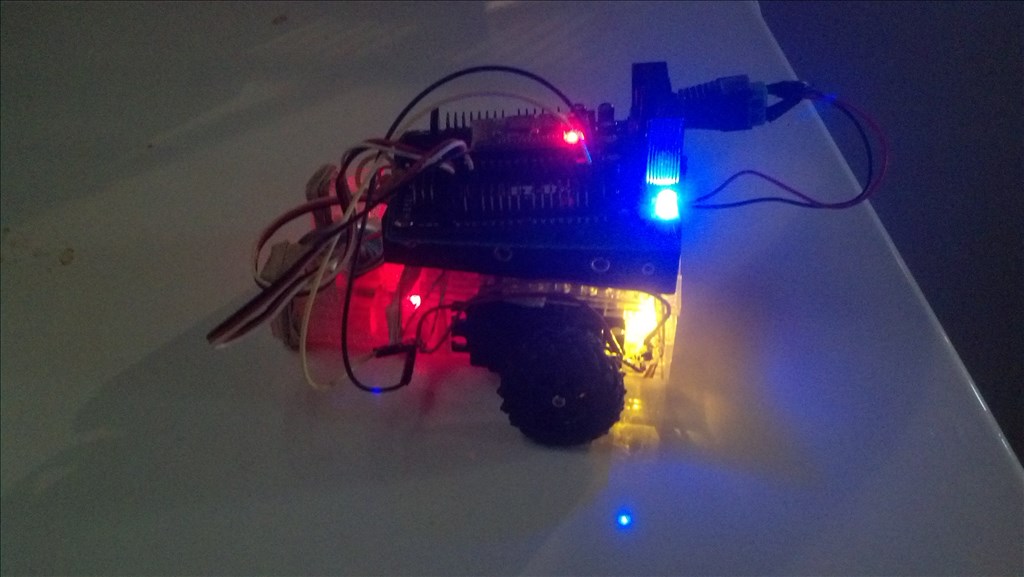 It's all for the V3 board right now so as of the current releases (2014-01-17) the modified servo movement control panel still isn't supported. Neither are the Foward(), Stop(), ect. commands. So I conveniently had a solution. I planned on using these modified servos as my Roli's pan and tilt so I'm already familiar with using the Servo(pin,value) command to control them. And that's what I did for the Mobile Interface.
Code:

#Foward (W) button
Servo(D0,1)
Servo(D2,100)
#Stop (S) button, NOTE: Usually this would be 50/50 but for me, for some reason I have to use these. Servo(D0,50) Servo(D2,51)
#Rev (Z) button Servo(D0,100) Servo(D2,1)
#Left (A) button Servo(D0,100) Servo(D2,100)
#Right (D) button Servo(D0,1) Servo(D2,1)
And if you want to move slower you just change the numbers closer to the stop values (50/50).
Half speed would be something like: Servo(D0,25) Servo(D2,75)
So that solved that problem until the Modified servo Movement Panel becomes supported for the V3.
One other issue I'm is with the lights. For the joystick control I have a script that turns the lights on or off when I press (a) depending on the pins current state. It works just fine with the joystick.
Code:

$pwrLites = "D14"
if (GetDigital($pwrLites) = 0)
Set(D14, on)
print("ON")
ElseIf(GetDigital($pwrLites) = 1)
Set(D14, off)
print("OFF")
Endif

It does not work in the Mobile App buttons so I have a Lites On, Lites Off and a Toggle Lites button. The last one is for testing. The other two work though. (Set(D14, on/off))
So all in all I have a little "not leggo" bot that I can connect to my phone/tablet and sketch around with and turn its lights on and off. (Maybe I'll write a little blink script later.) It doesn't sound like much, but it sure is fun.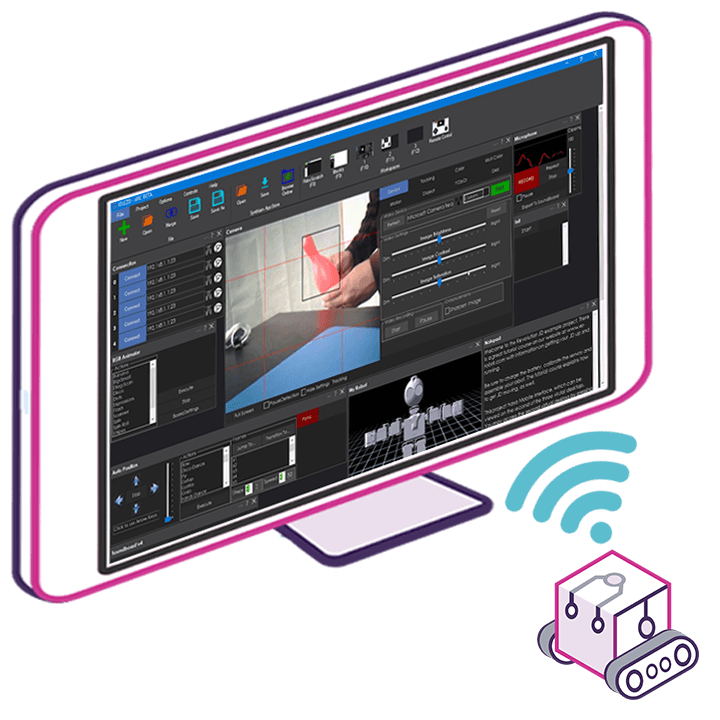 Upgrade to ARC Pro
ARC Pro is more than a tool; it's a creative playground for robot enthusiasts, where you can turn your wildest ideas into reality.