Skip to comments
My current EZ-Robot project is called "AnnaDroid".

(on my web site: http://www.robots-and-androids.com/annidroid.html)

Anna will be a life-size humanoid / android (not the phone OS silly!) kind of 'bot.

She is being made from a face casting of my friend Annika Skywalker, and a modified Wowwee Alive Elvis Presley robot, and a plastic mannequin body.

I am using the ARC for her software.

Working:
eyes blink
"alive" random movements
touch sensors
jaw in sync with text-to-speech (used the analog in to read the voltage of the sound coming from the computer's headphone jack and then triggered a servo.)
A large number of speech recognition Qs & As.
face tracking and following with head and eyes.
head nod
head turn
ALICE chatbot software. It's SOOO cool having Annidroid being able to answer ANY question!

Partially Working:
Kinect person count
Kinect x,y,z location of a person's head.
Kinect voice location

Not yet Working:
arms/hands/locomotion

Planned:
hand grasping
shoulder and elbow control
embedding a camera in the Elvis' eye (right now the camera is on a hat!)

There are a few pictures here, but fully documentation and photos (lots and lots of them) are on my web site.



MORE TO COME!





Click to see the Annidroid Project on my web site.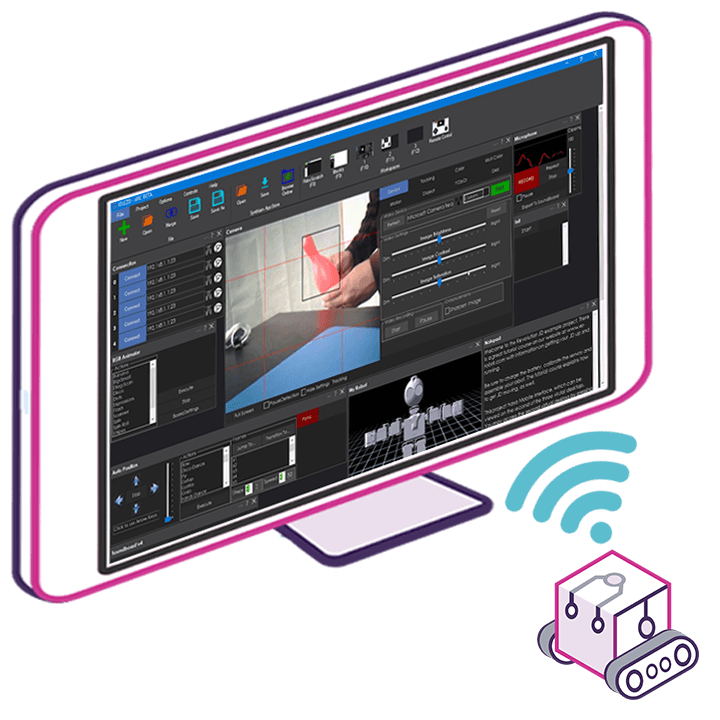 Upgrade to ARC Pro
Become a Synthiam ARC Pro subscriber to unleash the power of easy and powerful robot programming