Skip to comments
Hi guys,
this is the first introducing part of a series, describing an autonomously operating hexapod with about 1 m width (my large insect).
Idea behind this project: From early childhood on I wanted to build a kind of mechanical turtle or similar, being able to survive in the garden from spring to fall and doing whatever it would be programmed for, recharging its battery, seeking for shelter in case of rain, etc.
Decades later (meanwhile a retired physicist, phd after 30+ yrs. in the space business) it was really time to realise this dream, meanwhile based on modern state-of-the-art electronics and software.
Then, a colleague suggested to acquire an EZ-B V4-2 as the core element for such an undertaking and from thereon things picked up speed quite rapidly.
As mentioned above, goal is the realisation of a quite large autonomous hexapod.
The figure below is illustrating the general shape of this robot as well as the nomenclature for the legs (1, 2, , 6) and the servos (1.1, 1.2, , 6.3), respectively.






The base plate is made from 10 mm plywood and the legs from 20 mm x 20 mm pine wood. servo base blocks: 20 mm pine wood.
A further light weighted plate (2nd floor) will be added later for accommodation of a scanning lidar, etc..
The hexapod's legs are moved by 18 servos (Longrunner B07K68MK3Y:






In order to suppress unwanted rapid servo motions during EZ-B initialising, a switchable power distributor was added for each side (servos 1.1 through 3.3 and servos 4.1 through 6.3, respectively). These units are served by a central 2S2P LiPo battery (10.000 mAh) and are protected by individual fuses and are galvanically connected to the EZ-B.






Only the signal pin of each servo is directly connected to the EZ-B. servo Vcc and GND are both fed by these power distributors.
Result: During EZ-B initialisation all servos are switched off - to be activated via toggle switches as required. Of course, all servos need to be positioned adequately beforehand.
Currently, the hexapod is looking like this (together with his silent friend).






Programming was done in Synthiam BLOCKLY; surprisingly, the final version was completed within two days only !

Upcoming activities: First steps in the garden (Forward direction).
Then: Backward, Turns, Sideways.

So long, that's it for today,

Cheers

Volker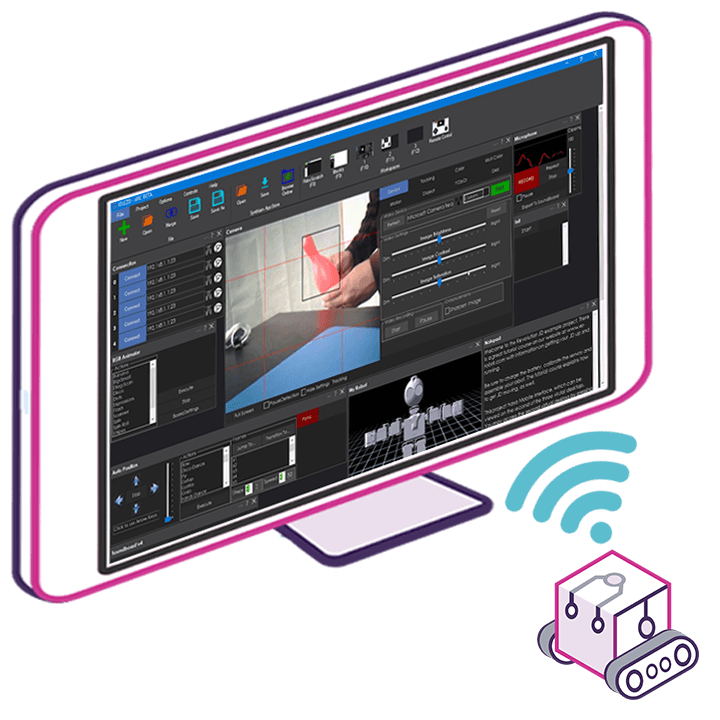 Upgrade to ARC Pro
Harnessing the power of ARC Pro, your robot can be more than just a simple automated machine.