Hello everyone,

I am trying to create a simple condition using a Kangaroox2 and two motors with independent control.  I found a really great forum dialogue from a few years ago that helped me get started but I am now currently stuck and my EZB is disconnecting at the same point in the code.  I am finishing up code for a working periscope and lifter in my R2 unit.

Here is the original link...  

https://synthiam.com/Community/Questions/Help-Using-A-Returned-Position-Value-From-Kangaroo-In-Ez-script-4618

Thanks to help from Dave, I was able to get my setup working fairly well but there are times when the periscope is out of alignment and crashes into the dome when I try to lower it.  So, I managed to tweak the code from Dave and DJ in the article to get position values from the kangaroo but have hit a wall.   

Here's my attempted code for monitoring the position of the rotary motor so the periscope can lower without crashing.   I have notated where the code crashes and the EZB disconnects.  I believe it is related with the $Roo_position = Split ($GetP.....) command along with the following If/Endif condition.

Thank you for any help!

Douglas
____________________________________________________________________________________________________

$Rotary_Position = 43 #Rotary Home position Kangaroo is shooting for
$GetP = "Getp" # Command to get position from Roo

uartWrite(2, 0, "2, Getp", 0x0d)

:waitForData

$x = UartAvailable(2, 2)
print("Bytes in buffer: " + $x)

if ($x < 4)
# Go back and wait for data again because we did not receive the least number of expected bytes
goto(waitForData)
endif

$GetP = UARTRead(2, 0, $x)
print("Received: " + $GetP)

Sleep( 1000 )


# Getting stuck below this line and EZB gets goobered and disconnects from the wifi

$Roo_position = Split($GetP, "P",1) #2,pXXXX is returned. Get everything after the P as P is case senceitive

# Send script to proper subscript depending on if position is above or below center
if($Roo_position = $Rotary_Position)
goto(CenterDown)
ELSE
goto(Centerup)
endif

:CenterDown #If Rotary is at correct position than lifter will lower
uartWrite(2, 0, "1, P798 s600", 0x0d)
Sleep(4000)
uartWrite(2, 0, "1, Powerdown", 0x0d)
Halt()

:Centerup #If Rotry is in the wrong position then lifter will rise
uartWrite(2, 0, "1, P1 s600", 0x0d)
Sleep(4000)
uartWrite(2, 0, "1, Powerdown", 0x0d)
Halt()

___________________________________________

Anyone have a solution?
---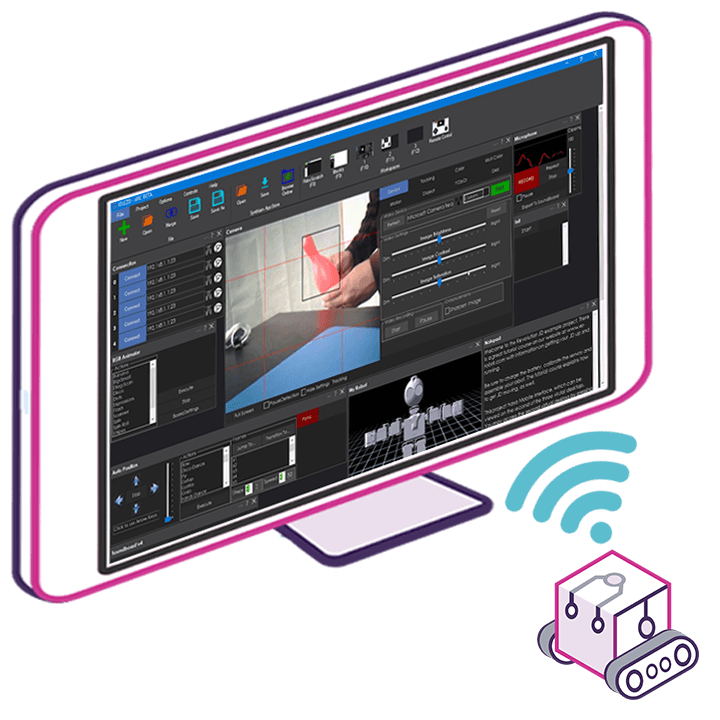 Upgrade to ARC Pro
Harnessing the power of ARC Pro, your robot can be more than just a simple automated machine.
Based on your post activity, we found some content that may be interesting to you. Explore these other tutorials and community conversations.