Skip to comments
This is a test with the Intel RealSense T265 tracking camera for localization with the EZ-Robot AdventureBot. I use 3 ultrasonic sensors as well to demonstrate the navigation messaging system, but that's not the full point of the video. Ultrasonic sensors are terrible for mapping
 A 360 degree lidar will do a much better job. I'll get to that in the future... but for now, we're playing with localization and way points.
So, the fact that this robot can get back to exactly where it started and the realsense maps that position... wow, i have to say wow! My USB 3.0 active extension cable is only 16 feet long, so that's as far as i can go without putting the realsense in the robot. For the time being, this is how we test. It's also a good test because the wheels slip like crazy, so it demonstrates why wheel encoders are bad news bears.
Preparation for Part #4 Removing false positives and filtering the data from the Lidar, then adding a SLAM algorithm to allow detected objects to only be static for a certain period of time. This allows things in the way to move, like humans, and not be part of the map. I wanted to make a robot that can navigate around my bedroom to each night stand, closet and doorway. So I used a combination of the 360 Lidar and 3 ultrasonic distance sensors to scan my bedroom. I threw a bunch of clothes on the floor to simulate obstacles, which you can see around the closet.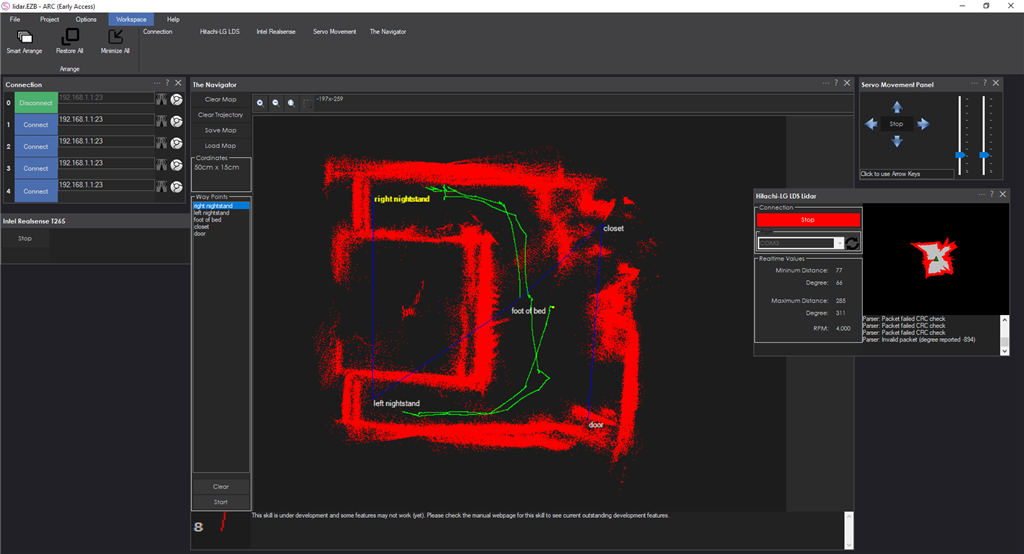 Closer inspection, you can see the way-points and the navigation paths i took to create them. I'm implementing a path finding algorithm right now for the next update - which splits the map into quadrants based on your defined robot size. It then finds a path by using your robot's width.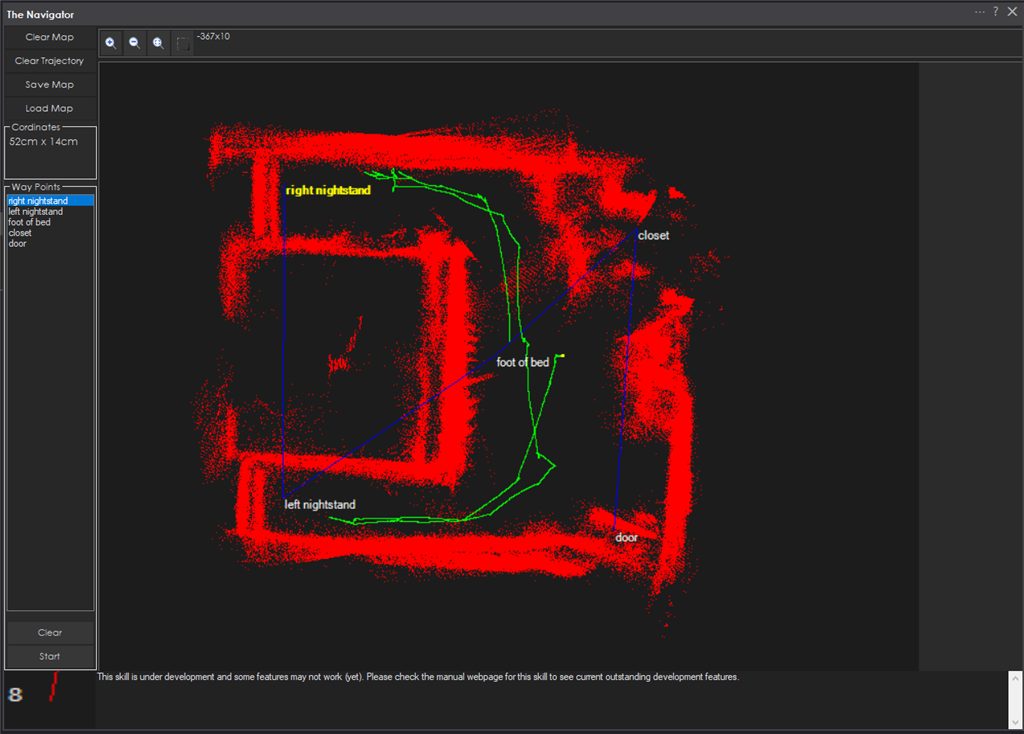 Here's with filtering to remove false positives. This gives the path finding system less false positives to worry about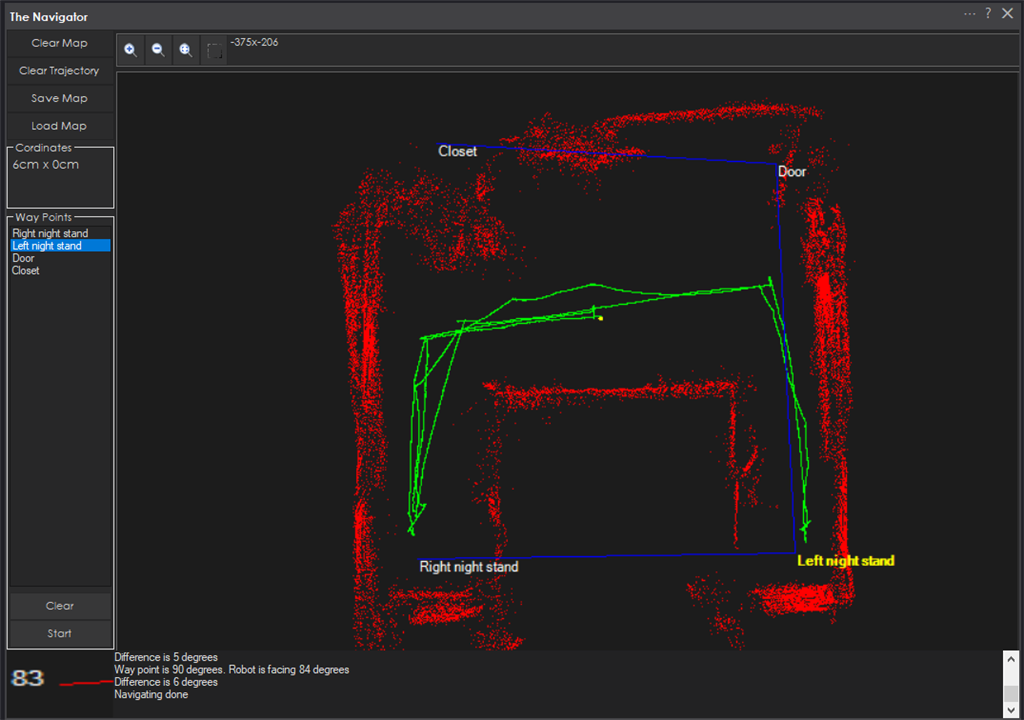 Part #3 We give way-points names
Part #2 In this video, i demonstrate multiple way-points and controlling them through control commands
Part #1 Just testing this Intel RealSense T265 out and seeing how it works with the ARC NMS (Navigation messaging system)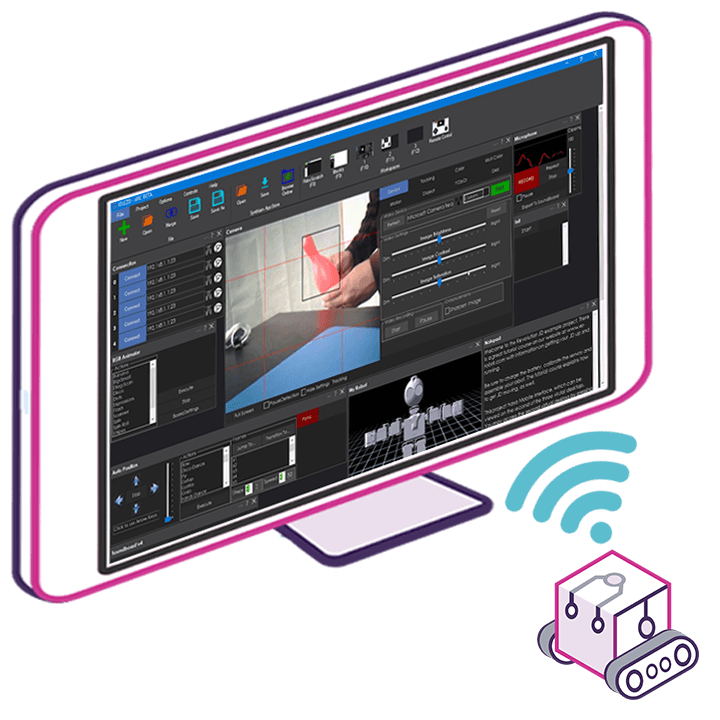 Upgrade to ARC Pro
Stay at the forefront of robot programming innovation with ARC Pro, ensuring your robot is always equipped with the latest advancements.