Skip to comments
Or FIIFAH (feef a or FIFA if you prefer) for short.
Made from Styrofoam body and EZ Complete.

Current Features:
Camera Controls for Tracking fun.
Ultra Sonic Ping Radar
Movement Controls
Modified servo Movement Panel
Arm Movement
Camera Tilt and Pan

Keyboard Controls for Camera Positioning (adws) (@Rich Finally got it. Thanks a lot for the help)
- Center Camera (q)
- Camera Snap Center (e)
Centers Camera on Key Press and Reuturns it
to it's Previous Position on Key Release

Personality Generator for calling random scripts (One of my favorites)

Script Manager
Reset Servos
The Keyboard Camera Control scripts
Panic (an action/pose)
Flex1 (an action/pose)
Flex2 (an action/pose)
Chop Chop Chop (an action/pose)

More to come!


Front View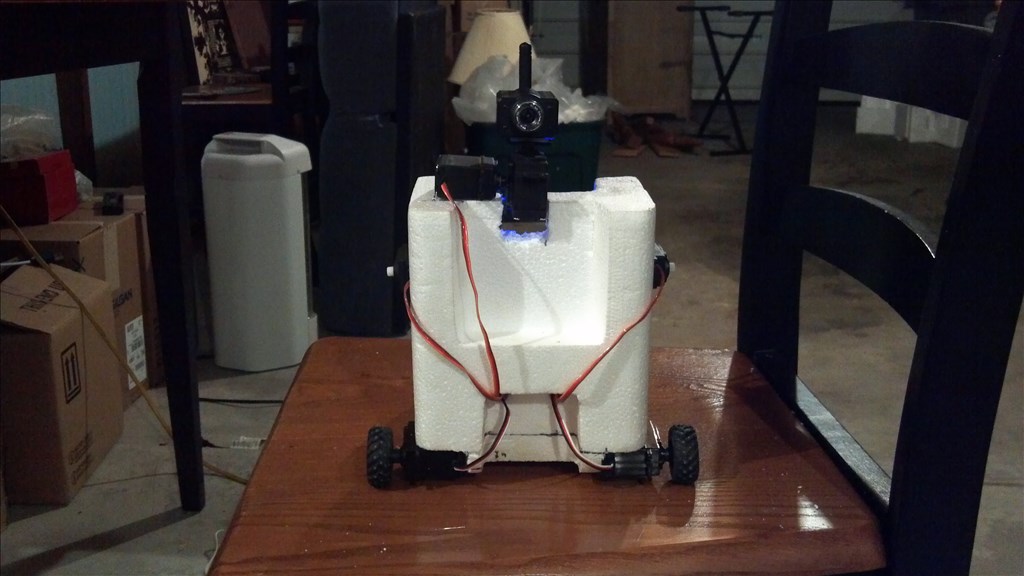 Birds Eye




A better look at the Wires and Wheels: Wheels are hot glued in place. I intentionally wrapped the wires around the front to give it an industrial cyberpunk look. Oops, I guess the kids are calling it steampunk now, my bad.




Right Side Profile: The arm servos are pressure fit for re-usability.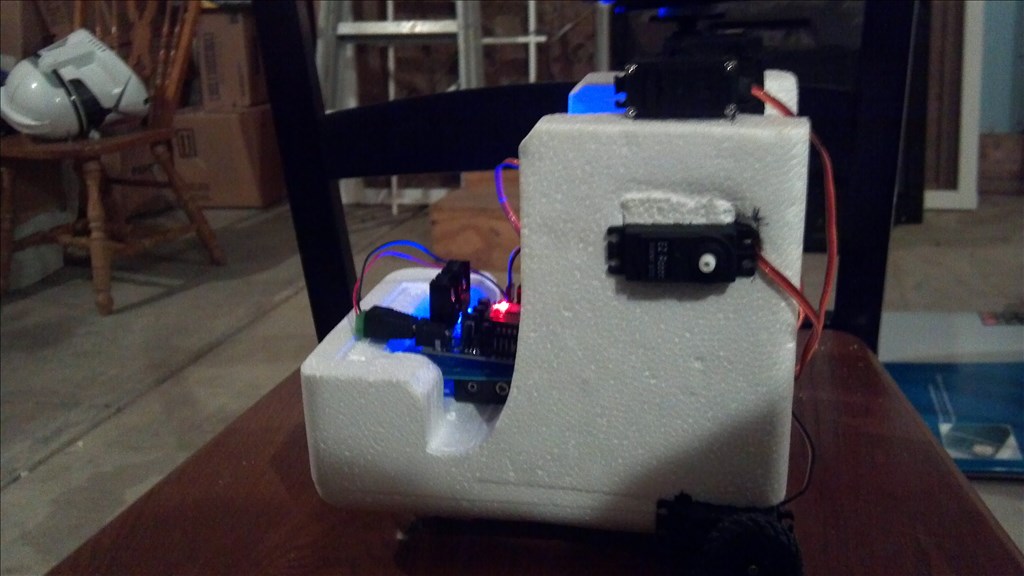 Close Up of Camera setup: Tilt is hot glued to Pan and Pan is hot glued to body. Camera is velcro fastened for re-usability.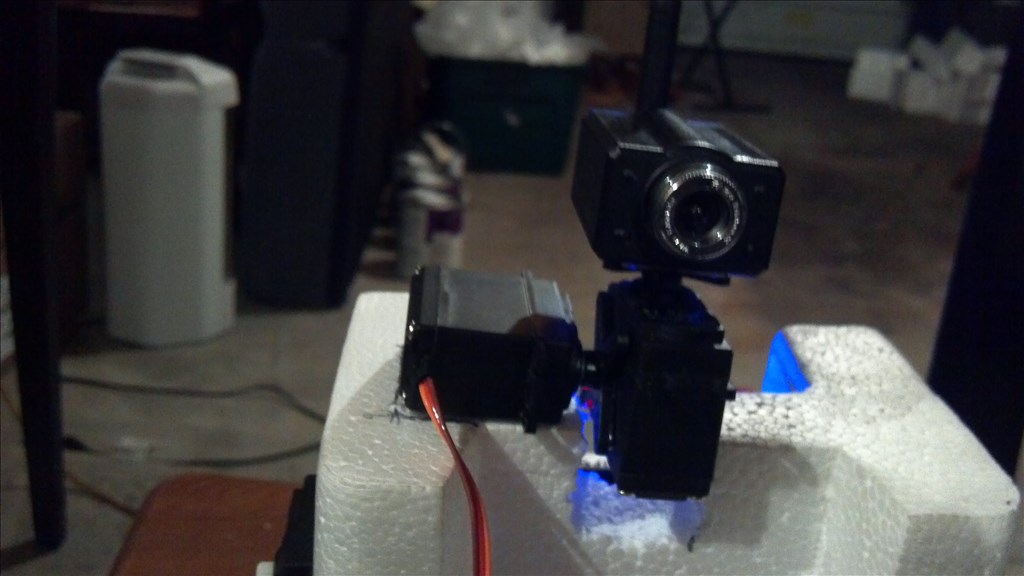 Rear View: Using a caster from Home Depot hot glued to under carriage (Smallest one they had, I would have liked a slightly smaller ball type caster.)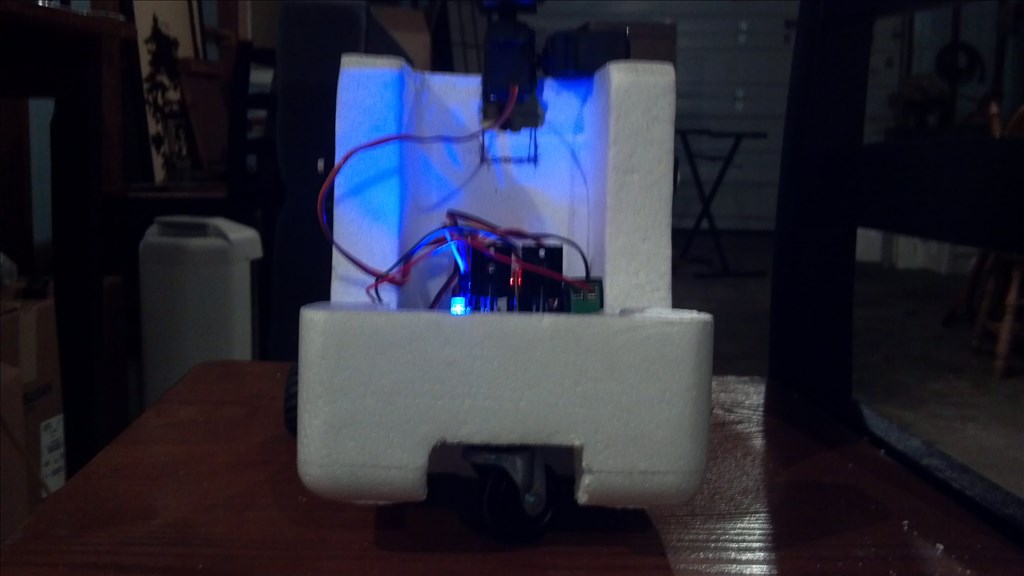 Close up of the EZ and Batteries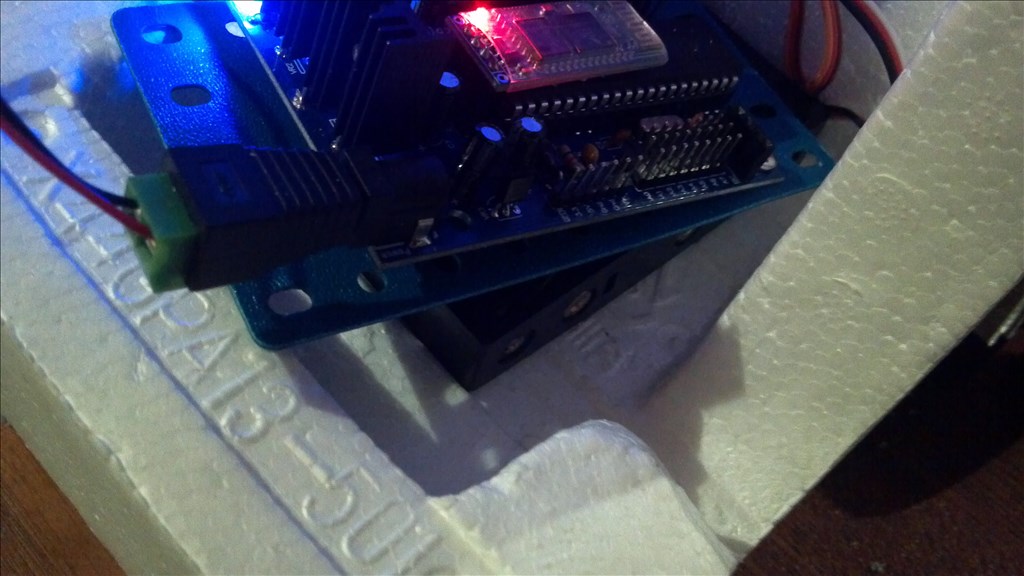 It ain't pretty and it has no arms but it moves and intimidates the dog so it's time well spent. Arms are just a matter of decision making at this point.

UPDATE: 2013-06-15
I added the Ultra Sonic ping sensor to my EZ Robot. No custom scripts involving the radar yet. As you'll see, I need to make some adjustments. I added some temporary arms to help show off the actions.

Click To Watch Video


Immediate Plans:
Going to mess with camera tracking options. I'd like to get those dialed in.
Attach some arms

Twitter.
Some RSS feeds.

After That:
Some more action/poses.
Find a better 3rd wheel for the back.
Maybe some paint?

If you have any Comments, Questions or Suggestions, there's always someone here you can turn to so, don't bother me.

JUST KIDDING! I welcome, appreciate and love, all CQ&S. I'd love to hear what all of you think.

-Anton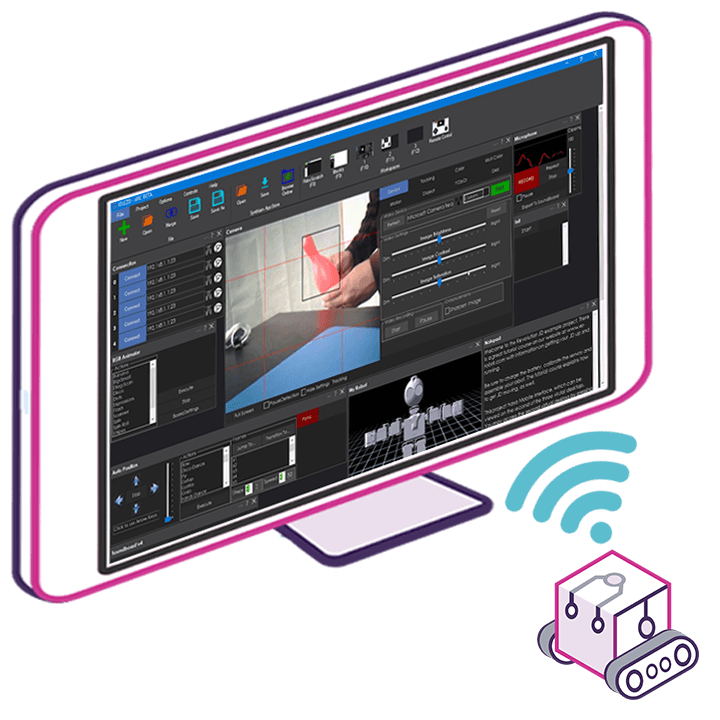 Upgrade to ARC Pro
Become a Synthiam ARC Pro subscriber to unleash the power of easy and powerful robot programming