Skip to comments
Hello everyone.
I'll keep my introduction short:
My forum name is OakMot. It's the name of a book.
I'm 24.
I've loved robots my whole life.
Now I'm an adult who can afford to build one.
I'm re purposing an old mannequin as a house robot.
mission:
Have a robot in my house that I or anyone can ask basic questions like what the forecast is, do web searches/ access a database of information/ record information I couldn't be bothered to remember myself, hold basic basic basic conversation for novelty. essentially a Siri (or jibo or whatever)for my house but physical with intractability.
it will have a head with a realistic range of mobility, as well as a right arm with 6 points of articulation. (will eventually add a second arm and maybe torso movement when I have the means to.)
Getting started: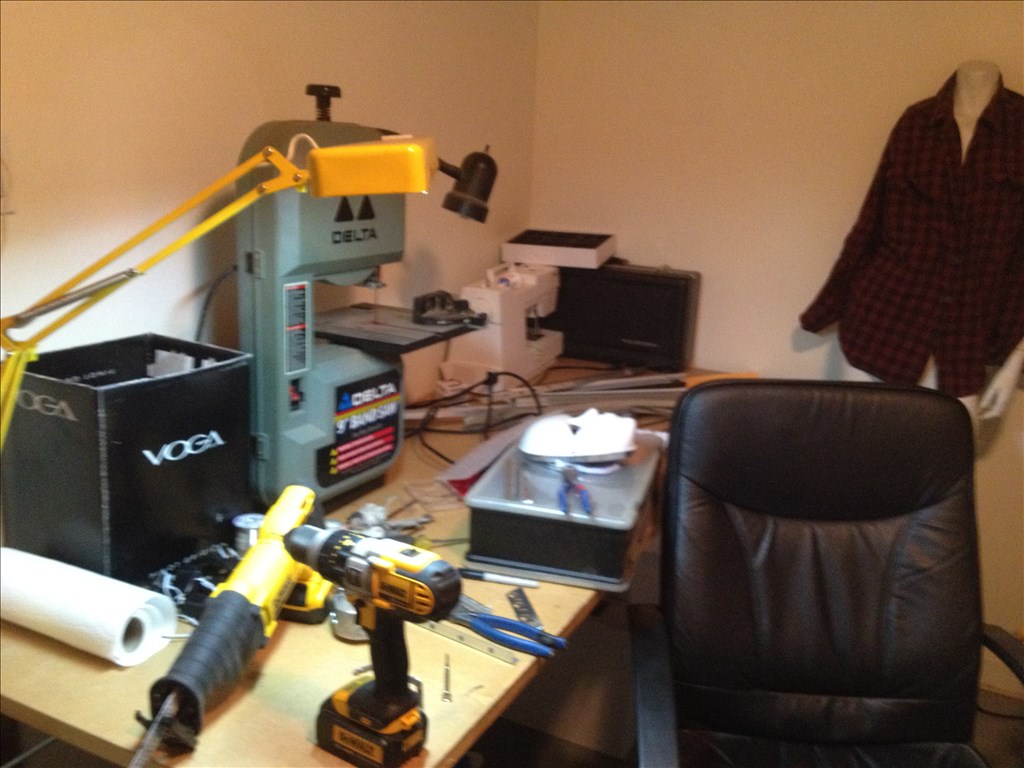 I have a humble workshop out of my laundry room, which has a cache of basic parts and scrap metal. I work as an apprentice electrician so I've been working with mostly hand tools accompanied with a bit of sweat and blood.
I started by mounting a craft mask onto a frame built out of scrap and then fixed to two hd servos for x and y axis movement. using one of the wheels made sense as a base for the neck.
I then mounted the EZ-b onto the back of the head so the camera cable could reach. call it laziness. I got extension wires for a reason. then I mounted a red terminator like eye that does nothing except make it look menacing. it was inserted a little recessed into the mask so it gives off the illusion that it follows you around the room. also lets you know its on. the robot I mean. The fan I'm hoping is more than cosmetic. the ez-b is a small computer after all. hopefully it will keep it cool, but if it really doesn't do anything, it can look cool.
that's a joke. laugh.
at this point, I'm not on battery power anymore. I bought myself a linear DC 3 amp power supply, which converted computer power supply 12vdc to the 7.4-7.5vdc needed for the servos.
seriously though, I was eating batteries trying to get head tracking to work. 6 a night.
began work on a shoulder joint only to get frustrated and put it on hold.
reconstructed legs with articulation for portability. Also cosmetic. I have no intention of making it walk until such technology is accessible to me. side note I didnt realize I needed more protection than a face mask and safety glasses when it came to cutting fiberglass. its been a very itchy couple days.
bought it a dress, not necessarily for me, but for people I show. nudity makes people uncomfortable, and also me to an extent. hopefully once I have more of a final product, I'll buy/make something more conservative. what I'm saying is the dress is temporary.
and this is where I'm at.
current goals: -faster and smoother tracking, be it motion or face tracking. -get the arm built. -install a small computer inside the torso to both supply the ez-b with power and to run ARC .
foreseeable future goals: -be able to put one plug in the wall in order for the whole system to work. -start programming the personality with the pandorabots add on, of which I have no idea what to begin with.
unforseeable future goals: not entirely sure this project will be done anytime soon. obviously the fantasy is to have a robot man the house while I'm gone and help around the house, but I'm going to work with what I have and hopefully sometime soon It'll be something I can work towards, but for now, my robots a sitter.
I intended to have more videos and such to show, but they're currently spending a lifetime uploading to youtube, so that'll have to wait.
I look forward to being apart of this community, and I hope I can help in anyway I can to making a mechanized future more than fiction.
-OakMot
PS.:I realize I'm making a female robot and what insinuations that might bring. get you're mind out of the gutter.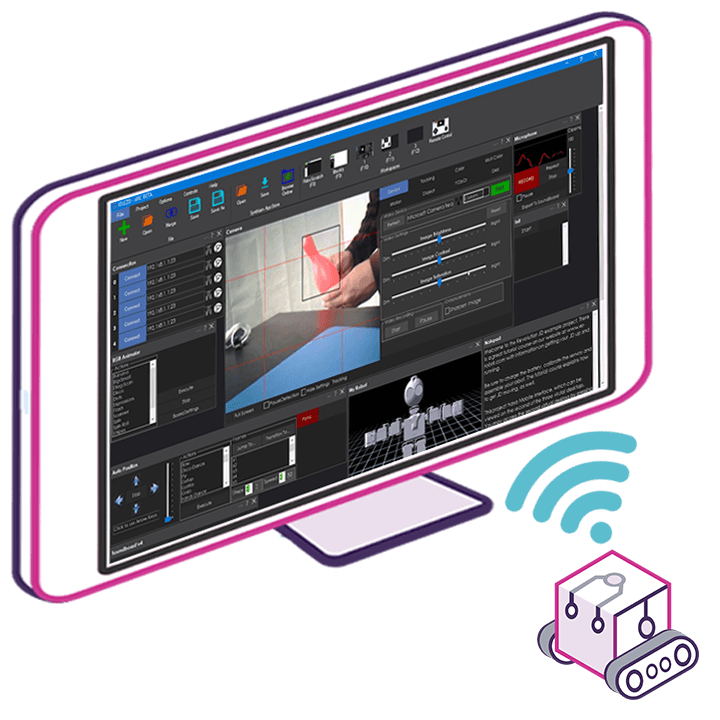 Upgrade to ARC Pro
ARC Pro is more than a tool; it's a creative playground for robot enthusiasts, where you can turn your wildest ideas into reality.