Skip to comments
Hello, I'm new in this community and got my EZ-Board and Motorcontroller last week.
After some problems in the Beginning I flashed the Firmware to the EZ-B and the ARC Software works on my Win8 Notebook with built in Bluetooth.

Now it's time for my first Project with the following Goals:

-Driving autonumous and with XBOX360 Pad that is connected to the Notebook
-Wireless Cam in the head that should be modified to Pan/Tilt with Servos
-Ultrasonic Radar
-PWM dimmed LED-Eyes (one Colour or RGB)
-Optional movable Arm('s)

I looked around a little bit at home and found two candidates, a Omnibot 5402 and "Rolling Olli" from Dickie Toys.
But even if the Omnibot has no batteridoor an Remote I don't want to destroy it, so I unscrewed the Rolling Olli and found out that is very good built and the right platform for the EZ-B.

I used the place in the Back of Olli to screw the EZ-B on.
The Batteriedoor is under the robot and holds six batteries Type A, but I modified it to hold 7,2V RC Batterie-packs with Multiplex Connectors.
So I can Use the Batteries from some of my RC-Cars and use my good chargers.
I plan to cut off the Head and PanTilt it, so it can follow a red coloured Ball with his head.
I also have Sharp IR Sensors that I could use for Radar till the Ultrasonics arrive from China.

I will add some Pics...here is a youtube video to see what Rolling Olli is:


That is not my one, my is Blue...but I got another one in Red for my little Daughter, she is 3 Years old and loves Robots.
Her Favorits are not payable for me, she wants an asimo, HPR-4 or a Nao, but all of them aren't really cheap for a little kid's toy. ;-)
EDIT: I got cheap a second Omnibot5402 with Remote and Batteriedoor, but the tapedeck is away, so I have a Base for my next projekt, and also one Complete 5402 that is still very expensive when I look at the ebay prices.
Marc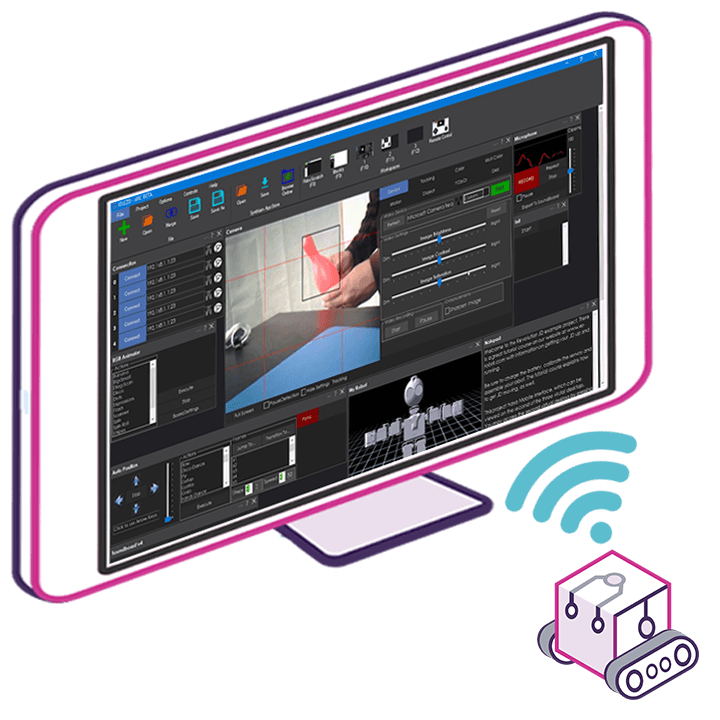 Upgrade to ARC Pro
Your robot can be more than a simple automated machine with the power of ARC Pro!