How many of you got the "server down" message last night?

Yesterday day I went into the office, furious! Flames and lighting bolts projecting from my eyeballs - green hulk kind'a angry!

The night before, the hosting company Ez-robot was using decided to perform "another" unscheduled maintenance and bring the servers down without notification - which continues their 3 year trend of interrupting our cloud based services. To make matters worse, the servers are "powered off" and not properly shut down. Oh, you know how happy that makes Microsoft Windows, right? Database and file corruption have been reoccurring nightmares...

Ez-robot choose and tolerated the last hosting company for a few reasons. They're local and supporting local companies is important for everyone. They're a startup, so are we! They were affordable - with the number of online services and automation Ez-robot has running on the cloud would cost us a fortune anywhere else.

- 3D printing files, resources and printer sharing network
- RobotApp store for mobile and PC app sharing
- Community forum and other community services
- User created robot tutorial and live tutorial CMS
- Robot open-architecture plugin hosting
- Webstore and product POS/Inventory management
- Content manager and database for the entire ez-robot.com
- numerous web services for Mobile App functions and ARC features
- lots more...

Needless to say, EZ-Robot may be a small company but our hosting demands are huge!

Back to my flaming eyeballs and thundering roars. Gave Alan (Ez-robot COO) my usual "where I've been and what I've been inventing" update, which ended with "and today we need to switch hosting companies or I'll lose it". On that note, off we went researching hosting companies. Rack space, Google, Amazon, Microsoft azure, etc etc etc... the services for flexible cloud VM's are abundant, but the pricing *ouch*!

Not sure what will be worse - the random downtimes of existing hosting provider or the cost of using an enterprise cloud hosting service?

Great news! Ez-robot, like many startups, has been a member of Microsoft's BizSpark program - which offers startups access to Microsoft software (visual studio, office, etc) for practically free. Let's face it, this is an offering that ever startup genuinely needs! If it wasn't for BizSpark, most startups would resort to pirating their Microsoft software due to financial limitations, so Microsoft sure made a smart move with BizSpark. Long story short, BizSpark offers Microsoft Azure VM hosting credits!

This means the requirements for a production quality VM with a reputable enterprise service such as Microsoft Azure is within our little startup's grasp!

Last minute decision - we took it. I set out to migrate the 50 gigabytes of data from our old cloud servers to Microsoft Azure. Completing the final process at 3:00 am, the DNS propagated and Ez-robot.com is online - faster and more reliable than ever!

So, enjoy your faster, stronger, and better Ez-robot cloud services! I sure am :). Thanks BizSpark!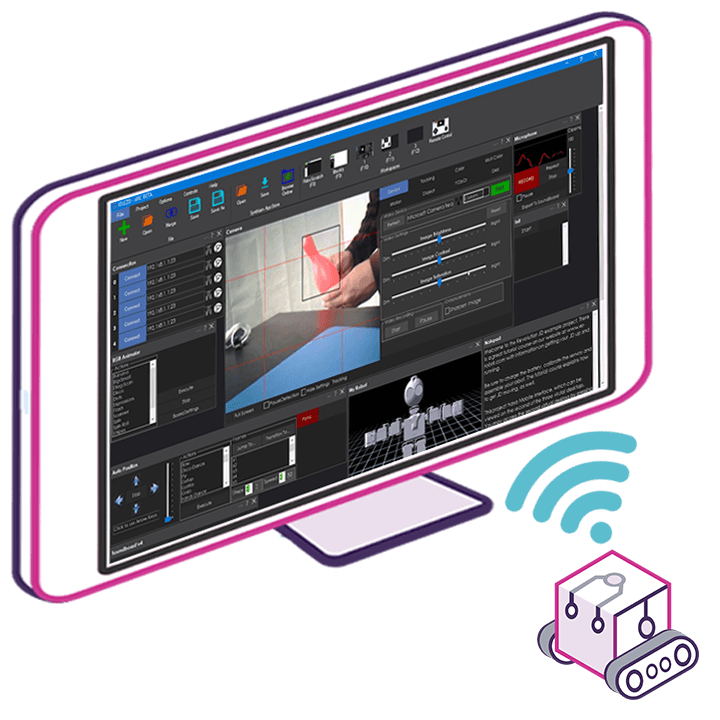 Upgrade to ARC Pro
Experience the latest features and updates. You'll have everything that is needed to unleash your robot's potential.