Skip to comments
I have mostly finished printing the inmoov head and began experimenting with my ezb controller and software. One of the first things I want to achieve was tracking a person.

When my robot isnt tracking a person, he will look around randomly with his eyes and regularly turn his head in the direction he is looking.

When he finds something or someone to track, I use the ezbuilder built-in servo tracking for the eyes, which was a breeze to setup. But humans will turn their head towards the person they are talking to, so I wanted to mimic that. I couldnt find an easy way to do it, so I just scripted it. A bit tricky because rotating the head throws off the servo tracking, its usually too slow to follow, so whenever I rotate the head, I pauze the built-in servo tracking and manually turn the eyes to compensate for the neck rotation.

I also wanted to avoid servo buzzing, so I release the servo after each movement. I learned the hard way that releasing the servo makes EZB forget its position and reset the speed, so I store the position in a variable before releasing, and everytime I re-attach a servo, I first move it to this last known position (which shouldnt cause any movement), so I can set the speed, and then do the actual move.

In the end, it all kind of works. For some reason the neck servo will still occasionally jerk violently but that may be a problem in my code.

I made a short video, replaced the head tracking with color tracking to it followed the camera, despite very poor lighting conditions in my study:


All in all, Im pretty impressed with the platform. Its both easy to use and doesnt seem to impose significant limits on what you can with it.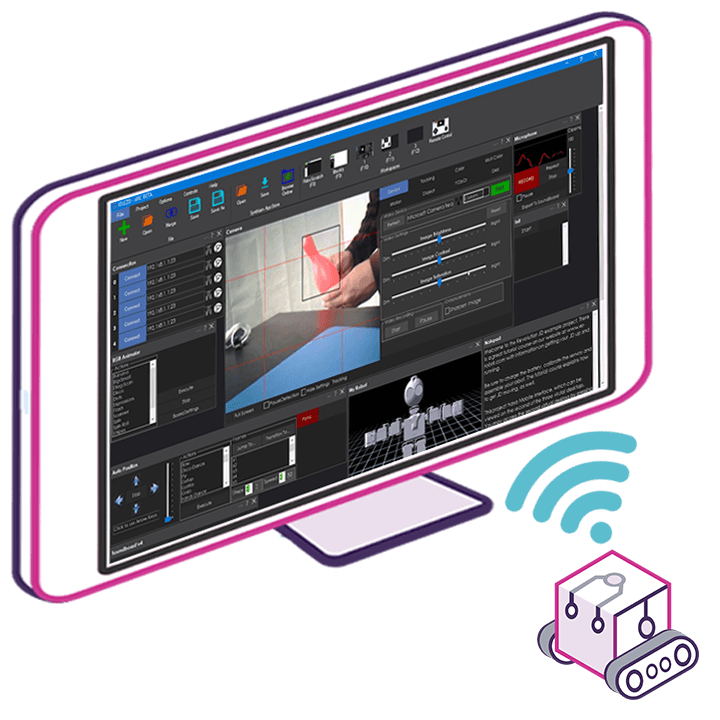 Upgrade to ARC Pro
Harnessing the power of ARC Pro, your robot can be more than just a simple automated machine.