Skip to comments
I have been a long time member of the R2 Builders club (astromech.net) and have a full sized replica of R2D2.




Currently at conventions he is driven via RC with a Futaba radio.

I originally had an onboard mini-ITX based computer. My main motor controller is a roboteq AX3500.
http://www.roboteq.com/brushed-dc-motor-controllers/ax3500-dual-60a-brushed-dc-motor-controller
I used the basic roborun software that came with that controller and could drive the robot with a cordless Saitek gamepad. However the software was very limited and I could not easily control other functions. When I first set up the RC radio to control drive and dome rotation, I switched the onboard computer to an Asus Eee box and used my HP iPaq PDA running VMC to control the computer and generate sounds and lights controls. Still - a complicated control system for limited function.

Now I have been integrating the EZ Board into the R2 and removed the PC altogether. Sound control with the MP3 trigger works awesome! I replaced my old LED dome lights with the programmable J.E.D.I. light system and am figuring how to send scripts from EZ builder to the LED light displays. https://sites.google.com/a/jedicontrol.com/www/displaycontroller%28dc%29

I am connecting to the EZ board with an exoPC tablet running Windows 8. I have the ThinkGeek iPad joysticks and have playing around with using them for control of driving but that has been problematic. (Can't wait for the razor fiona tablet to be available as I think it will make an excellent control for EZ robots) http://www.razerzone.com/projectfiona

Currently I am putting in an RC RX multiplexer to allow me to switch between RC control and EZ builder software control.
http://www.robotshop.com/ca/cytron-8-channel-rc-rx-multiplexer-2.html

As I like to have complete control of R2 while driving him around at conventions and public appearances, I will keep the RC option. But really want to work in some automated EZ builder scripts to give him some animation when he is 'parked' at a public location. And also use some motion sensors to make that animation more interactive.

EZ Robot is an awesome application for my needs - and I feel I'm barely scratching the surface of what it will be capable of in this R2 of mine!!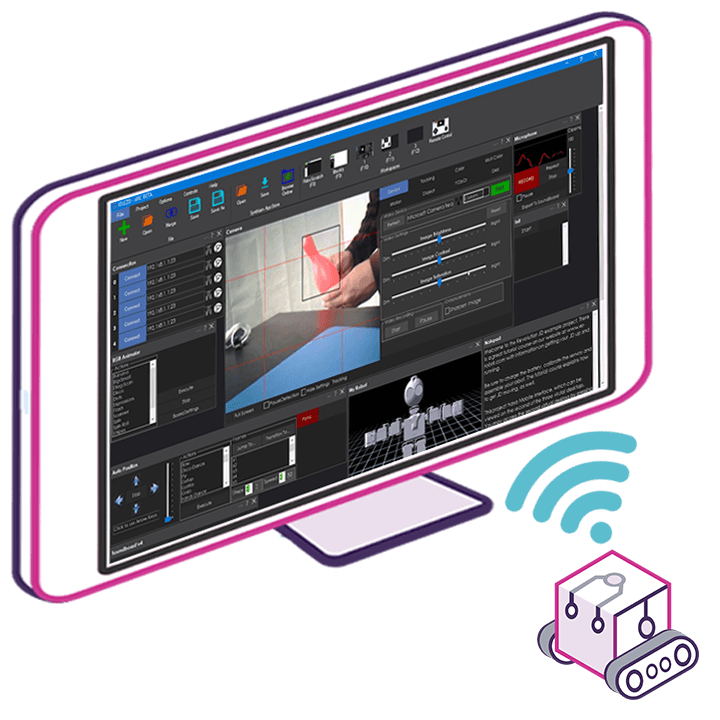 Upgrade to ARC Pro
Your robot can be more than a simple automated machine with the power of ARC Pro!