Ok, so I've finally found Rich's and others script examples and come to understand that the cloud has repositories but is only available through the ez-b gui. So, I've been doing some scripting, cutting and pasting. I need a little evaluation and assistance.
First off. My goal is for the robot to wake up on specific days and times (that hopefully I can ultimately control from my house online calendar but for now using the script), send an ir signal, follow a path, send a few more signals and then return later, also not wake skynet.

So here is what I have so far. I connected a SMAKN 315Mhz Rf Transmitter and Receiver Link Kit (.Receiver module parameters: 1.Product Model: MX-05V 2.Operating voltage: DC5V 3.Quiescent Current: 4mA 4.Receiving frequency: 315MHz 5.Receiver sensitivity: -105DB 6.Size: 30 x 14 x 7mm
.Technical parameters of the transmitter head 1.Product Model: MX-FS-03V 2.Launch distance : 20-200 meters (different voltage, different results) 3.Operating voltage: 3.5-12V 4.Dimensions: 19 x 19mm 5.Operating mode: AM 6.Transfer rate: 4KB / S 7.Transmitting power: 10mW 8.Transmitting frequency: 315MHz 9.Pinout from left ? right: (DATA; VCC; GND)

Main Code:

Code:

:script_1
:script_2
# Run every Saturday and Sunday
  IF($Dayname = Saturday AND $Daytimehour =8)
    Goto(script_1)
    Return
    WaitUntilTime(20,00)
    Goto(script_2)
    Return
  ElseIf($Dayname = Sunday And $Daytimehour =8)
    Set(D1, on)
    Goto(script_1)
    Return
    WaitUntilTime(20,00)
    Goto(script_2)
    Return
  Else
#not sure what to put after the bot returns to home at the end of script 2 to make it sleep until the next Sat/Sun
    Sleep(1000)
  Endif



Script 1

Code:

#send ir signal
$sendiropen = Set(D13, ON)
Sleep(5000)
Forward(25, 1000)
Stop()
Right(25,900)
#go outside
Forward(50,5000)
Stop()
#turn around, close door, then turn around again
Left(25,1800)
$sendirclose = Set(D13, OFF)
Left(25,1800)
#proceed
Forward(50,3000)
#ok so here I need to figure how to plot the path and avoid obstacles see below
#continue following path
#avoid obstacles
#sleep



I have a DE-ACCM3D buffered 3d accelerometer attached to analog, the ez-b ultrasonic sensor which I have script for but not sure where to integrate, I also have the wireless camera that came with the kit or some nice old school camcorder tech or some iphone cameras, finally, I have the roborealm avm software but I'm clueless on integration for my purpose at this juncture.

My two wheelchair motors powered by two 12v batteries in parrallel are connected to the sabertooth 5x25 motor controller with the kangaroo (not sure if this needs scripting). I don't want to run a third battery pack and I'm told that the 5v from sabertooth may not be enough? It seems to run ok but would you rec an additional piece of hardware for good voltage?

My other questions are:
How is the script so far?
How can I integrate the other functionalities?
What hardware to I still need to get?
What am I not thinking about?

I have access to lots of parts. one offtopic question I'm not clear on as well. Does battery monitor script for sla batteries need a piece of hardware to work or will it work just as a software function?


I hope that it's ok to ask these. I feel so close to getting her rolling with the shoulders I'm standing on here on the forum and I really appreciate it.

Matt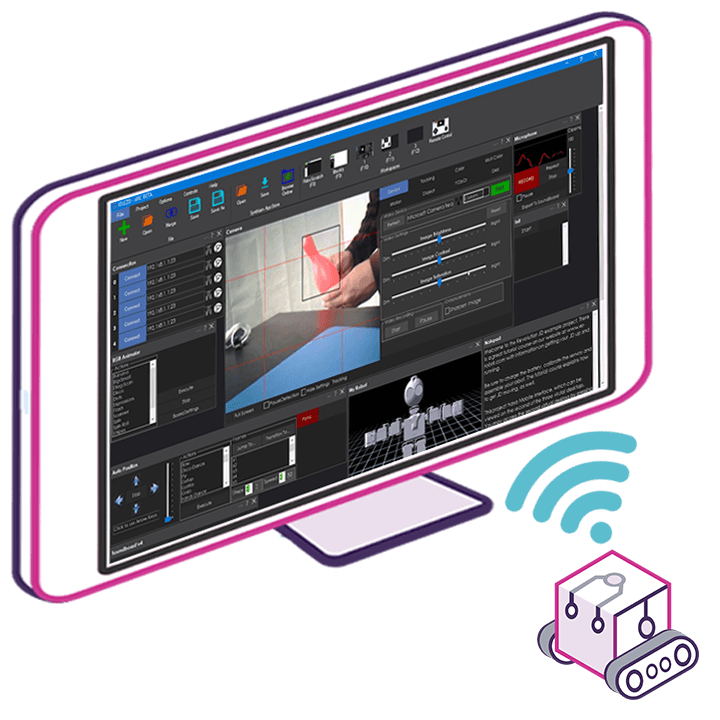 Upgrade to ARC Pro
Experience the latest features and updates. You'll have everything that is needed to unleash your robot's potential.