Has anyone here thought of building a pair of robots that hunt each other? Maybe hack some Laser Tag toys and mount them on the bots (think tank style turrets) so they can score points against each other? They could prowl the house searching for each other to do battle. There would need to be some clever rules to this type of action so they don't just sit in one place shooting at each other till their batteries ran out.
Here are some ideas:
- The bots would have to be able to somehow sense or detect each other. Maybe by several
different types of sensors. Sound, light, IR, video, color, etc.
- A certain number of hits within a short time period would cause the bot who's taking the
damage to try to run and hide in another room.
- Certain amount of wait time between shots so bots can have time to execute evasive
maneuvers.
- Each laser hit would give a random number and each number could mean a different level of hit
points or damage.
- Depending on the level of damage the bot could be programed to simulate damage to certain
parts. For example: a bot takes a hit and a random number is generated. Say the
number is a six...the six means that the bot took slight damage to the right side drive motor.
A script could be executed that would cause the right side H-Bridge to be somewhat slower
causing the bot to have difficulty trying to maneuver or stay on course for x number of
seconds then it goes back to normal operation. Or a certain number
could mean the loss of a certain sensor for x number of seconds giving the robot a
disadvantage in battle.
- If enough time has elapsed between hits the damage heals and functions become normal until
the next battle.
- Maybe give them some clever dialog to say while they are doing battle.

The list could go on and on. Anyone think this is a cool idea?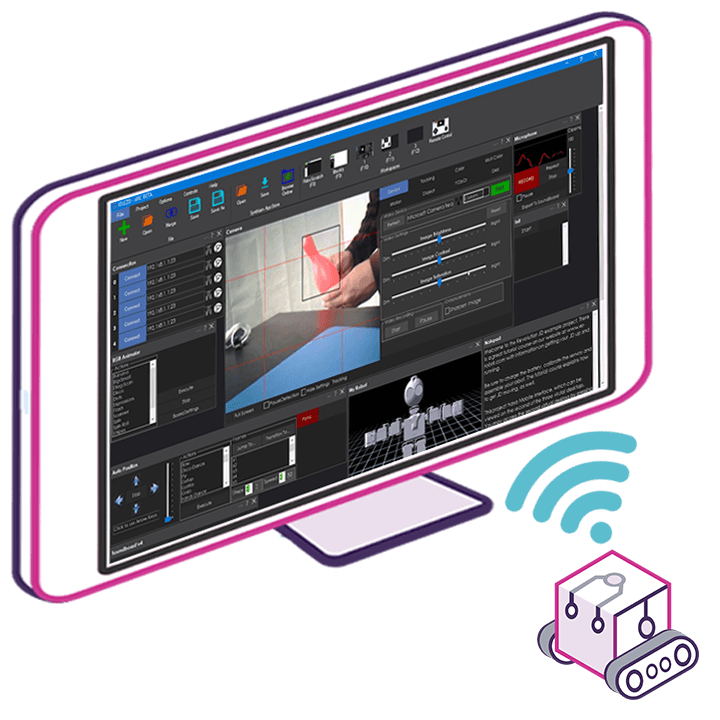 Upgrade to ARC Pro
Harnessing the power of ARC Pro, your robot can be more than just a simple automated machine.