Every time I move a servo through WiFi the ezb v4 makes a chime like its starting up but its really disconnecting.

I tightened the female connectors (I dont like the dean prongs - the base doubles the size of the unit for no reason).

I thought this might be due to the 6V20A power supply I had begun using instead of 7.5V48A I was using previously (which fried about 12 servos). I remembered some kind of battery failsafe minimum voltage shutdown setting (which I turned off after clicking the settings cog button next to 'Connect/Disconnect' in ez builder software. I had already switched it off so I wasn't sure if it was my faulty power supply, a faulty power supply to ezb wiring issue, the low voltage, bad wifi, a bad servo. There needs to be a troubleshooting guide built into ezbuilder when things go wrong I think.

My new power supply has a 12v/6v switch. I had set it to 6v so as not to fry my little Hitec mini servos (225mg). I also had a torxis monster 1600 servo but using a different power supply. Was there a conflict between the servos? Was Channel D1 faulty? I unplugged my little servo which used ezb power and the problem went away - the torxis servo on it's own power supply worked well and a wifi cutout wasn't triggered. The moment I plugged the mini servo back in and sent it a command the ezb shut down and up and down again. Problems.

Now I'm back on my 7.5V power supply (with everything working until this servo fries as well) but I want to decrease to 6V. Is 6V too low? Or is it my power supply thats to blame? Or something else? Thanks

EDIT: I just plugged in a THIRD power supply, this time a 12V with a 6V downer module. Running the 12V to the Torxis and the 6V to the EZB and connected servos. Tested lots of servos. All caused the microcontroller to malfunction. Pissed off that the EZB was probably broken at this point, I had one final look at the failsafe voltage settings, hidden away (a clue that the programmers are to blame - not me) where I find that its not the programmers' fault after all - the failsafe override voltage shutdown thing is still unchecked and greyed out, just as I left it. So that couldn't have been the issue. But knowing that anyone who puts the main settings for the ezb in a tiny button like that must have rocks in his head, I wonder if I need to turn the device off for thirty seconds while holding spacebar, return key, alt key, ctrl key, Q, W, L and shift for 500 milliseconds before hitting the tilda key and doing a backflip, I switch the failsafe voltage on again and the box will stop telling me the batteries are low, which she'd suddenly decided to start doing. So I go in and change these settings to 5 in each box while keeping them switched on, and the woman stopped yapping. Thank God for that. It only took me around $500 worth of labour and three years reduction in lifespan due to the stress of figuring out where the programmer's head was at when he was inhaling pure diesel fumes. Problem solved until another crazy software setting gets in my way... I really hope it gets easier after I learn that a square hole in the ceiling is a toilet in this labyrinth.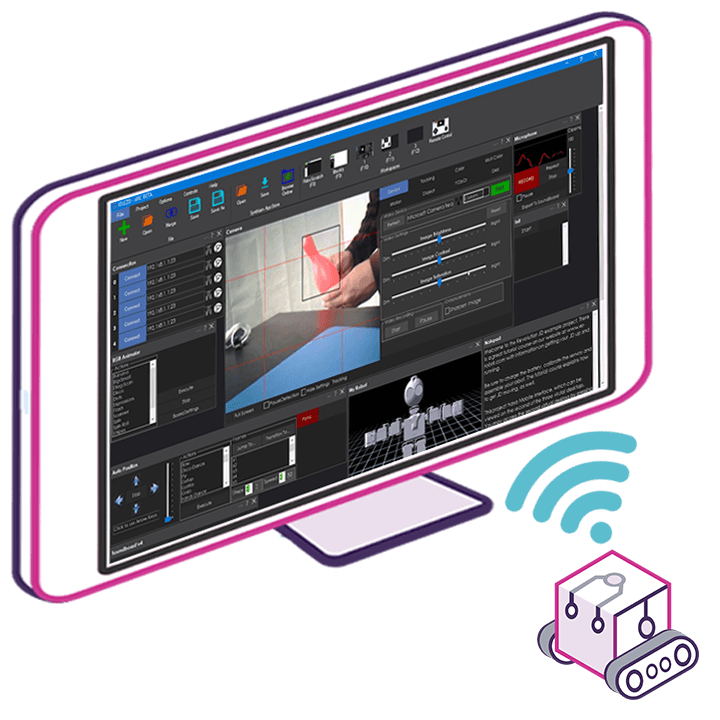 Upgrade to ARC Pro
Synthiam ARC Pro is a cool new tool that will help unleash your creativity with programming robots in just seconds!
Based on your post activity, we found some content that may be interesting to you. Explore these other tutorials and community conversations.