(Autonomous Robot Control Software)
Make robots with the easiest robot programming software. Experience user-friendly features that make any robot easy to program.
Change Release Notes
This release is quite minor but recommended...
- New camera tracking feature for AR Parrot Drone, will track UP and Down. Setting can be configured in the Camera Control Configuration screen under Movement Tracking.
- Microphone Export To Sound Board updated to use new Audio Compression from last version
- When loading projects with EZ-Bit v1, the prompt now provides a method to Skip Syncing EZ-Bits
Why would you want to skip syncing ez-bits?
Well, if you load a project with EZ-Bit v1 files, the new v2 isn't compatible. This means you will have to Skip EZ-Bit Syncing because the old v1 files will not be found. Of course, you will no longer have a 3D Designed EZ-Robot in your project. Sorry, but you will have to rebuilt the 3D design.
Good news, if your robot is built off one of our existing robots (JD, Six, Roli) then you can simply MERGE the template.
How do you merge projects?
Easy, of course
Under the File menu is the Merge option. Selecting this will merge a project into the project that has already been opened. Follow these instructions to get the latest 3D Designed JD/Roli/Six into your existing EZ-Bit v1 project.
Before we begin, load the EZ-Bit Library Manager and Sync all available EZ-Bits.
1) Load your project that contains the EZ-Bit v1 files
2) A prompt will ask to sync. Press the SKIP button and agree to the warning
3) Now your project will load, but the 3D Robot will be empty. Let's merge the template into your project. Press the MERGE button
4) Select the Examples -> Templates folder
5) Select the project that you wish to merge (JD/SIX/Roli)
6) A dialog will inquire if you wish to import the 3D Model. Answer YES
7) Another dialog will prompt asking what controls to also import. Deselect all options, because you are only importing the 3D model.
8) Press OK
Voila - now you have the latest EZ-Bit 3D Model loaded.
ARC Downloads
ARC Free
Free
Includes a free 3rd party plugin robot skill per project
GPT-Powered AI support
Free with trial limitations
For schools, personal use & organizations. This edition is updated every 6-12 months.
ARC Pro
Only $8.99/mo
2 or more PCs simultaneously
Includes unlimited skills
Premium support discount
And much more
Experience the latest features and bug fixes weekly. A Pro subscription is required to use this edition.
Runtime
Free
Load and run any ARC project
Operates in read-only mode
Unlimited robot skills
Early access fixes & features
Have you finished programming your robot? Use this to run existing ARC projects for free*.
Minimum requirements are Windows 10 or higher with 2+gb ram and 500+MB free space.
Teams known-issues can be viewed by clicking here.
Get more information about each ARC edition by clicking here.
See what's new in the latest versions with Release notes.
Compare Editions
Feature
ARC

FREE

ARC

PRO

Get ARC for Free
View Plans
Usage
Personal
DIY
Education
Personal
DIY
Education
Business
Premium support
$14.99/ticket
$9.99/ticket
Feature requests
Yes
Early access to new features & fixes
Yes
Simultaneous microcontroller connections*
1
255
Robot skills*
20
Unlimited
Skill Store plugins*
1
Unlimited
Cognitive services usage**
10/day
6,000/day
Auto-positions gait actions*
40
Unlimited
Speech recongition phrases*
10
Unlimited
Camera devices*
1
Unlimited
Vision resolution
max 320x240
Unlimited
Interface builder*
2
Unlimited
Cloud project size
128 MB
Cloud project revision history
Yes
Create Exosphere requests
50/month
Exosphere API access
Contact Us
Volume license discounts
Contact Us
Get ARC for Free
View Plans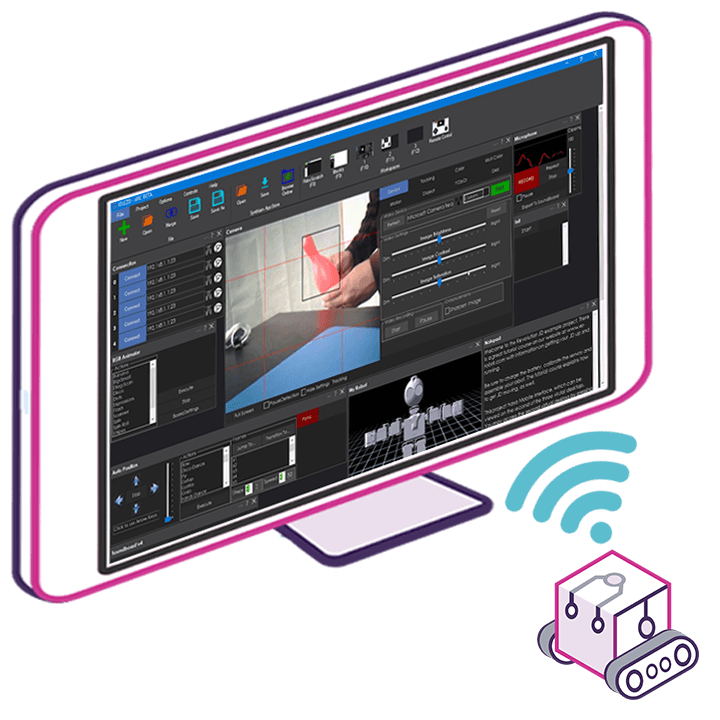 Upgrade to ARC Pro
Harnessing the power of ARC Pro, your robot can be more than just a simple automated machine.