Release 2019.03.17.00
(Autonomous Robot Control Software)
Make robots with the easiest robot programming software. Experience user-friendly features that make any robot easy to program.
Change Release Notes
- All beta release changes have been rolled into this stable release
-
Auto Position
works across multiple EZ-Bs. InMoov users celebrate!
- Fix for continuous rotation
servo
Movement Panel
reported here:
https://synthiam.com/Question/17763
- new installer branded with Synthiam
- support for Mickey's firmware for Adafruit 16
servo
shield
- new icons
- Added support for EZBPi Server. Instructions here:
https://synthiam.com/Hardware/Hardware/Raspberry-Pi-17681
- Updated XML Documentation for Visual Studio when creating a plugin. There's a ton of documentation for classes and methods to assist with
plugin
programmers.
- ez robot designer performance improvement
- interface builder performance improvement
- adding controls performance improvement
- auto arranging controls performance improvement
- opening projects performance improvement
-
RoboScratch
object list performance improvement
- debug window popup on bottom of screen performance improvement
- firmware tools for loading xml capabilities
- added support for microbit bbc
- do not check for video capability with ezbv4 video
- changed \ to Path.DirectorySeparator for cross platform
-
Auto Position
movement form fix (brought status log window to front)
- board and capability for wheel encoding (0x000000B)
- Capability support added for Sain Smart inverted pendulum balance robot firmware:
https://synthiam.com/Hardware/Hardware/17552
- Support added for Inverted pendulum control:
https://synthiam.com/Software/Manual/17551
- ping distance sensor control will auto update when GetPing()
EZ-Script
command is called with matching port values and the checkbox on Pause is set per request from Nomad here:
https://synthiam.com/Software/Manual/16090
- Capability manager for supporting other pcb's with custom firmware implementing the ez-b protocol
- capabilities for connected devices register in
ARC
and controls can query the capabilities so multiple controller types with different features can be connected (i.e. arduino, ez-b v4, etc)
- added emulator support for capability board
- added capability and firmware support for Arduino Uno, Arduino Mega, Robotis OpenCM and Robotis OpenCR
ARC Downloads
ARC Free
Free
Includes a free 3rd party plugin robot skill per project
GPT-Powered AI support
Free with trial limitations
For schools, personal use & organizations. This edition is updated every 6-12 months.
ARC Pro
Only $8.99/mo
2 or more PCs simultaneously
Includes unlimited skills
Premium support discount
And much more
Experience the latest features and bug fixes weekly. A Pro subscription is required to use this edition.
Runtime
Free
Load and run any ARC project
Operates in read-only mode
Unlimited robot skills
Early access fixes & features
Have you finished programming your robot? Use this to run existing ARC projects for free*.
Minimum requirements are Windows 10 or higher with 2+gb ram and 500+MB free space.
Teams known-issues can be viewed by clicking here.
Get more information about each ARC edition by clicking here.
See what's new in the latest versions with Release notes.
Compare Editions
Feature
ARC

FREE

ARC

PRO

Get ARC for Free
View Plans
Usage
Personal
DIY
Education
Personal
DIY
Education
Business
Premium support
$14.99/ticket
$9.99/ticket
Feature requests
Yes
Early access to new features & fixes
Yes
Simultaneous microcontroller connections*
1
255
Robot skills*
20
Unlimited
Skill Store plugins*
1
Unlimited
Cognitive services usage**
10/day
6,000/day
Auto-positions gait actions*
40
Unlimited
Speech recongition phrases*
10
Unlimited
Camera devices*
1
Unlimited
Vision resolution
max 320x240
Unlimited
Interface builder*
2
Unlimited
Cloud project size
128 MB
Cloud project revision history
Yes
Create Exosphere requests
50/month
Exosphere API access
Contact Us
Volume license discounts
Contact Us
Get ARC for Free
View Plans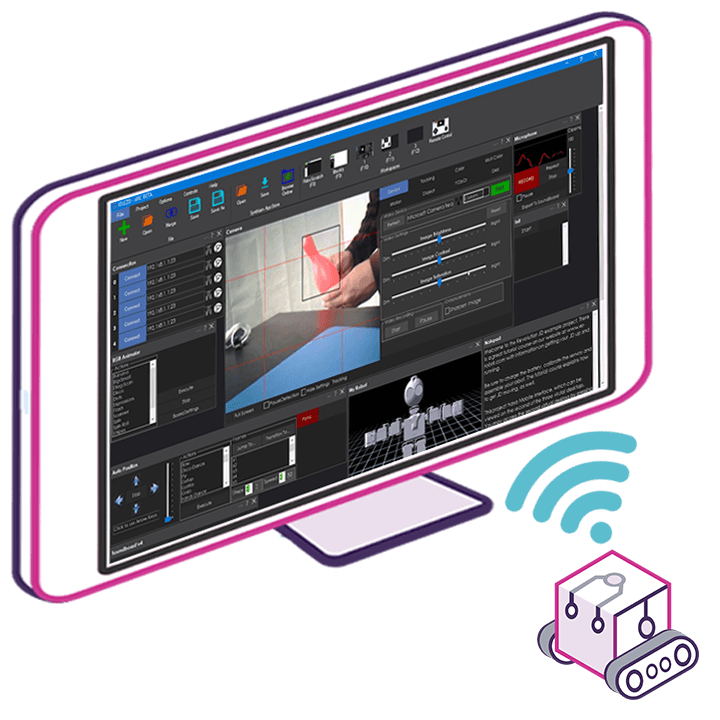 Upgrade to ARC Pro
ARC Pro will give you immediate updates and new features needed to unleash your robot's potential!