(Autonomous Robot Control Software)
Make robots with the easiest robot programming software. Experience user-friendly features that make any robot easy to program.
Change Release Notes
- force a memory garbage collection, specifically for GDI after Add Control for computers with low memory resources or lots of programs running in the background
- updates to UI when closing Forms which will prevent the occasional lock-up when closing ARC
- speech recognition has a new event for when pause state changes. this was added for the bing speech
plugin
so it does not listen when PC is speaking when Auto Record is enabled
- renamed the camera control's haar
ControlCommand
from custom to haar. The HAAR
ControlCommand()
was named CUSTOM and that wasn't easily identifiable by users
- log available
plugin
updates to usage log
- question mark on
plugin
update window brings user to
plugin
page
- project details,
EZ-Cloud
save and robot design editor all have an option which allows setting if the project requires a
servo
Profile when loading. Not all revolutions require a
servo
profile, such as Six, AdventureBot or Roli. The only robot that really needs a
servo
profile is JD or E.D.I MechWarrior because they walk and
servo
aligntment is important. This prevents prompting to load the
servo
profile when it isn't required
- if there are more than one soundboards on the same ez-b with scripts, fixes a Script Executor error that would appear about a null value
- wait for speech in
RoboScratch
speaks a message if timeout
- new
Blockly
commands for Play Audio (wait) and Stop Audio
-
Blockly
movement commands now say Move or Turn in front of them
- force garbage collection before add control form to ensure there's enough resources for gdi images of buttons
- force garbage collection before some big forms, such as loading ezbit library, editing robot in 3d and viewing 3d assembly instructions
- waitForSpeech() returns lower case when option is clicked with mouse
-
manual
for waitForSpeech() references that returned value is lowercase
- filter html in response of PandoraBot
ARC Downloads
Teams FREE
Free
Includes a free 3rd party plugin robot skill per project
Community support
Free with trial limitations
For schools, personal use & organizations. This edition is updated every 6-12 months.
Early Access
Only $8.99/mo
2 or more PCs simultaneously
Includes unlimited skills
Premium support
And much more
Experience the latest features and bug fixes weekly. A Pro subscription is required to use this edition.
Runtime FREE
Free
Load and run any ARC project
Operates in read-only mode
Unlimited robot skills
Early access fixes & features
Have you finished programming your robot? Use this to run existing ARC projects for free*.
Minimum requirements are Windows 10 or higher with 2+gb ram and 500+MB free space.
Teams known-issues can be viewed by clicking here.
Get more information about each ARC edition by clicking here.
See what's new in the latest versions with Release notes.
Compare Editions
Feature
ARC Teams

FREE

ARC

PRO

Get ARC for Free
View Plans
Usage
Personal
DIY
Education
Personal
DIY
Education
Business
Premium support
$14.99/ticket


(optional)

✓

1 request/month


($9.99 for additional requests)

Feature requests

✓

Yes
Early access to new features & fixes

✓

Yes
Simultaneous microcontroller connections*
1

✓

255
Robot skills*
20

✓

Unlimited
Skill Store plugins*
1

✓

Unlimited
Cognitive services usage**
10/day

✓

6,000/day
Auto-positions gait actions*
40

✓

Unlimited
Speech recongition phrases*
10

✓

Unlimited
Camera devices*
1

✓

Unlimited
Vision resolution
max 320x240

✓

Unlimited
Interface builder*
2

✓

Unlimited
Cloud project size

✓

128 MB
Cloud project revision history

✓

Yes
Create Exosphere requests

✓

50/month
Exosphere API access
Contact Us
Volume license discounts
Contact Us
Get ARC for Free
View Plans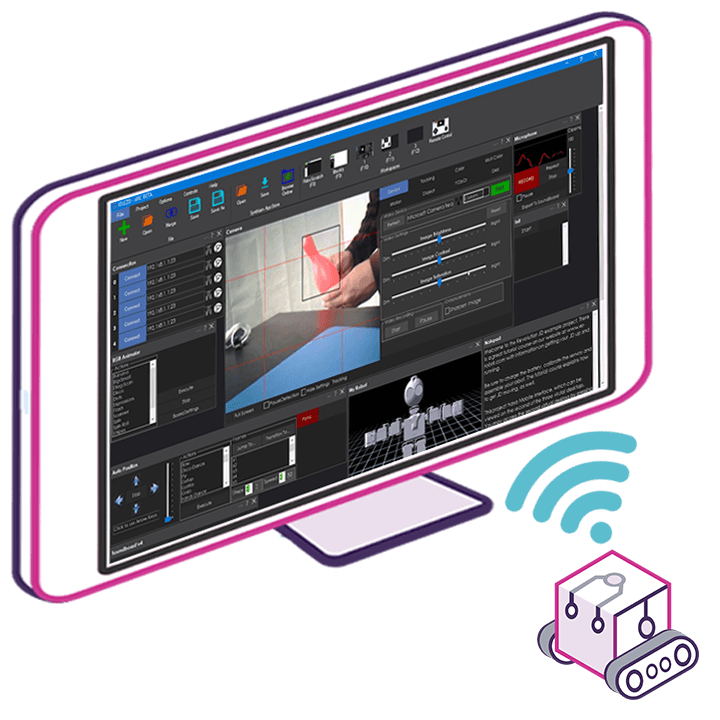 Upgrade to ARC Pro
Experience early access to the latest features and updates. You'll have everything that is needed to unleash your robot's potential.