(Autonomous Robot Control Software)
Make robots with the easiest robot programming software. Experience user-friendly features that make any robot easy to program.
Change Release Notes
We wouldn't have the world's leading robot control software without innovation. Today, we introduce a fantastic new feature that will leverage your EZ-Robot's ability. Are you ready?
- Fix for some windows installations not continueing speech recognition after speaking (i.e. SayWait(), Say())
- Firmware Update displays additional logging information for debugging users who don't follow the tutorial to use microsoft native bluetooth stack
- Smart Motion Delay. Pauses specified number of frames between detection. Very useful to maintain motion tracking by not attempting to detect during camera movement. Specify the number of frames to delay to allow your camera to move.
- Camera Overlay has a larger default font. Right Click, Add Overlay on the Camera Preview image and the default font is larger.
- Frame Speed is displayed in Tracking Speed Adjustment. You can adjust the frame speed with the slider. Now the frame speed is displayed in ms. You can also diagnose how fast your computer is at processing different tracking methods.
- *Drum Roll* Multi Color Tracking
Introducing Multi Color Tracking!
This new feature allows you to tune into a specific color for tracking and recognition. You can add as many colors as you wish, giving each a unique label that can be determined by a global variable.
The new Multi Color Tracking Type can be selected from the Tracking Type list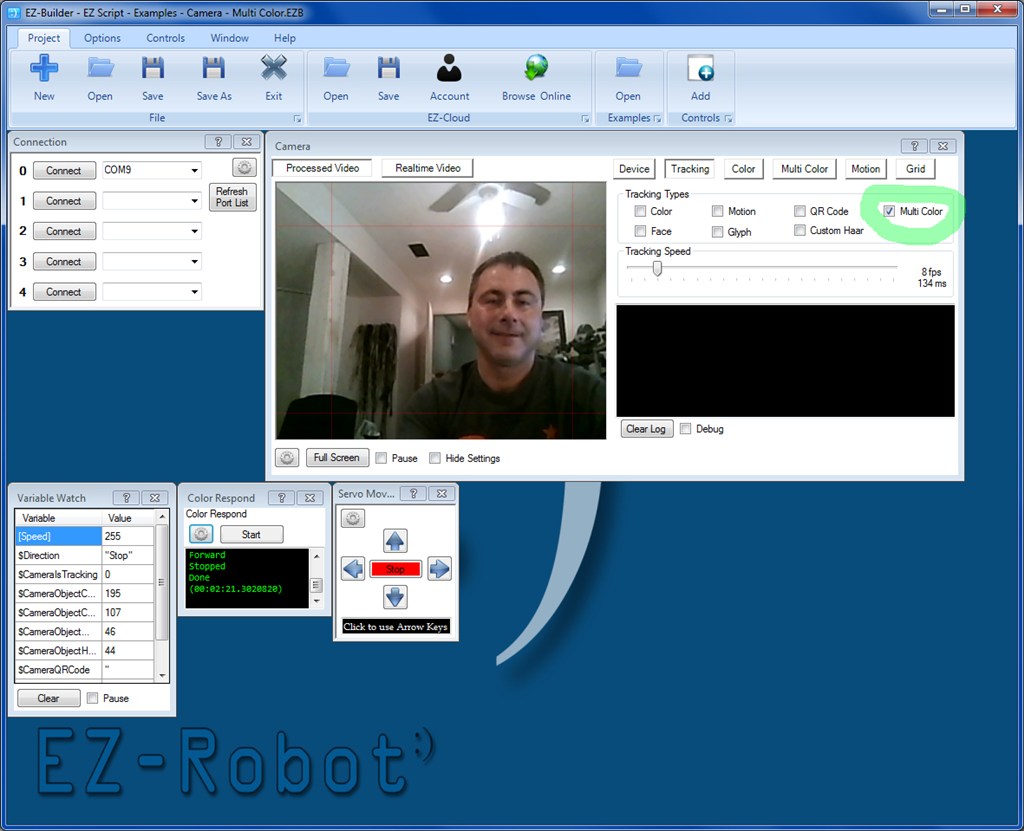 The Multi Color tab will display the selected color ranges and their name. You may also Add or Remove colors from this screen.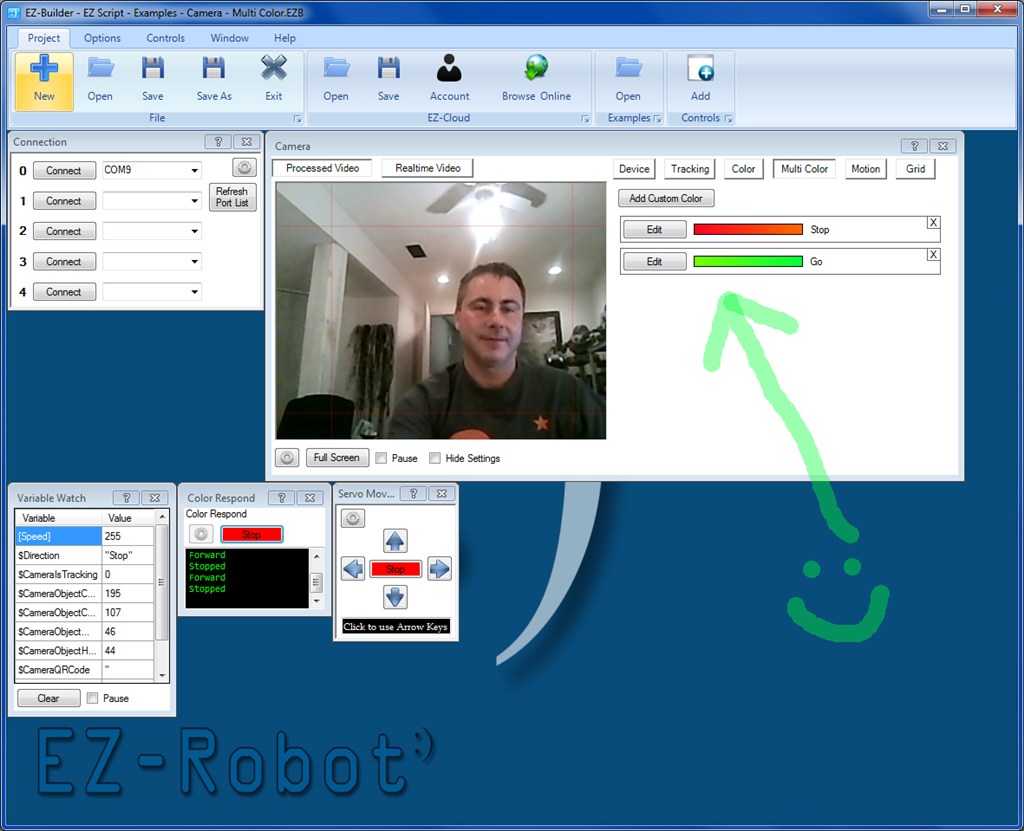 When editing a color, you can use the color wheel to isolate a specific range. Then use the Min and Max values for Saturation and Luminance to isolate the object color. When creating your own color filter, you will need to ensure no other objects are detected within the color range you specify. It's tricky, but start by isolating the color wheel first. Then slowly move the Min and Max values toward each other until only the object is recognized.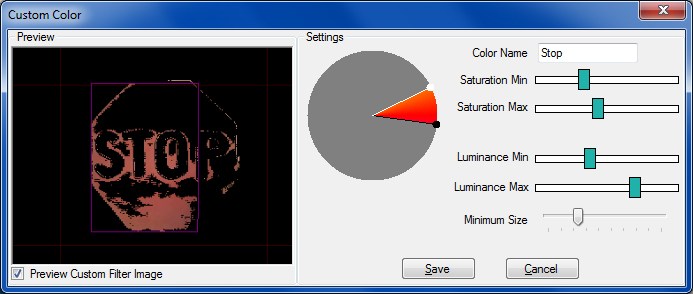 I created an Example Project...
Examples -> EZ Script - Examples - Camera - Multi Color
. This contains isolated colors for a Stop and Go sign. The code below will Stop() and Forward() your robot based on the color it detects. The signs are below in this post.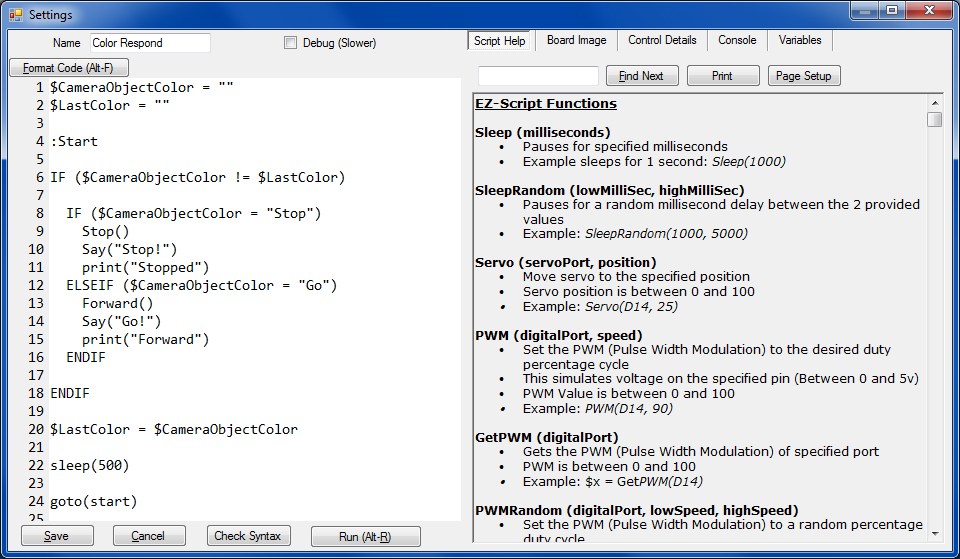 This is an example of the robot moving forward by recognizing the green go sign. Notice how the FORWARD button is highlighted on the Modified
servo
Movement Panel.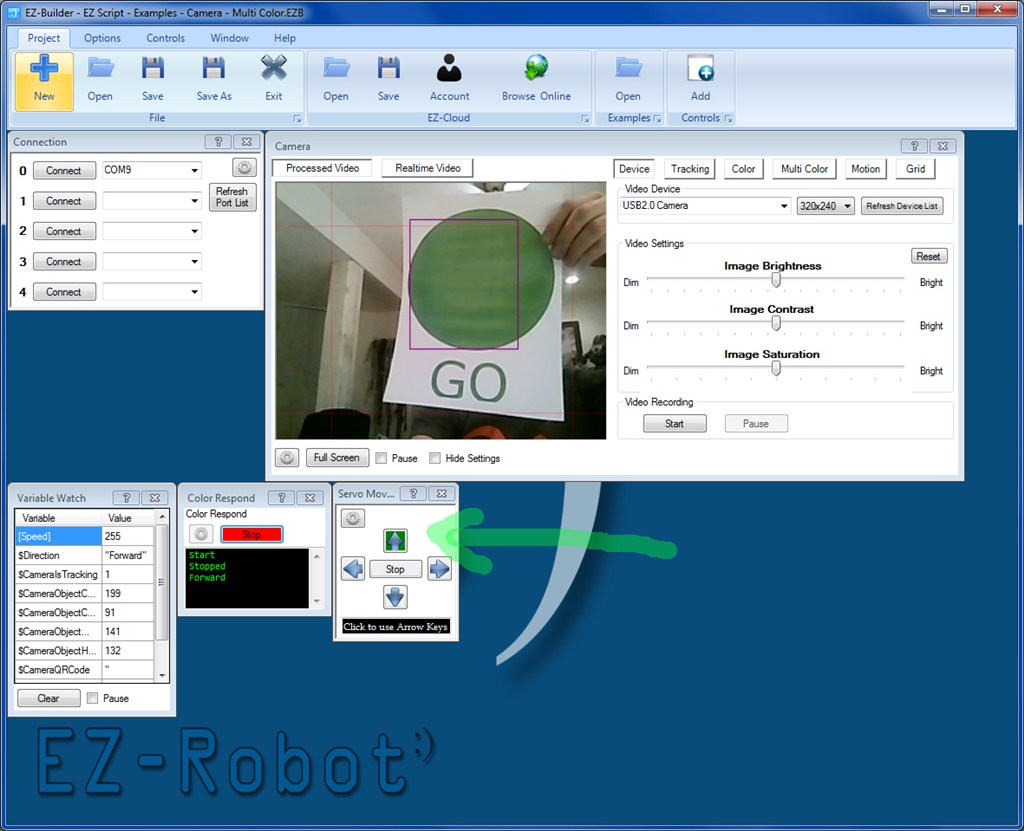 This is an example of the robot stopping by recognizing the red stop sign. Notice there are no highlighted directions on the Modified
servo
Movement Panel.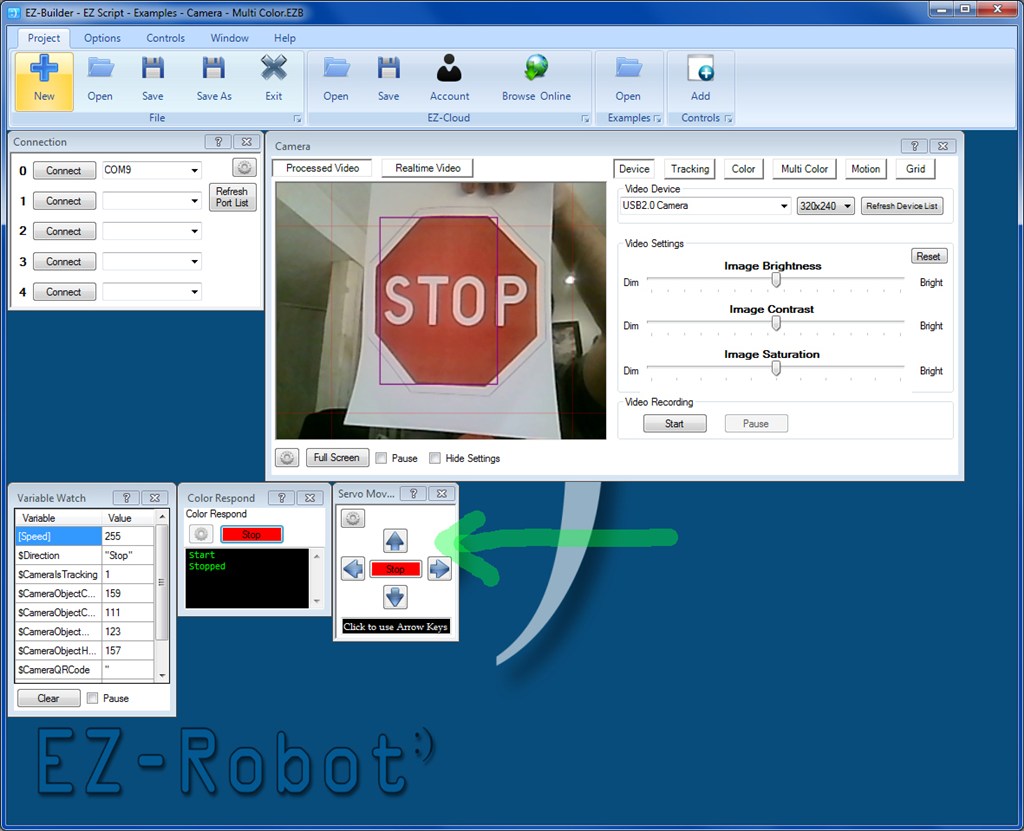 Stop Sign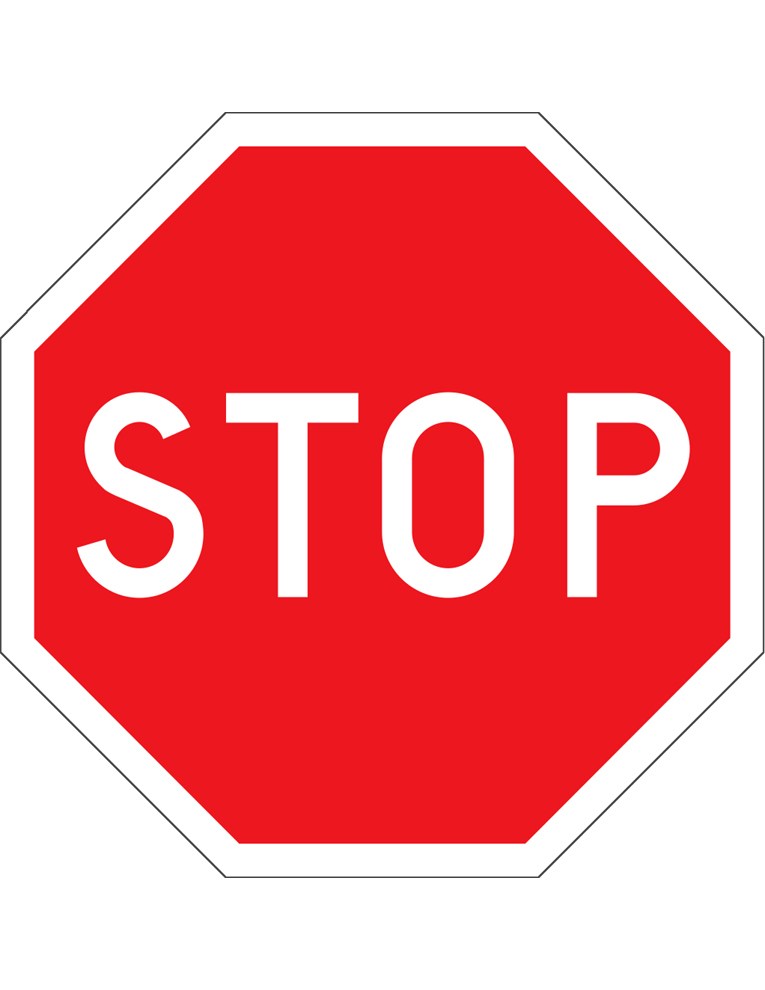 Go Sign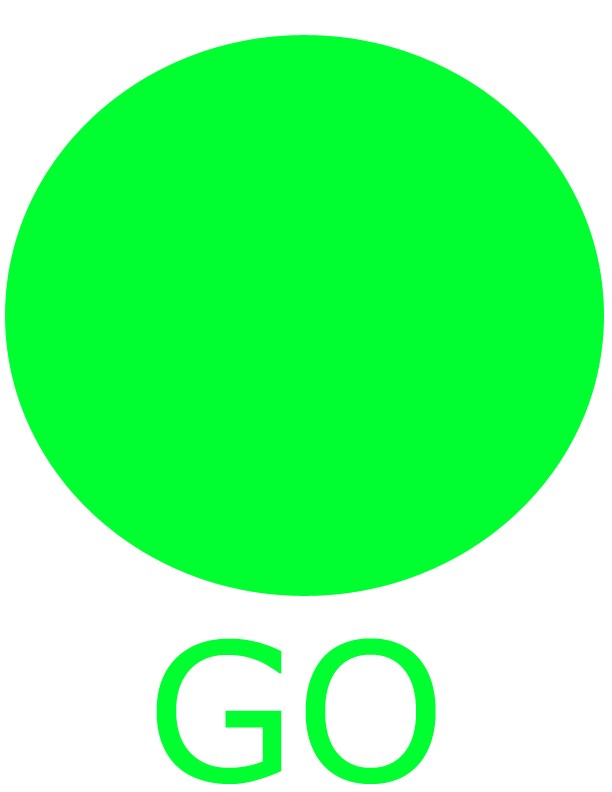 ARC Downloads
Teams FREE
Free
Includes 1 free plugin robot skill per project
Community support
Free with trial limitations
For schools, personal use & organizations. This edition is updated every 6-9 months.
Early Access
As Low as $8.99/mo
2 or more PCs simultaneously
Includes unlimited skills
Premium support
And much more
Experience the latest features and bug fixes weekly. A Pro subscription is required to use this edition.
Runtime FREE
Free
Load and run any ARC project
Operates in read-only mode
Unlimited robot skills
Early access fixes & features
Have you finished programming your robot? Use this to run existing ARC projects for free.
Minimum requirements are Windows 10 or higher with 2+gb ram and 500+MB free space.
Get more information about each ARC edition by clicking here.
See what's new in the latest versions with Release notes.
Compare Editions
Feature
ARC Teams

FREE

ARC

PRO

Get ARC for Free
View Plans
Usage
Personal
DIY
Education
Personal
DIY
Education
Business
Premium support
$14.99/ticket


(optional)

✓

1 request/month


($9.99 for additional requests)

Feature requests

✓

Yes
Early access to new features & fixes

✓

Yes
Simultaneous microcontroller connections*
1

✓

255
Robot skills*
20

✓

Unlimited
Skill Store plugins*
1

✓

Unlimited
Cognitive services usage**
10/day

✓

6,000/day
Auto-positions gait actions*
40

✓

Unlimited
Speech recongition phrases*
10

✓

Unlimited
Camera devices*
1

✓

Unlimited
Vision resolution
max 320x240

✓

Unlimited
Interface builder*
2

✓

Unlimited
Cloud project size

✓

128 MB
Cloud project revision history

✓

Yes
Create Exosphere requests

✓

50/month
Exosphere API access
Contact Us
Volume license discounts
Contact Us
Get ARC for Free
View Plans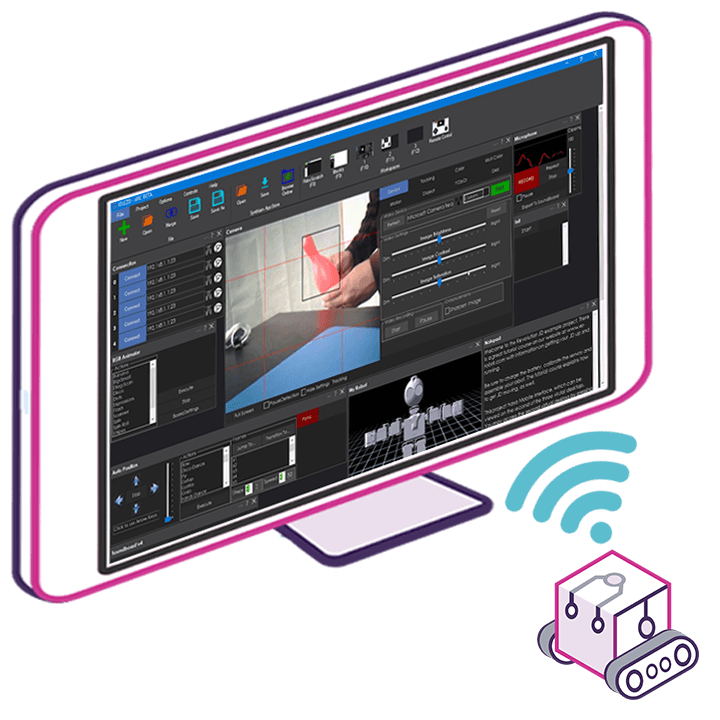 Upgrade to ARC Pro
Harnessing the power of ARC Pro, your robot can be more than just a simple automated machine.